Bicycles are a major form of transportation for many Europeans. When visiting most larger European cities, you will find ample and easy to use bike rental services. Cities have many bike paths and sidewalks are constructed to a accommodate both riders and wakers with separate designated lanes. Be careful that you do not walk in marked bike lanes as a rider will ring their handle bar bell at you to move over.
Major cities all have rental bike rack stations position throughout the city. Rent a bike using your credit card and grab a bike out of the rack. Ride all over to your hearts content and return the bike to any other of the many bike station racks in the city.
Riding a bike allows you to cover a lot of space and go where cars, buses and public transit can not. See more in less time and get some good exercise.
Sharing Transportation…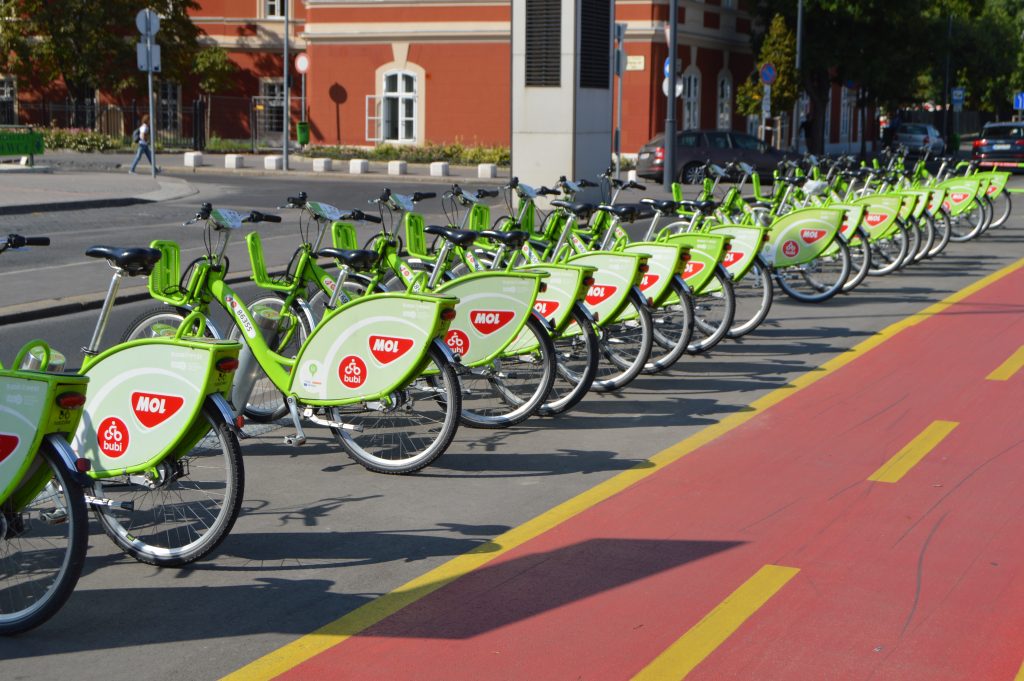 Bike Sharing…
ALBANIA
Tirana – Ecovolis
ANDORRA
Andorra la Vella – pedaland
Les Escaldes – pedaland
AUSTRIA
Burgenland – LEIHRADL nextbike
Innsbruck – nextbike
Lower Austria – LEIHRADL nextbike
Salzburg – nextbike
Upper Austria – nextbike
Vienna – Citybike, LEIHRADL nextbike
Voralberg – LEIHRADL nextbike
Wachau – LEIHRADL nextbike
BELGIUM
Antwerp – Velo
Brussels – Villo
Namur – Libiavelo
BOSNIA and HERZEGOVINA
Sarajevo – Sarajevo NextBike
BULGARIA
Dobrich – nextbike Bulgaria
CROATIA
Brinje – Nextbike
Gospić – Grad Gospić
Ivanic Grad – Grad Ivanic
Karlokov – Grad Karlovac
Makarska – Grad Makarska
Slavonski Brod – Grad Slavonski Brod
Zadar – Grad Zadar
Zagrab – Nextbike Croatia
Šibenik – Grad Šibenik
CYPRUS
Limassol – NextBike Cyprus
Nicosia – Bike in Action
CZECHIA
Brno – rekola
Frýdek-Mistek – rekola
Hradec Králové – rekola
Kladno – rekola
Liberec – rekola
Mladá-Boleslav – rekola
Olomouc – rekola
Ostrava – rekola
Pardubice – rekola
Pisek – rekola
Prague – rekola
Teplice – rekola
DENMARK
Aalborg – Donkey Bike
Aarhus – Bycyklen, Donkey Bike
Copenhagen – City Bikes (free)
Copenhagen – Bycyklen
ESTONIA
Tallinn – Sixt
FINLAND
Helsinki – Helsinki City Bikes
Vaasa – rekola
FRANCE
Aix-en-Provence – V'hello
Agen – Tempo Velo
Alsace – Movelo
Amboise – ecovelo
Amiens – Vélam
Angers – Pony
Avignon – Vélopop'
Belfort – Optymo
Besançon – VéloCité
Bordeaux – VCUB
Caen – Twisto
Calais – Vel'in
Cergy-Pontoise – VélO2
Chalon-sur-Saône – Réflex
Clermont-Ferrand – C.Vélo
Créteil – Cristolib
Dijon – Velodi
Grenoble – Métrovélo, Pony
La Rochelle – Yélo
Lille – V'Lille
Lyon- Cyclocity
Lyon – Velo'v
Marseille – Le vélo
Montpellier – Vélomagg'
Mulhouse – VéloCité
Nancy – VélOstan
Nantes – Bicloo
Nice – Vélo Bleu,
Orléans – Vélo'+
Paris- Cyclocity, Vélib, Pony
Pau – IDEcycle
Perpignan – BIP!
Poitiers – Cap'Vélo
Rennes – LE vélo STAR
Rouen – Cy'clic
St. Etienne – Vélivert
Strasbourg – Vélhop
Toulouse – VélôToulouse
Valence – Libélo
Vannes – Vélocéa
GERMANY
Aachen – velocity
Amrun – amrun-wetter
Aschaffenburg – Call A Bike
Baden Baden – Call A Bike
Bamberg – Call A Bike
Berlin – nextbike, Call A Bike, Mobike
Bielefeld – nextbike, Call A Bike
Bochum – metropolradruhr
Bonn – Call A Bike
Bottrop – metropolradruhr
Bremen – Call A Bike
Braunschweig – Call A Bike
Coburg – nextbike
Cologne – nextbike
Cologne – Call A Bike
Darnstadt – Call A Bike
Dortmund – metropolradruhr
Dresden – nextbike
Duisburg – metropolradruhr, Call A Bike
Düsseldorf – nextbike, Mobike
Erfurt – nextbike
Essen – metropolradruhr
Flensburg – nextbike
Frankfurt an Main – nextbike, Call A Bike
Freiburg – Call A Bike
Gelsenkirchen – metropolradruhr
Guetersloh – Call A Bike
Halle – Call A Bike
Hamburg – nextbike, StadtRAD, Jump(intellicard), Call A Bike
Hamm – metropolradruhr
Hanover – nextbike, Call A Bike
Hanau – Call A Bike
Heidelberg – Call A Bike
Hennef – Call A Bike
Herne – metropolradruhr
Ingolstad – Call A Bike
Kaiserslautern – Call A Bike
Karlsruhe – Call A Bike
Kassel – Konrad
Kiel – Call A Bike
Leipzig – nextbike
Lübeck – Call A Bike
Lüneburg – Call A Bike
Magdeburg – nextbike, Call A Bike
Mainz – MVGmeinRad, Call A Bike
Mannheim – Call A Bike
Marburg – Call A Bike
Mülheim a. Ruhr – metropolradruhr
Munich – Call A Bike
Munich – nextbike
Nuremberg – NorisBike
Oberhausen – metropolradruhr, Call A Bike
Offenbach – Call A Bike
Offenburg – nextbike
Oldenburg – Call A Bike
Potsdam – nextbike
Rostock – Call A Bike
Rüsselsheim – Call A Bike
Saarbrücken – Call A Bike
Stuttgart – Call A Bike
Troisdorf – Call A Bike
Tübingen – nextbike
Warnings – Call A Bike
Weimar – Call A Bike
Wiesbaden – Call A Bike
Würzburg – Call A Bike
GREECE
Chania – Lime
Rethymno – Lime
Thessaloniki – Lime
HUNGARY
Budapest – Bubi
Esztergom – EBI, MV Bike
Győr – GyőrBike
Kaposvár – Kapsvári Tekergő
Hévíz – HeBi
Szeged – CityBike Szeged
IRELAND
Cork – NTA Coca-Cola Bikes
Dublin – dublinbikes
Galway – NTA Coca-Cola Bikes
Limerick – NTA Coca-Cola Bikes
ITALY
Alba – bicincitta
Albano – Albano bici
Alghero – bicincitta
Alpignano – ToBike
Brescia – Bicimia
Carugate – Meglio in Bici
Cernusco sul Naviglio – Meglio in BicinCittà
Collegno – ToBike
Druento – ToBike
Grugliasco – ToBike
Milan – BikeMi. Mobike
Padua – GoodBike Padova, Mobike
Pioltello – Meglio in Bici
Pisa – Ciclopi
Rimini – mi muovo in Bici
Rivoli – BiciinComune
Rome – Roma'n Bike
Turin – ToBike
Venaria Reale – ToBike
LATVIA
Riga – Baltic Bike
Jurmala – Baltic Bike
LITHUANIA
Vilius – Cyclocity
LUXEMBOURG
Luxembourg City – Vel'oh
MALTA
Malta – Nextbike Malta
NETHERLANDS
Nationwide with hundred of locations predominantly at train stations OV-fiets
Amsterdam – Donkey Republic, FlickBike, hello-bike, Urbee
Delft – Mobike
Maastricht – Nextbike
Rotterdam – Donkey Republic, Rotterdam City Bikes, Mobike
NORWAY
Drammen – Drammen City Bikes
Lillestrom – Bysykkel
Oslo – Oslo Bysykkel
Sandes –
Trondheim – Trondheim City Bikes
POLAND
Bailystok – BiKeR
Gliwice –
Grodzisk Mazowiecki – GRM Grodzisk
Katowice – Katowice Bike
Konstancin – Konstanciński Rower Miejski
Kraków – KMK Bike, City by Bike
Lublin – LRM Lublin
Łódż – Łódzki Rower, łódź naszemiasto
Michałow – Rower Gmi
Opole – Opole Bike
Poznań – Poznański Rower Miejski
Radom – Ramomski Rower
Rzeszow – RoweRes
Sopot – Rower Trójmiejski
Stalowa Wola – Stalowa
Szczecin – Bike _S
Torun – Toruński Rower Miejski
Warsaw – Bemowo Bike
Warsaw – Veturilo
Worclaw – Wrocławski Rower Miejski
PORTUGAL
Águeda – beÁgueda
Averio – Buga
Vila do Conde – biConde
ROMANIA
Bucharest – Cicloteque
RUSSIA
Kazan- Cyclocity
Moscow – VeloBike
St. Petersburg – VeloBike
SERBIA
Novi Sad – NS Bike
SLOVAKIA
Bratislava – Whitebikes, rekola, Verejný bicykel, slovnaftbajk
Košice – Verejný bicykel
Moldava nad Bodvou – Verejný bicykel
Nitra – Arriva Bike
Poprad – Verejný bicykel
Trebišov – Verejný bicykel
Vel'ky Šariš – Verejný bicykel
Žilina – BikeKIA
SLOVENIA
Ljubljana – Bicike
Velenje – BICY
SPAIN
A Coruña – bicicoruna, citybik
Albacete – albaici
Alboraya – XUFABIKE
Altea – CityBike
Barcelona – bicing
Cordoba- Cyclocity
Elche – bicielx
Gijon – Cyclocity
Girona – Girocleta
La Coruña
Madrid – biciMAD
Málaga – MálagaBici
Palma – bicipalma
Pamplona – n'bici
Salamanca –
Saragossa – bizi
Santander – Tusbic
Seville – Sevici
Valencia – Valenbisi
Valladolid
Zaragosa – Bizi
SWEDEN
Ängelhom – Monkey Republic
Gothenberg – Styr & Ställ,
Lillestrøm – Bysykkel
Lund – Lundahoj
Malmö – Malmö by Bike
Stockholm – Stockholm City Bikes
SWITZERLAND
Aigle, Monthey
Bern – PubliBike
Freiburg – PubliBike
Hergiswil – Nextbike Swiss
Horw – Nextbike Swiss
Lausanne – PubliBike
Lugano – PubliBike
Luzern – Nextbike Swiss
Nyon, Gland – PubliBike
Sion – PubliBike
Stans – Nextbike Swiss
Stansstad – Nextbike Swiss
Sursee – Nextbike Swiss
TURKEY
Antalya – ANTBIS
Eskişehir –
Istanbul & the Marmara Coast – Isbik
Izmir – Bisim
Izmir, Karsiyaha – Karbis
Kocaeli –
Konya – Konya Nextbike
Ordu – Bisikleti
Seferihisar – Korbis
UKRAINE
Kiev – Nextbike
Lviv – Nextbike
UNITED KINGDOM
England
Bath – Nextbike
Blackpool – Hire a Bike
Bristol – Hourbike
Exeter – Co-Bikes
Farnborough – OYBike Farnborough
Liverpool –
London – , Santander
Milton Keynes – Santander
Newcastle – ScratchBikes
Nottingham – Ucycle
Portsmouth – Bikeabout
Reading – OYBike Reading
Slough –
Stirling – Nextbike UK
Warwick – Nextbike UK
Northern Ireland
Belfast – Belfast Bikes
Scotland
Dumfries – Bike2Go
Edinburgh – Nextbike UK
Glasgow – NextBike
Glasgow – NextBike
Wales
Cardiff – NextBike, OYBike Cardiff
E-Scooters…
E Scooters are becoming very popular in many cities and not just Europe but, around the world. Some cities are finding them a nuisance. Vandalized scooters are discarded recklessly. Others when left on sidewalks and other traffic areas become obstacles that lead to accidents and injuries by unsuspecting pedestrians, etc.
THE UPSIDES ARE…
Easy to use and inexpensive.
Go where you cannot with a car or larger vehicle.
Leave a low carbon footprint.
Pick up a one location and leave at another location.
HERE IS HOW IT WORKS…
Get the scooter app on the App Store or Google Play & sign up online.
Find a scooter near you and tap the button to unlock or follow app instructions.
Stand on the scooter, push-off, then push throttle button with thumb to ride.
End your ride by tapping the button with the app.
SAFETY SUGGESTIONS…
Be aware and yield to pedestrians and other vehicles.
Drive slowly in congested areas.
You a helmet when possible to stay safe while you ride.
Don't block public pathways.
Park by pick up locations or bike racks when available.
AUSTRIA
Innsbruck – Tier
Klagenfurt – Tier
Korneuburg – Tier
Vienna – Lime, Bird, Tier
Villach – Tier
Wels – Tier
BELGIUM
Aalst – Step
Antwerp – Bird, Step
Brussels – Lime
Ghent – Step
Leuven – Step
Mechelen – Step
BULGARIA
Sofia – Lime
CROATIA
Rijeka – Bolt
CZECHIA
Brno – Lime
Boskovice – Bolt
Olomouc – Bolt
Pardubice – Bolt
Pilsen – Lime
Prague – Lime, Bolt
DENMARK
Aalborg – Voi
Aarhus – Voi
Copenhagen – Lime, Tier, Voi
Glostrup – Tier
Odense – Tier, Voi
ESTONIA
Pärnu – Bolt
Tallinn – Bolt
Tartu – Bolt
FINLAND
Helsinki – Lime, Tier, Voi
Tampere – Tier, Voi
Turku – Tier, Voi
Vaasa – Tier
FRANCE
Anncey – Bird
Bordeaux – Bird, Tier, Bolt, Voi
Grenoble – Tier
Lille – Step
Lyon – Lime, Bird, Tier
Marseille – Bird, Voi
Paris – Lime, Tier
Toulouse – Lime
GERMANY
Aachen – Tier, Voi
Augsburg – Tier, Voi
Berlin- Lime, Bird, Tier, Voi
Bielfeld – Tier
Bochem – Tier
Bonn- Lime, Tier
Braunschweig – Tier
Bremen – Tier, Voi
Brunswick- Lime
Chemnitz – Tier
Cologne- Lime, Bird, Tier
Darmstadt – Tier
Dortmund- Lime, Tier
Dresden- Lime, Tier
Düsseldorf- Lime, Tier
Erlangen – Tier
Essen – Lime, Tier
Frankfurt- Lime, Bird, Tier
Fürth – Tier, Voi
Gütersloh –Tier
Hamburg- Lime, Bird, Tier, Voi
Hannover- Lime, Tier
Heidelberg- Lime, Tier
Heilbron – Tier
Hildesheim- Lime
Ingolstadt – Tier
Kaiserslautern – Tier
Karlsruhe – Lime, Tier, Voi
Kiel – Tier, Tier
Lübeck- Lime, Voi
Ludwugshafen – Lime, Tier
Mainz- Lime, Tier
Mannheim- Lime, Tier
Moenchengladbach- Lime, Tier
Mülheim – Tier
Munich- Lime, Bird, Tier, Voi
Münster- Lime, Tier
Nuremberg- Lime, Tier, Voi
Osnabruck – Tier
Oldenburg – Tier
Paderborn – Tier
Potsdam – Tier
Recklinghausen – Tier
Redditch – Tier
Reutlingen – Tier
Ruhrpott- Lime
Saarbrücken – Tier
Stuttgart- Lime, Tier, Voi
Ulm & Neu Ulm – Tier
Wiesbaden- Lime, Tier
Wolfsburg – Tier
GREECE
Chania – Lime
Rethymno – Lime
Thessaloniki – Lime
HUNGARY
ITALY
Bari – Helbiz
Cesena – Helbiz
Latina – Helbiz
Milan – Lime, Helbiz, Voi
Modena – Helbiz
Naples – Helbiz
Palermo – Helbiz
Parma – Helbiz
Pescara – Helbiz
Pisa – Helbiz
Ravenna – Helbiz
Rimini- Lime, Bird
Rome- Lime, Bird, Helbiz, Voi
Turin- Lime, Bird
Verona- Lime, Bird, Helbiz
LATVIA
Daugavpils – Bolt
Liepāja – Bolt
Rīga – Bolt
LITHUANIA
Kaunas – Bolt
Klaipėda – Bolt
Panevėžys – Bolt
Šiauliai – Bolt
MALTA
Malta – Bolt
NETHERLANDS
Amsterdam
Den Haag
Rotterdam
NORWAY
Baerum – Tier
Bergen – Tier, Bolt, Voi
Drammen – Tier
Fredrikstad – Bolt
Lillestrøm – Tier, Bolt
Oslo – Lime, Tier, Bolt, Voi
Stravanger – Tier, Voi
Tronheim – Tier, Voi
POLAND
Białystok – Bolt
Gdansk – Bolt
Gdynia – Bolt
Katowice – Bolt
Kraków – Lime, Bird, Bolt
Lublin – Bolt
Poznan – Lime, Bolt
Silesia – Bolt
Sopot – Bolt
Tricity – Lime
Trójmiasto – Bolt
Warsaw – Lime, Bolt
Wrocław – Lime, Bolt
PORTUGAL
ROMANIA
Bucharest – Lime, Bolt
Cluj-Napoca – Lime, Bolt
Constanta – Bolt
RUSSIA
Saint Petersburg – Bolt
SLOVAKIA
Bratislava – Bolt
Kosice – Bolt
Prešov – Bolt
Trenčín – Bolt
Žilna – Bolt
SPAIN
Barcelona – Lime, Bird, Scoot
Madrid – Lime, Bird
Malaga – Lime
Sevilla – Lime, Bird, Voi
SWEDEN
Gothenburg – Lime, Tier, Bolt
Helsingborg – Voi
Lund – Tier
Malmö – Lime, Tier
Örebro – Voi
Stockholm- Lime, Bird, Tier, Bolt, Voi
Uppsala – Tier, Voi
Västerås – Voi
SWITZERLAND
Basel – Lime, Tier
Bern – Tier, Voi
Frauenfeld – Voi
St. Gallen – Tier
Winterthur – Tier, Voi
Zug – Tier
Zürich – Lime, Tier, Voi
UKRAINE
Kyiv – Bolt
UNITED KINGDOM
ENGLAND
Bath – Voi
Birmingham – Voi
Bristol – Voi
Cambridge – Voi
Corby – Voi
Coventry – Voi
Higham Ferres – Voi
Kettering – Voi
Liverpool – Voi
London – Lime, Bolt
Milton Keynes- Lime
North Bromwich – Voi
North Devon – Voi
Northhampton – Voi
Oxford – Voi
Peterbourgh – Voi
Portsmouth – Voi
Rushden – Voi
Southhampton – Voi
Wellingborough – Voi
York – Tier
E-SCOOTER PROVIDERS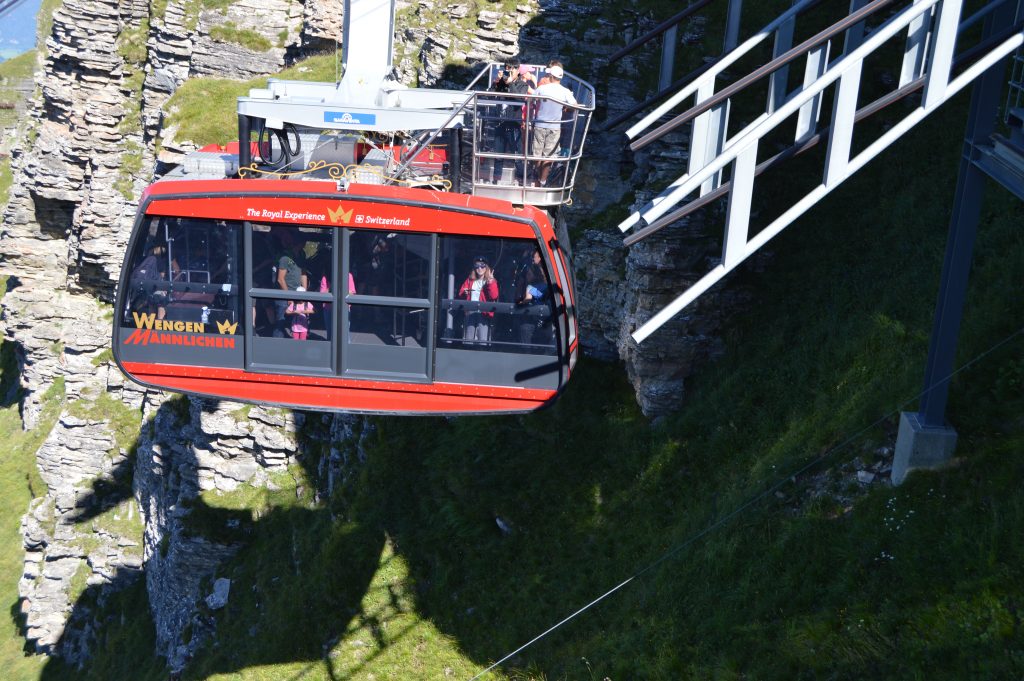 Aerial Transportation
Aerial Transportation is most useful when trying to get from one elevation to another. When there are steep changes in elevation over a short distance ordinary ground transportation isn't the physical solution. This transportation form is commonly used in mountainous areas as well as in hilly urban areas. In many cases these are the only transport to get to some high locations, like mountain peaks, scenic lookouts, etc.
There are several different classifications of aerial transportation that are determined by how they operate mechanically. The two most popular forms are aerial tramways and gondola lifts. A gondola lift has cabins suspended from a continuously circulating cable whereas aerial trams simply shuttle back and forth on cables.
Some of these are operated by local public transportation departments and fees may be covered under your transit passes. Others may incur and a charge for a round trip.
There is also several forms ground transportation used to transport one up a steep elevation like, funiculars, cable railways, etc. The main difference is these vehicles use rails instead of suspended cables to move. The propulsion to climb can be an attached cable or cog rail between the rails.
In any case these forms are your best and sometimes only choice to get up and down from one elevated location to another.
An aerial tramway, sky tram, cable car, ropeway or aerial tram is a type of aerial lift which uses one or two stationary ropes for support while a third moving rope provides propulsion. n comparison to gondola lifts, aerial tramways generally provide lower line capacities and higher wait times.
A gondola lift has cabins suspended from a continuously circulating cable whereas aerial trams simply shuttle back and forth on cables. for this block. Use this space for describing your block. Any text will do.
ALBANIA
"Dajti Express", from Tirana to Mount Dajt
ANDORRA
La Massana in Pal sector, Vallnord ski resort
Els Orriols in Arinsal sector, Vallnord ski resort
Soldeu in Soldeu sector, Grandvalira ski resort
El Tarter in El Tarter sector, Grandvalira ski resort
Canillo in Canillo sector, Grandvalira ski resort
AUSTRIA
Gletscherbahn Kaprun III
Tyrolean Zugspitze Cable Car
Schloßalmbahn III – Schloßalmbahn II
Hochjoch Cable Car
Piz Val Gronda Bahn
Oberlech Cable Car
Rüfikopf Cable Cars
Valluga Cable Cars
Venet Cable Car
Schladminger Tauern Seilbahn
Gerlosstein Cable Car
Ahorn Cable Car
150er Tux
G-Link
Kogelalmbahn
Schnifisberg Cable Car
Pfänder Cable Car
Untersberg Cable Car
Dachstein Cable Cars
Rofan Cable Car
BOSNIA and HERZEGOVINA
Trebević cable car (Trebevićka žičara)
Cable Car – Ski Center Ravna
BULGARIA
Poma, Borovetz – Rila mntn
Poma, Kartala – Rila mntn
Doppelmayr, Sofia – Vitosha mntn
Doppelmayr, Bansko – Pirin mntn
CROATIA
Dubrovnik, to the top of the Srđ mountain
CZECHIA
Kabinová lanovka na Ještěd
FINLAND
Levi 2000 in Levi Ski Resort
Levi Express in Levi Ski Resort
Ylläs 1 in Ylläs Ski Resort,
FRANCE
The Téléphérique de l'Aiguille du Midi
Vallee Blanche Aerial Tramway
The Vanoise Express
Luchon Superbagnères
Telépherique de la Grande Motte
The Téléphérique du Salève
The Grenoble-Bastille cable car (Les Bulles)
GERMANY
The Eibsee Cable Car
The Tegelberg Cable Car
Fichtelberg Cable Car
Herzogstand Cable Car
Rauschberg Cable Car
Karwendel Cable Car
Kampenwand Cable Car
Nebelhorn Cable Car
Predigtstuhl Cable Car
Wendelstein Cable Car
Burgberg Cable Car
IGA Cable Car, Berlin
Bode Valley Gondola Lift, Thale, Lower Saxony
Cologne Cable Car, Cologne
Koblenz Cable Car, Koblenz
Schauinslandbahn
Wurmberg Gondola Lift, Braunlage
Seilbahn Rüdesheim am Rhein, Hessen
Gibraltar
The Gibraltar Cable Car
GREECE
Santorini cable car in Santorini island
Parnitha cable car
IRELAND
Dursey Island Cable Car
ITALY
Funivie di Savona
Josef Mountain Aerial Tramway
Ferrovia del Renon (Rittnerbahn)
Funivia Snow Eagle
Funivia Bormio 3000
Funivia Groppera
Bormio
Aprica
Livigno
Santa Caterina Valfurva
Passo Del Tonale
LATVIA
Sigulda Aerial Tramway
NORTH MACEDONIA
Skopje
NORWAY
Fjellheisen in Tromsø.
Krossobanen in Tinn
Loen Skylift in Stryn.
Ulriken in Bergen.
Fjellheisen in Narvik
Hangursbanen in Voss
Romsdalsgondolen in Åndalsnes
Tromsø – Fjellheisen – Tourist lift
Åndalsnes – Romsdalsgondolen – Tourist lift
POLAND
Wrocław – Polinka – Wrocław University of Technology
Kasprowy Wierch cableway
Bielsko-Biała – Szyndzielnia
Elka cableway in Poland
Elka cableway (pol. Kolej linowa "Elka") in Silesian Park in Chorzów and Katowice.
Krynica-Zdrój – Jaworzyna Krynicka
Świeradów-Zdrój – Stóg Izerski
PORTUGAL
Gaia's cable car
Lisbon's Expo cable car
Madeira cable car
Madeira – Funchal Cable Car
Lisbon – Telecabine Lisboa
Guimarães – Teleferico de Guimarães
ROMANIA
Bușteni-Babele in Bușteni
Babele-Peștera in Bușteni
Bâlea Lake in Sibiu
Sinaia-Cota 1400 in Sinaia
Cota 1400-Vârful cu Dor in Sinaia
Tâmpa in Brașov
Kanzel, in Poiana Brașov
Capra Neagră, in Poiana Brașov.
Constanţa – Mamaia
Piatra Neamţ –
Poiana Braşov
Azuga
Sinaia
Vulcan, Hunedoara
Straja, Hunedoara
Campulung Moldovesnesc, Suceava –
Transalpina ski resort
RUSSIA
Nizhny Novgorod – Nizhny Novgorod Cable Car
Moscow – Moskva River Cable Car.
SAN MARINO
Funivia di San Marino
SERBIA
Balkan Mountains – Jabučko ravnište
Zlatibor – Zlatibor Gold Gondola
Kopaonik –
SLOVAKIA
Skalnaté pleso – Lomnický štít in High Tatras.
SLOVENIA
Bohinj-Vogel in the Julian Alps
Zekovec in the Mozirje mountains
Big Pasture Plateau in the Kamnik–Savinja Alps.
Kanin Cable Car in Bovec
Velika Planina Cable Car in Kamniška Bistrica valley
SPAIN
Aeri de Montserrat, at Montserrat
Aeri del Port in Barcelona
Teleférico de Fuente Dé, Picos de Europa in Cantabria.
Telefèric d'Olesa a Esparreguera
Teide Cableway on Pico de Teide, Tenerife, Canary Islands.
Teleférico de Madrid, Madrid.
Baqueira-Beret – Ski lift
Barcelona – Montjuïc Cable Car
La Pinilla – Ski lift
Panticosa-Los Lagos – Ski lift.
Sierra Nevada – Ski lift.
Teleférico de Benalmádena lift on the Costa Del Sol
Telecabina de la Coma del Clot at Vall de Núria
SWEDEN
Kabinbanan in Åre.
Norsjö aerial tramway.
Branäs – Ski lift.
Åre – Olympiagondolen – Ski lift.
Kläppen – Ski lift.
SWITZERLAND
Plan-Francey – Le Moléson
Col du Pillon – Glacier3000 (Diablerets)
Champéry – Planachaux
Dorénaz – Champex-d'Alesse
Les Attelas – Mont Gelé
Tortin – Col-des-Gentianes
Col-des-Gentianes -Mont Fort
La Chaux – Col-des-Gentianes
Riddes – Isérables
Bottom of Grande Dixence Dam – Top of Grande Dixence Dam
Chalais – Vercorin
Zinal – Sorebois
Cry-d'Er – Bella Lui
Cabane-des-Violettes – Pointe de la Plaine Morte
Leukerbad – Gemmipass
Leukerbad – Rinderhütte
Turtmann – Unterems – Oberems
Gampel – Jeizinen
Raron – Eischoll
Raron – Unterbäch
Wiler – Lauchernalp
Stalden – Staldenried – Gspon
Kalpetran – Embd
Embd – Schalb
Zermatt – Furi – Trockener Steg – Klein Matterhorn
Furgg – Trockener Steg
Blauherd – Rothorn
Gornergrat – Hohtällli – Stockhorn
Hohtälli – Rote Nase
Gant-Hohtälli Aerial Tramway (94 metre tall aerial lift pylon)
Spielboden – Längfluh
Felskinn – Mittelallalin
Grindelwald – First
Saas Fee – Felskinn
Saas Grund – Hohsaas
Blatten – Belalp
Mörel – Greich – Riederalp
Betten Talstation – Bettmeralp (direct line)
Betten Talstation – Betten Dorf – Bettmeralp
Fiesch – Fiescheralp – Eggishorn
Fürgangen – Bellwald
Erlenbach i.S. – Chrindi – Stockhorn
Lenk (Rotenbach) – Metsch
Gsteig – Lac de Sanetsch
Reusch – Oldenegg
Kandersteg – Allmenalp
Kandersteg – Sunnbüel (Gemmi)
Eisigbach (Frutigen) – Eisigenalp
Unter dem Birg (Adelboden) – Engstligenalp
Grindelwald – Pfingstegg
Wengen – Männlichen Luftseilbahn Wengen-Männlichen
Isenfluh – Sunnwald
Stechelberg – Mürren – Schilthorn
Mürren-Lauterbrunnen Bergbahn Lauterbrunnen–Mürren
Sörenberg Schönenboden – Brienzer Rothorn
Fräkmüntegg – Pilatus Kulm
Lungern – Turren
Distelboden (Melchsee-Frutt) – Bonistock
Engelberg – Brunni (Ristis)
Engelberg – Fürenalp
Trübsee – Stand – Klein Titlis
Fell (Oberrickenbach) – Chrüzhütte (Bannalp)
Fellboden (Oberrickenbach) – Bannalpsee
Dallenwil – Wirzweli
Dallenwil – Niederrickenbach
Stans-Kälti – Stanserhorn
Beckenried – Klewenalp
Emmetten – Niederbauen
Küssnacht am Rigi – Seebodenalp
Weggis – Rigi Kaltbad
Kräbel – Rigi Scheidegg
Brunnen – Urmiberg
Stoos – Fronalpstock
Morschach – Stoos
Sali (Bisisthal) – Glattalp
Illgau – Ried (Muotathal)
Brunni – Holzegg Pass
Weglosen – Seebli (Hoch-Ybrig)
Amsteg – Arnisee
St. Jakob – Gitschenen
Attinghausen (Ballweg) – Brüsti
Flüelen – Eggberge
Bürglen UR – Biel (Kinzig)
Schattdorf – Haldi
Bristen – Golzern
Andermatt – Gemsstock
Intschi – Arnisee
Airolo – Pesciüm
Pesciüm – Sasso della Boggia
Rodi – Lago Tremorgio
Arvigo – Braggio
Selma – Landarenca
Orselina – Cardada
Intragna – Costa
Verdascio – Rasa
San Carlo – Robiei
Brusino Arsizio – Serpiano
Luftseilbahn Adliswil-Felsenegg (LAF) Adliswil – Felsenegg
Jakobsbad – Kronenberg (Switzerland)
Schwägalp – Säntis
Wasserauen – Ebenalp
Brülisau – Hoher Kasten
Frümsen – Stauberen
Iltios – Chäserugg
Unterterzen – Tannbodenalp (Flumserberg)
Niederurnen – Morgenholz
Kies – Mettmen
Matt – Weissenberg (Switzerland)
(Buochwald) Malans – Älpli
Fanas – Eggli
Klosters – Gotschnaboden – Gotschnagrat (Parsenn)
Weissfluhjoch – Weissfluhgipfel
Parsennhütte – Weissfluhjoch
Dörfji – Mitteltälli (Pischa)
Davos Platz – Ischalp – Jakobshorn
Chur – Känzeli
Naraus – Cassonsgrat
Laax – Crap Sogn Gion – Crap Masegn
Disentis – Caischavedra
Arosa – Weisshorn
Lenzerheide – Scharmoin – Parpaner Rothorn
Rhäzüns – Feldis/Veulden
Pranzaira – Albigna
Sils Maria – Furtschellas (Prasüra)
Surlej/Silvaplana – Murtèl – Corvatsch
St. Moritz Bad – Signal
Corviglia – Piz Nair
Bernina – Diavolezza
Curtinatsch – Piz Lagalb
Samnaun Ravaisch – Alp Trider Sattel
Rivera – Alpe Foppa
TURKEY
Beşikdüzü Aerial Tramway
Olympos Aerial Tram
Bursa Uludağ Aerial Tramway
Balçova Gondola, İzmir
Maçka Gondola, Istanbul line Tf1
Eyüp Gondola, Istanbul line Tf2
Samsun Amisos Hill Gondola, Samsun
Keçiören Gondola, Ankara
Aydın Pınarbaşı-Aytepe Gondola, Aydın
Erciyes Lifos Gondola, Kayseri Province
Erciyes Tekir Gondola, Kayseri Province
Bergama Acropolis Gondola, İzmir Province
Palandöken Gondola, Erzurum Province
Şahinbey Park Gondola, Gaziantep
Ordu Boztepe Gondola, Ordu
Bursa Uludağ Gondola, Bursa Province
Yenimahalle-Şentepe Gondola, Ankara
Denizli Gondola, Denizli
Tünektepe Gondola, Antalya
Alanya Gondola, Alanya
UNITED KINGDOM
Alton Towers Theme Park, Staffordshire
Emirates Air Line, crossing the Thames at Greenwich, London
Llandudno Cable Car, connecting the Great Orme to Llandudno in Wales
Heights of Abraham Cable Car, Matlock Bath, Derbyshire,
Nevis Range Ski Area, Fort William, Scotland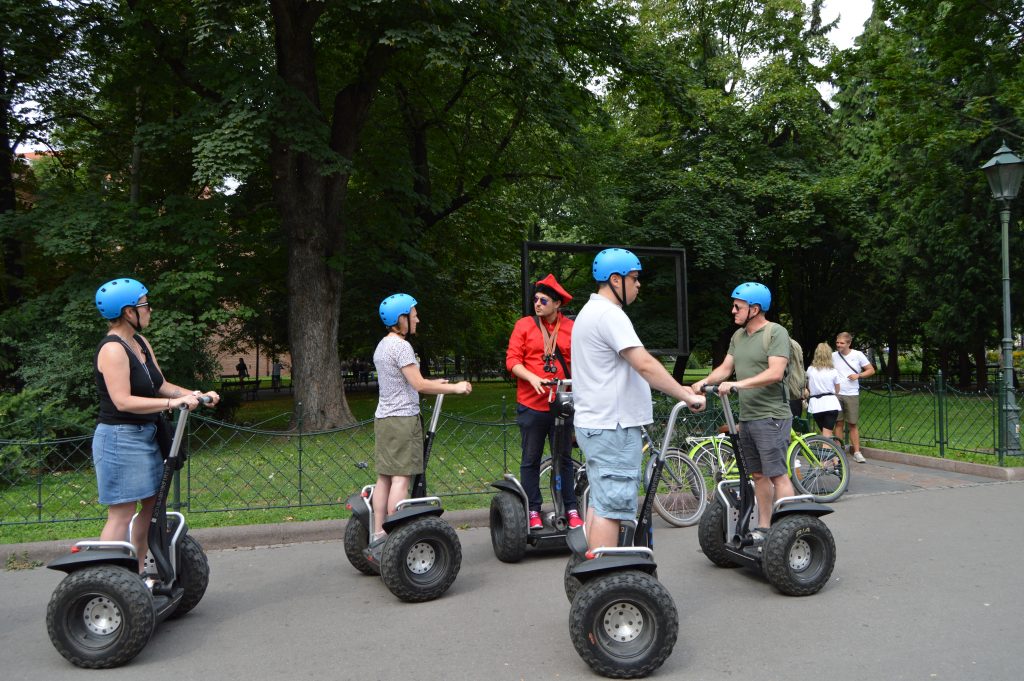 Segways…
Helicopter Charters & Rides…
AUSTRIA
Multiple Sites – Whitetracks Helicopters
DENMARK
Copenhagen – Danish Fly
FRANCE
Chamonix – Chamonix Helico
French Alps & Riviera Sites – Heli Securite
French Alp & Riviera Sites – Whitetracks Helicopters
Nice – Azur Helicopter
GERMANY
Multiple Locations – Heliflieger
Berlin – McHelicopter
Heidelberg – Heidelberg Helicopters
ITALY
Capri – Hover Fly
Multiple Sites – Helitaly
Rome – Helijet
Sorrento – Heli Sorrento
MONACO
Monte Carlo – Heli Air Monaco
Monte Carlo – Heli Securite
POLAND
Warsaw – helicopter.pl
SWEDEN
Stockholm – Arlanda Helicopter
SWITZERLAND
Geneva, Gstaad, Saint-Moritz – Heli Securite
Multiple Sites – Helikopterrundflug
Multiple Sites – Whitetracks Helicopters
UNITED KINGDOM
England
London – The London Helicopter
London – London Helicopter Tours Charter -A
London – London Pleasure Flights
Multiple Sites – Whitetracks Helicopters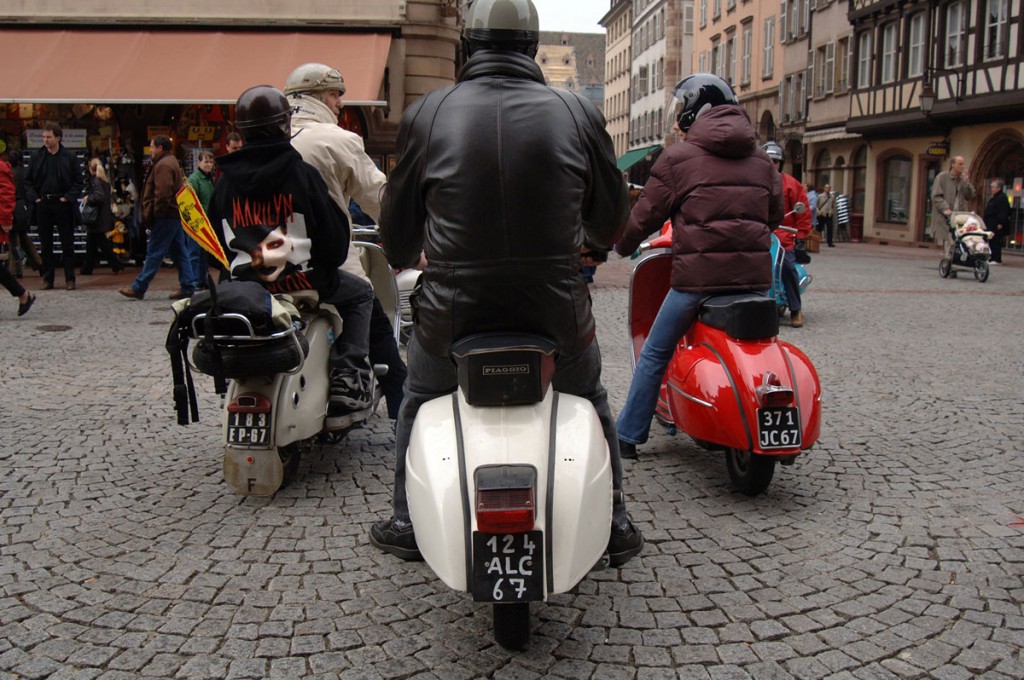 Vespas & Motor Scooters…
AUSTRIA
Vienna – Le Méridien
BELGIUM
Brugge – Vespa Tours Brugge
FRANCE
Cannes – Riviera Scooter
Paris – Free-Scoot
Paris – Left Bank Scooters
Paris – Paris by Scooter
GERMANY
Berlin – Scooter 2 Go
Berlin – Vespa- Verleih
Munich – Rentalmotorbike
ITALY
Rome – Barberini
Rome – Bici & Baci
Rome – Eco Move Rent
Rome – On Road
Rome – Roma Rent Bike
Rome – Rome For You
Tuscany – Tuscany Scooter Rental
NETHERLANDS
Amsterdam – Amstelbike
Amsterdam – Amsterbike Scooter Rental
Amsterdam – Scooterrental NL
Amsterdam – Scooter Rent Amsterdam
Amsterdam – Scooter Experience
Rotterdam – Holland Vespa Tours
PORTUGAL
Lisbon – Scooter Solution
SPAIN
Barcelona – Rent A Vespa
Barcelona – Vesping
Barcelona – Via Vespa Barcelona
Madrid – Cooltra
UNITED KINGDOM
England
London – About Town
Surrey – G. D. Brown