Religion has had a large influence in most of Europe's civilizations since recorded history. The Greek and Roman civilizations had their many Gods and the activities of their societies reflected those beliefs. After the Romans laid siege to Palestine christians spread the teachings of Christ throughout Asia Minor and southern Europe. Once Emperor Constantine became a christian the church became a legitimate institution, growing and spreading throughout all of Europe. With the fall of the Roman Empire the Roman Catholic church became the dominate political power in Europe.  Heads of churches were not just religious leaders but, political ones. It was the social, economic and political power in many areas.
From this came the building of great cathedrals and religious buildings. Every diocese or large city tried to out do it's rival with the most elaborate and eloquent cathedral as a symbol of status and virtue.  Many stand to this day as a great achievements in engineering and architecture.
Abbey's where whole communities that served the church and carried out its decrees. Monasteries were centers of learning and preservation.
While Europe was the center of Christendom, Islam spread throughout most of the middle east, north Africa and east into southern Asia. The Moors settled into southern Spain and the Ottomans conquered parts of the Balkans.
As well as, Jewish populations settled throughout Europe establishing growing communities during the middle ages. European countries that colonized throughout the globe brought back slaves and servitudes, that with them came Hinduism, Buddhism, Shintoism and others. All these faiths built places of worship to support their beliefs. We break these down into several categories for ease of reference.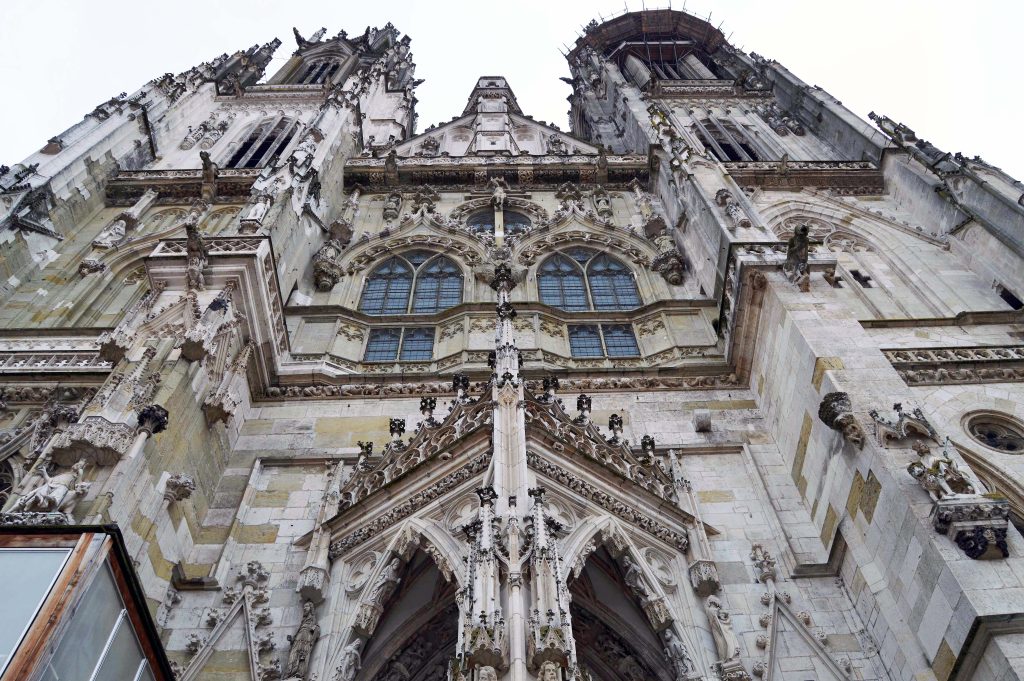 Places of Worship…
BASILICAS…
In ancient Rome these where public buildings used for official functions. Typically, a long rectangle structure with the center nave flanked two aisles along the length. The center roof being higher over the nave is those over the aisles. The name and architecture were adapted by Christian churches as a standard model. Important Catholic churches that have been granted special ceremonial rites by the Pope. Some cathedrals listed act as minor basilicas.
MONASTERIES / ABBEY'S / PRIORIES…
Use of the term Abbey and Monastery can be used interchangeably when describing these complexes. They may be a building or complex of buildings that serves as the workplace and lodgings for Monks or Nuns. These convents are spiritually led by an Abbey or Abbess who ruled the community. Abbeys are a complex usually built around a main cathedral or church. After the fall of the Roman Empire these institutions became vital centers for learning and many kept important records in their libraries.
CATHEDRALS…
A Christian church that serves as the central church for a diocese and its bishop. During the gothic period the size and beauty of a cathedral demonstrated cities influence and power was over other cities. During the reformation some cathedrals, that where Catholic, became protestant places of worship.
CHURCHES…
Typical public places of worship for believers of the Christian faith. Some listed are former cathedrals but, are still called by their cathedral name.
MOSQUES…
Place of worship for believers of Islam. The spread of Islam was limited to southern Spain and the Balkan peninsula. After the defeats of the Moors in Spain and the Otto Empire at Vienna, the christian faith gain influential power back in these areas and retained domination across most of Europe for centuries. Many of the world's largest Mosques are located in the Middle East and Asia.
SYNAGOGUES…
Consecrated buildings where a Jewish assembly or meet for Jewish prayer and worship. Synagogues may also provide, separate areas from main sanctuary for, the study of the Torah as well as, as providing a space for social functions and offices. They may also be called a shul or temple.
TEMPLES…
Disambiguate to described places of worship. Term is used by multiple religions or beliefs. Those that get the most tourism attention is those still visible from the Greeks and Romans. Both cultures built large structures to honor their Gods. Ancient Celtic, Germanic and Norse pagan religions also built temples to their deities.
Current Temples exist throughout Europe to the Buddhist, Hindu, Jain, Sikh religions.
AUSTRIA
Cathedral
St. Stephen's Cathedral (Stephansdom) – Vienna
New Cathedral – Linz

Monastery
Melk Abbey – Melk

Synagogue
The Leopoldstädter Tempel of Vianna – Vianna
BELGIUM
Cathedrals
Cathedral of Our Lady – Antwerp
Bruges Cathedral – Bruges
St. Michael & St. Gudula Cathedral – Brussels
St. Bavo Cathedral – Ghent
Notre-Dame Cathedral – Tournai

Churches
Church of Our Lady, Bruges – Bruges 
Ghent Cathedral – Ghent


Synagogue
Great Synagogue of Brussels –
BOSNIA and HERZEGOVINA
Mosques
Ferhad Pasha Sokolovic – Banja Luka, Bosnia & Herzegovina

Synagogue
Synagogue of Sarajevo
BULGARIA
Cathedrals
Alexander Nevsky Cathedral – Sofia
Church
Boyana Church – Sofia
Rock-hewn churches of Ivanovo  – Ruse
Monastery
Bachkovo Monastery –  Plovdiv
Rila Monastery – Rila

Synagogues
The Synagogue of Sofia –  Sofia
CROATIA
Basilica
Euphrasian Basilica – Porec

Cathedral
Zagreb Cathedral (Zagrebačka katedrala) – Zagreb
Cathedral of St. James – Šibenik
CYPRUS
Churches 
Painted Churches  – Troodos Region

Monastery
Kykkos Monastery –  Troodos
CZECHIA
Cathedral
St. Vitas Cathedral  – Prague
Cathedral of Our Lady at Sedlec  – Kutná Hora

Churches
St John of Nepomuk – Zelená Hora
Church of St Barbara  – Kutná Hora 

Synagogues
Great Synagogue of Plzen – Plzen
The Old New Synagogue – Prague
The Spanish Synagogue – Prague
DENMARK
Cathedral
Roskilde Cathedral – Roskilde
Churches 
Marmorkirken (The Marble Church, Frederik's Church) – Copenhagen
Moravian Church Settlement – Christiansfeld
ESTONIA
Cathedral
Alexander Nevsky Cathedral – Tallinn
FINLAND
Cathedral
Uspenski Cathedral – Helsinki
Helsinki Cathedral – Helsinki
Churches
Temppleliaukion Kirkko – Helsinki
Taidekappeli –  Turku
Petäjävesi Old Church  – Petäjävesi

Synagogues
Turku Synagogue – Turku
FRANCE
Basilicas
Albi Cathedral – Albi 
Autun – Autn
Basilica of St. Nazaire and St. Celse, Carcassonne 
Basilica of St. Thérese – Lisieux
Meaux Cathedral – Meaux
Nevers Cathedral – Nevers
Orléans Cathedral – Orleans
Basilica of St. Denis – Paris
Basilica du Sacré-Coeur – Paris
Poitiers Cathedral – Poitiers
Rodez Cathedral – Rodez
Sées Cathedral – Sées
Soissons Cathedral – Soissons

Cathedrals
Albi Cathedral – Albi
Notre Dame of Amiens  – Amiens
Angers Cathedral – Angers
Auxerre Cathedral – Auxerre
Beauvais Cathedral – Beauvais
Bordeaux Cathedral – Bordeaux
Bourges Cathedral – Bourges
Cahors Cathedral – Cahors
Carcassonne Cathedral – Carcassonne
Châlons Cathedral – Châlons
Chartres Cathedral – Chartres
Clermont-Ferrand Cathedral – Clermont-Ferrand
Coutances Cathedral – Coutances
Dijon Cathedral – Dijon
Langres Cathedral – Langres
Le Mans Cathedral – Le Mans
Notre-Dame de L'Immaculate-Conception – Lourdes
Lyon Cathedral – Lyon
Metz Cathedral – Metz
Notre Dame de Paris – Paris 
Sainte Chappell – Paris
Pontoise Cathedral – Pontoise
Reims Cathedral – Reims
Notre Dame du Haut – Ronchamp
Rouen Cathedral – Rouen
Sens Cathedral – Sens
Strasbourg Cathedral – Strasbourg
Toulouse Cathedral – Toulouse
Tours Cathedral – Tours
Troyes Cathedral – Troyes

Churches
Chalon Cathedral – Chalons
Dol Cathedral – Dol-de-Bretange
Laon Cathedral – Laon
Lisieux Cathedral – Lisieux
Noyon Cathedral – Noyon
Senlis Cathedral – Senils
Vézelay, Church – Vézelay
Abbey Church of Saint-Savin sur Gartempe – 

Monasteries
St Martin du Canigou – Casteil
Cluny Abbey – Cluny
Le Mont Saint-Michel – Normandy
Cistercian Abbey of Fontenay – Marmagne

Synagogue
Grand Synagogue of Paris – Paris
GERMANY
Cathedrals
Aachen Cathedral – Aachen
Berliner Dom – Berlin
Cologne Cathedral – Cologne 
Erfurt Cathedral – Erfurt
Freiburg Minster – Freiburg
Magdeburg Cathedral – Magdenburg
Meissen Cathedral – Meissen
Frauenkirche – Munich
Münster Cathedral – Münster
Paderborn Cathedral – Paderborn
Regensburg Cathedral (Dom St. Peter) – Regensburg 
Speyer Dom – Speyer
Ulm Cathedral – Ulm
St. Mary's Cathedral – Hildesheim
Naumburg Cathedral – Naumburg

Churches
Bremen Cathedral – Bremen
Frankfurt Cathedral – Frankfurt
Lübeck Cathedral – Lübeck
St. Bartholomew Church – Konigsee
Konstanz Minster – Konstanz
Asamkirche – Munich
St Lambert's Church, Münster – Münster
Church of Our Lady in Trier – Trier 
Ulm Minster – Ulm
Weiskirche – Weis
St. Michael's Church – Hildesheim
Collegiate Church  – Quedlinburg

Monasteries
Abbey and Altenmünster of Lorsch – Lorsch
Maulbronn Monastery – Maulbroon

Synagogues
Neue Synagogue – Berlin
Roonstrasse Synagogue – Cologne
Ohel Jakob Synagogue – Munich
Old Synagogue & Mikveh – Efurt
Worms Synagogue – Worms
Görlitz Synagogue – Görlitz
GREECE
Monasteries
Hozoviotissa Monastery – Amorgos
Meteora Monasteries –  Kalabaka
Mt. Athos Monasteries – Mt. – Athos Peninsula
HOLY SEE
Basilica
St. Peters Basilica – Vatican City
HUNGARY
Basilicas
St. Stephen's Basilica – Budapest 
Esztergomi Nasilica – Esztergom

Churches
Matthias Church – Budapest Church of our Lady – Budapest 

Monasteries
Millenary Benedictine Abbey of Pannonhalma  -Pannonhalma

Synagogues
Doheny Street Great Synagogue – Budapest
Nagy Zsinagóga – Budapest
Szeged Sysnagogue – Szeged
Szombathely Synagogue – Szombathely
ICELAND
Church
Hallgrimskirkja – Reykajavik
IRELAND
Cathedral
Christ Church Cathedral – Dublin
ITALY
Basilicas
Basilica of St. Francis d'Assisi – Assisi
San Petronio Basilica – Bologna
Florence Cathedral – Florence
Santa Maria Novella – Florence
Milan Cathedral – Milan
Basilica di Sant'Antonio – Padova
Basilica of Sant'Apolinare in Chasse – Ravenna
Basilica of St. Paul Outside the Walls – Rome
Basilica Santa Maria Maggiore – Rome
Basilica Santa Prassede – Rome
St. Mark's Basilica – Venice

Cathedrals
Milan Cathedral – Milan
Duomo Santa Maria – Pisa
Orvieto Cathedral – Orvieto
Oviedo Cathedral – Oviedo
Siena Cathedral – Siena
Cathedral, Torre Civica – Modena

Churches
Santa Maria dell Grazie – Milan
Santuario di San Besso – Ronco
Chisea di Dio Padre Misericordioso – Rome
St. Peter In Chains – Rome
St. Sebastian's – Rome
Padre Pio Pilgrimage Church – San Giovanni Rotondo

Monastery / Abbeys
Monte Cassino – Cassino
Abbey of Santa Giustina – Padua

Mosques
Mosque of Rome – Rome, Italy

Synagogues
Great Synagogue of Florence – Florence
Great Synagogue of Rome – Rome
Synagogue of Trieste – Tieste
LATVIA
Basilica
Anglona Basilica – Aglona

Cathedral
Riga Cathedral – Riga
Saints Boris and Gleb Cathedral – Daugavpils
LITHUANIA
Cathedral
Vilnius Cathedral – Vilnius

Churches
Church of St. Anne, Vilnius
MALTA
Cathedral
St. John's Co Cathedral – Valletta
MONTENEGRO
Monastery
Ostrog Monastery – Dabojevici
NETHERLANDS
Basilica
Oudenbosch Basilica – Oudenbosch

Cathedrals
St. John's Cathedral – Den Bosch
Utrecht Cathedral – Utrecht

Churches
St. Bavochurch – Haarlem

Synagogue
Portuguese Synagogue of Amsterdam – Amsterdam
Synagogue in the Gerard Doustraa – Amsterdam
NORTH MACEDONIA
Church
Sveti Jovan Kaneo – Ohrid
NORWAY
Cathedral
Nidaros Cathedral – Trondheim

Churches
Borgund Stavkirke – Borgund
Stavanger domkirke – Stavanger
Stave Church – Urnes
POLAND
Basilicas
Basilica of St. Stanislaw & Vaclav –  Kraków
St. Mary's Basilica – Kraków 
Archcathedral Basilica of the Assumption of the Blessed Virgin Mary and St. Andrew, Frombork – Warmia

Cathedrals
St. Mary's Church, Gdańsk – Gdansk
Gniezno Cathedral Gniezno
Wawel Cathedral – Kraków
Cathedral Basilica of the Assumption, Pelplin – Pelplin
Poznań Cathedral – Poznań

Churches
Churches of Peace in Jawor and Świdnica  Jawor and Świdnica counties
Wooden Churches of Southern Małopolska  – (Church of the Archangel Michael – Binarowa / Church of All Saints – Blizne / Church of the Archangel Michael – Dębno / Church of the Assumption of the Blessed Virgin Mary and the Archangel Michael – Haczów / Church of St Leonard – Lipnica Murowana / Church of St Philip and St James the Apostles – Sękowa


Synagogues
Old Synagogue – Kraków
High Synagogue – Kraków
Nozyk Synagogue –  Warsaw
Bobowa Synagogue – Bobowa
Lesko Synagogue – Lesko
PORTUGAL
Basilica
Basilica of the Holy Trinity – Fátima
Basilica of Mafra  – Tapada

Cathedrals
Mosteiro dos Jerónimos – Lisbon
Sanctuary of Bom Jesus do Monte – Braga

Monastery
Alcobaca Monastery  –  Alcobaca
Monastery of Batalha  – Batalha
Monastery of the Hieronymites  – Lisbon
Convent of Christ  – Tomar

Synagogue
Kadoorie Synagogue – Porto
ROMANIA
Cathedral
Iași Metropolitan Cathedral – Iași
Timișoara Orthodox Cathedral – Timișoara
Church
Black Church – Braşov
Churches of Moldavia  –Moldovita / Arbore / Humor / Patrauti / Probota / Suceava / Suceviţa / VoronetWooden Churches of Maramureş 
Monastery
Putna  Monastery – Putna
Horezu Monastery – Horezu

Synagogues
The Cetate Synagogue – Timișoara,
The Fabric Synagogue – Timișoara
The Choral Temple – Bucharest
Synagogue of Târgu – Mureș
RUSSIA
Monastery
Novodevichy Convent – Moscow
Nilov Monastery –  Tver

Cathedrals
Cathedral of the Transfiguration – Khabarovsk
Cathedral of Christ the Saviour – Moscow
St. Basils Cathedral – Moscow
Transfiguration Cathedral of Ugresha Monastery – Dzerzhinsky
St. Nicholas Naval Cathedral – St. Petersburg
St. Sophia Cathedral – Novgorod
St. Isaac's Cathedral – St. Petersburg
Kazan Cathedral – St. Petersburg
Trinity Izmailovsky Cathedral – St. Petersburg
Smolny Cathedral – St. Petersburg
Assumption Cathedral and Monastery  – Sviyazhsk

Church
Kizhi Pogost –  Kizhi
Church of the Ascension – Kolomenskoye
Churches of the Pskov School 

Mosques
Akhmad Kadyrov Mosque – Grozny
Grand Mosque – Makhachkala, Russia
Moscow Central Mosque – Moscow
St. Petersburg Mosque – St. Petersburg

Synagogues
Choral Synagogue of Moscow – Moscow
Grand Choral Synagogue – St. Petersburg
SERBIA
Cathedral
St. Sava Cathedral – Belgrade

Church
St. Mark's Church –  Belgrade

Monastery
Ravanica –  Ćuprija
Mansija –  Despotovac
Krušedol Monastery – Krušedol Selo
Mileševa – Prijepolje
Žiča – Kraljevo
Studenica Monastery –  Studenica

Synagogues
Jewish Street Synagogue –  Novi Sad
The Jakab and Komor Square Synagogue – Subotica
Sukkat Shalom Synagogue – Belgrade
SLOVAKIA
Cathedral
St. Elisabeth Cathedral (Dóm svätej Alžbety Szent Erzsébet-székesegyház) – Košice

Synagogue
Orthodox Synagogue – Košcie
SPAIN
Basilica
Basilica-Cathedral of Our Lady of the Pillar – Zaragosa
Cathedrals
Sagrada Familia – Barcelona
Barcelona Cathedral – Barcelona
Cathedral de Santa Eulália – Barcelona
Burgos Cathedral – Burgos
Cadiz Cathedral –  Cadiz
Mezquita-catedral de Córdoba – Cordoba
León Cathedral – León
Almudena Cathedral – Madrid
Palma Cathedral – Palma, Majorca
Santiago de Compostela Cathedral –  Sanitago de Compostela
 Seville Cathedral – Sevilla
Toledo Cathedral – Toledo

Monasteries
San Lorenzo de El Escoria – El Escoria
Santa Maria de Montserrat –  Monistrol de Montserrat
Poblet Monastery – Vimbodí
Royal Monastery of Santa María – Guadalupe

Mosques
Mezquita-catedral de Córdoba- Cordoba, Spain
Synagogue of El Transito – Toledo
Santa María la Blanca – Toledo

Synagogues
Synagogue of El Transito – Toledo
Córdoba Synagogue – Córdoba
SWEDEN
Synagogue
The Great Synagogue of Stockholm – Stockholm
SWITZERLAND
Monastery
Madonna del Sasso – Locarno

Synagogue
Great Synagogue of Basel – Basel
Beth Yaakov Synagogue – Genèva
TURKEY
Cathedral
Hagia Sophia – Istanbul

Church
St. Stephan's Church – Istanbul

Monastery
Sumeal Monastery – Macka
Benedictine Convent of St John  – Müster
Convent of St Gall  -St. Gall

Mosques
Sabanci Central Mosque – Adana
Kocatepe Mosque –  Ankara, Turkey
Grand Mosque – Bursa
Sultan Ahmen Mosque –  Istanbul, Turkey
Hagia Sophia – Istanbul, Turkey
Süleymaniye Mosque – Istanbul, Turkey

Synagogue
Grand Synagogue of Erdirne – Erdirne
Ashkenazi Synagogue – Istanbul
UKRAINE
Cathedrals
Pechersk Lavra  – Kyiv
St. Sophia Cathedral – Kyiv
Transfiguration Cathedral – Odessa
Annunciation Cathedral – Kharkiv
Church
St. Andrews Church – Kiev

Synagogues
Breslov Center Synagogue – Uman
The Kharkiv Choral Synagogue – Kharkiv
The Great Choral Synagogue in Podil – Kyiv
The synagogue of Kherson – Kherson
Baal Shem Tov's – Medzhbizh
UNITED KINGDOM
ENGLAND
Cathedral
St. Albans Cathedral – St. Albans
Bristol Cathedral – Bristol
Ely Cathedral – Cambridge
Canterbury Cathedral – Canterbury
Chichester Cathedral – Chichester
Durham Cathedral – Durham 
Exeter Cathedral – Exeter
Gloucester Cathedral – Gloucester
Hereford Cathedral – Hereford
ipon Cathedral – Leeds
Lincoln Cathedral – Lincoln
Lichfield Cathedral – Lichfield
Liverpool Metropolitan Cathedral – Liverpool
St. Paul's Cathedral – London
Westminster Abbey – London
Norwich Cathedral – Norwich
Oxford Cathedral  – Oxford
Salisbury Cathedral – Salisbury
Peterborough Cathedral – Peterbourgh
Rochester Cathedral – Rochester
Wells Cathedral – Wells
Westminster Abbey – London 
Winchester Cathedral – Winchester
York Minster – York

Churches
St Mary Redcliffe Church – St Mary Redcliffe
Southwell Minster – Southwell, Nottinghamshire
St. Margarets Church  – London

Monasteries / Abbeys
Abingdon Abbey – Abingdon
Battle Abbey – Battle
Fountains Abbey – Fountains
Glastonbury Abbey –  Galstonbury
Rievaulx Abbey – Helmsley
Brinkburn Priory –  Longframlington
Crowland Abbey –  Walheof

Mosques
Baitul Faith Mosque – London, UK
Regent's Park Mosque – London, UK

Synagogues
Bevis Marks Synagogue – London
SCOTLAND
WALES
Llanthony Priory – Llanthony