While traveling you may have an opportunity visit one of the many great music halls and experience a performance. Many are world famous and it can be challenging to purchase tickets or they may be too expensive. However, your hotel or information services can assist you or direct you to smaller alternative music venues that will be entertaining and reasonably priced.
Most popular of Classical European Music is the Opera, Ballet, Symphonic Orchestra, Chamber & Ensemble Music. Also look for Choir or Organ concerts usually performed at churches or cathedrals.
Even if you do not see a performance at one of these locations you may be able to visit and take a tour of these majestic buildings.
However, you do not have to attend an opera, symphony or ballet to hear and enjoy music. Music is engrained into all European cultures, in all different forms of music, regardless of the country you are visiting. Festivals will have street music as well as featured stages with bands playing music local the local region. Rock and popular music festivals like those at Roskilde in Denmark and Glastonbury in England rivals those of Coachella in the U.S.
There is also the nightlife in many cities where clubs provide different forms music from local ethnic to current popular forms. Jazz is as original am American form of music as one gets, yet Europeans have taken to it more than Americans have. For decades the Jazz scene has been more vibrant in Europe than back in the states.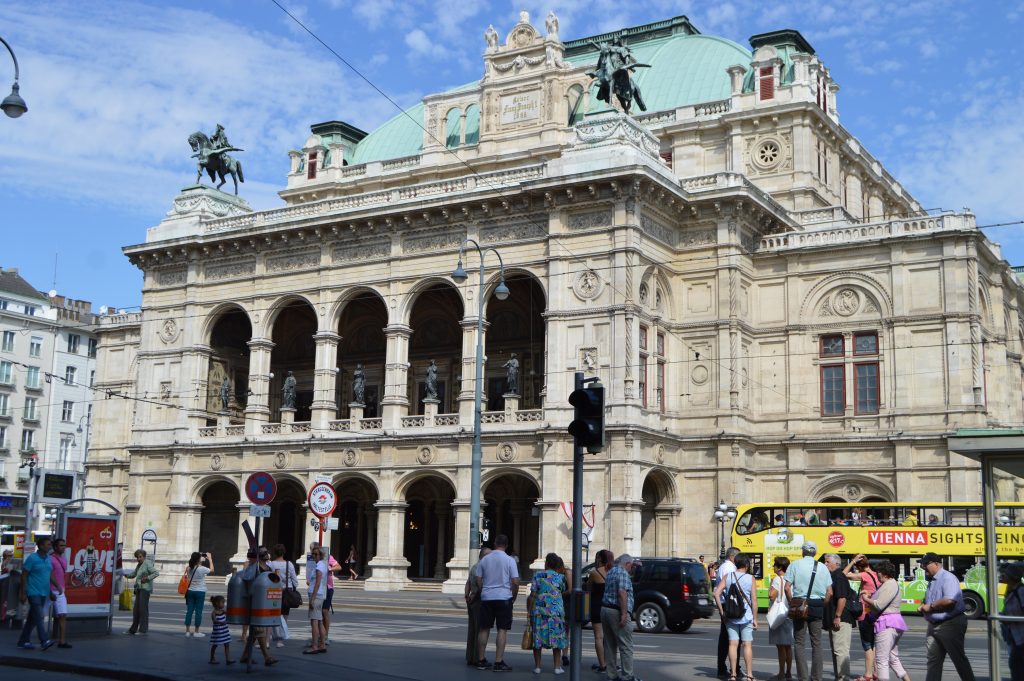 Europe's Most Popular Music Venues…
AUSTRIA
Felsenreitschule – Vienna Philharmonic – Salzburg
Großes Festspielhaus – Salzburg
Kleines Festpielhaus – Vienna Philharmonic – Salzburg
Mozarteum – Mozarteum Orchestra – Salzburg
Der Musikverein – Vienna Philharmonic– Vienna
Wiener Konzerthaus – Vienna Symphony Orchestra, Vienna Chamber, Wiener Singkademie – Vienna
Wiener Staatsoper – State Opera – Vienna
Wiener Volksoper – Volksoper Orchestra – Vienna
BELGIUM
Opera de Flandre-De Vlaamse Opera – Flanders Opera– Antwerp
Concertgebouw – Bruges
Palais des Beaux-Arts – Brussels
Théâtre Royal de la Monnaie – National Opera – Brussels
Koninklijke Vlaamse – Flanders Opera – Ghent
Opera Royal de Wallonie – Liége
BULGARIA
Nationalen Dvorets na Kulturata – Sofia
Sofia National Opera & Ballet – Sofia
CROATIA
Hrvatsko Narodno Kazalište – National Thearter – Split
Hrvatsko Narodno Kazalište – Croatian National Theater – Zagreb
CZECHIA
Prague National Theater – Prague
Prague Estates Theater – Prague
State Opera Státní Opera – Prague
The New Stage Nová scéna – Prague
Rudolfinum – Czech Philharmonic – Prague
DENMARK
Copenhagen Opera House – Royal Danish Theater – Copenhagen
The Koncerthuset – Danish National Symphony– Copenhagen
FINLAND
Helsinki Music Centre | Misiikitalo – Helsinki
Finnish NationalL Opera | Kansallisoopera – Helsinki
FRANCE
L'Olympia Concert Hall – Paris
Maison de la Radio – Paris
Opera Bastille Opéra National de Paris – Paris
Palais Garnier – Paris
Philharmonie de Paris Concert Hall – Paris
Salle Pleyel – Orchestra de Paris – Paris
Salle Wagram – Paris
Théâtre des Champs-Élysées – Paris
Théâtre Mogador – Paris
GERMANY
Festspeilhaus – Baden-Baden
Bayreuth Festspielhaus – Bayreuth
Margravial Opera House – Bayreuth
Berlin Philharmonie – Berlin Philharmoniker – Berlin
Deutsche Oper Berlin – Berlin
Konzerthaus Berlin – Berlin
Berlin State Opera | Staatsoper Unter Den Linden – Berlin
Chemnitz Opera – Chemnitz
Oper Köln Oper Der Stadt Köln – Cologne
Semperoper – Sächsische Staatsoper, Semperoper Ballet – Dresden
Alte Oper Frankfurt – Frankfurt
Opern-und Schauspielhaus – Frankfurt
Hamburgische Staatsoper – Hamburg Ballet, Hamburg State Opera, Hamburg
Philharmonisches– Hamburg
Elbe Philharmonic Hall | Elbphilharmonie Hamburg – Hamburg
Laeishalle – Hamburger Symphoniker – Hamburger
Leipzig Gewandhaus Orchestra – Leipzig
Oper Leipzig – Leipzig
National Theater – Mannheim
Munich National Theater – Bayerische Staatsoper, Staatballet, Staatorchestra – Munich
Staatstheater – Stuttgart Ballet – Stuttgart
HUNGARY
Hungarian State Opera House – Budapest
ICELAND
HARPA Concert Hall – Reykjavik
ITALY
Teatro Comunale de Bologna – Bologna
Teatro Comunale de Firenze – Opera di Firenze – Florence
Teatro alla Scala – La Scala Opera – Milan
Teatro do San Carlo – Naples
Teatro Massimo – Palermo
Auditorium Parco Della Misica – Rome
Teatro dell'Opera di Roma – Rome
Teatro Lirico Giuseppe Verdi – Trieste
Teatro Regio di Torino – Turin
Teatro La Fenice – Venice
Arena di Verona – Verona
MONACO
Opéra de Monte-Carlo – Monte Carlo
NETHERLANDS
Dutch National Opera & Ballet– Amsterdam
Concertgebouw – Royal Concertgebouw Orchestra – Amsterdam
NORWAY
Oslo Opera House – Den Norske Opera & Ballett – Oslo
POLAND
Teatr Wielki – National Opera – Warsaw
PORTUGAL
Teatro Nacional de Sao Carlos – Lisbon
RUSSIA
Bolshoi Theater – Bolshoi Ballet & Opera – Moscow
Mariinsky Theater – St. Petersburg
SERBIA
Narodno Pozorište – Belgrade Opera – Belgrade
SLOVAKIA
Bratislava Opera – Bratislava
SLOVENIA
Slovene National Theater – Maribor
SPAIN
Gran Teatro del Liceu – Barcelona
Palau e la Música Catalana – Catalan Choral Society – Barcelona
Esukalduna Palace – Bilbao Symphony Orchestra – Bilbao
Teatro Arriaga Antzokia – Bilboa
Auditorio Alfredo Kraus -Las Palmas Philharmonic Society – Las Palmas
Teatro de la Zaruela – Madrid
Teatro Real – Orquesta Sinfónica de Madrid – Madrid
Kursaal Palace – San Sebastián
Palau de la Música – Orquestra de Valencia – Valencia
Palau de las Arts – Valencia
SWEDEN
Konserthuset – Gothenburg Symphony Orchestra – Gothenburg
Lilla Bommen – Gothenburg Opera – Gothenburg
Drottningholms Slottsteater – Stockholm
Kungliga Operan – Royal Swedish Opera – Stockholm
SWITZERLAND
Grand Théâtre de Genéva – Geneva
Théâtre Municipal de Lusanne – Lusanne Opera – Lusanne
Luzern Cultural & Congress Centre – Lucerne Symphony Orchestra – Lucerne
Tonhalle Gesellschaft – Zürich Tonhalle Orchestra – Zürich
Zürich Opera House – Zürich
UKRAINE
The National Theater of Opera & Ballet – State Opera House – Kiev
Odessa Theater – Odessa Opera – Odessa
UNITED KINGDOM
England
Symphony Hall – Birmingham Symphony – Birmingham
The Lighthouse – Bournemouth Symphony Orchestra – Bournemouth
Sage Gateshead – Gateshead
Glyndebourne Opera – Glynebourne
Barbican Centre – London Symphony Orchestra, BBC Symphony Orchestra – London
Blackheath Halls – London
Cadogan Hall – Royal Philharmonic Orchestra – London
Conway Hall – London
Fairfield Halls London Mozart Players – London
Kings Place – London
London Coliseum – English National Opera & Ballet- London
Milton Court – London
Silk Street Building Guildhall School – London
Royal Academy of Music – London
Royal Albert Hall – London
Royal College of Music – London
Royal Opera House – Royal Opera & Ballet – London
Southbank Centre/ Royal Festival Hall, Purcell Room, Queen Elizabeth Hall London Philharmonic Orchestra – London
St John's Smith Square – London
St Luke Old Street Aurora Orchestra – London
Wigmore Hall – London
Scotland
Edinburgh Festival Theater – Edinburgh
Wales
Canolfan Mileniwm Cymru – Cardiff