Greece achieved independence from the Ottoman Empire in 1830. During the second half of the 19th century and the first half of the 20th century, it gradually added neighboring islands and territories, most with Greek-speaking populations. In World War II, Greece was first invaded by Italy (1940) and subsequently occupied by Germany (1941-44); fighting endured in a protracted civil war between supporters of the king and other anti-communist and communist rebels. Following the latter's defeat in 1949, Greece joined NATO in 1952. In 1967, a group of military officers seized power, establishing a military dictatorship that suspended many political liberties and forced the king to flee the country. In 1974 following the collapse of the dictatorship, democratic elections and a referendum created a parliamentary republic and abolished the monarchy. In 1981, Greece joined the EC (now the EU); it became the 12th member of the European Economic and Monetary Union (EMU) in 2001. Greece has suffered a severe economic crisis since late 2009, due to nearly a decade of chronic overspending and structural rigidities. Since 2010, Greece has entered three bailout agreements with the European Commission, the European Central Bank (ECB), and the IMF. The Greek Government agreed to its current, $96 billion bailout in July 2015, which will conclude in August 2018.
🇬🇷
Greece Tourism Information…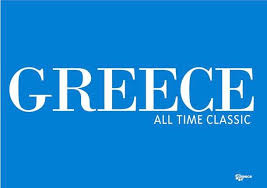 Cyclades
Eastern Islands: Antiparos, Andros, Delos, Mykonos, Naxos, Paros, Syros, Tinos
Koufonisia Islands: Ano Koufonisi, Donousa, Iraklia, Kato Koufonisi, Schinousa
Southern Islands: Amorgos, Anafi, Folegandros, Ios, Santorini, Sikinos, Thirassia
Western Islands: Kea, Kimolos, Kythnos, Markronisos, Milos, Serifos, Sifnos
Ionian
Islands: AntiPaxi, Corfu, Ereikousa, Ithaki, Kefallonia, Kythira, Lefkada, Mathraki, Othonoi, Paxi, Zakinthos
Cities: Argostoli, Corfu Town, Zante
Here is a list of some of the most interesting and visited places. Cities or areas listed will always have more than just one thing see and do. With the popular cities or areas we list some of the best known, which should go on everyone's, must see list when they visit.
Cyclades Islands Delos
Milos
Mykonos
Naxos
Paros
Santorini
Crete Elafonissi
Knossos
Samaria GorgeDelphi
Dodecaneses Islands Patmos
Rhodes
Epidarius
Ioanian Islands Corfu
Kefalonia Melissani Cave
Myrtos Beach
Zakynthos
Lindos
Meteora
Mt. Athos
Mycenae
Mystras
Olympia
Peloponnese
Thessaloniki
Zagori
🇬🇷
Greece Country Information…
Total: 131,957 km2 land: 130,647 km2 – Ranked 97th water: 1,310 km2
temperate; mild, wet winters; hot, dry summers
110,773,253 (July 2016 est.) ranked 85th
Greek (official) 99%, other (includes English and French) 1%
Population: Greek 93%, other (foreign citizens) 7% (2001 census)
note: data represent citizenship, since Greece does not collect data on ethnicity
Greek Orthodox (official) 98%, Muslim 1.3%, other 0.7%
230V, 50Hz (European plug C, F, )
Local Emergency Phone Number:
Ambulance: 112, 166; Fire: 112, 199; Police: 112, 100
EET (UTC+2) / Summer EEST (UTC+3) daylight saving time: +1hr, begins last Sunday in March, ends last Sunday in October
Il : Ὕμνος εἰς τὴν Ἐλευθερίαν
Ελευθερία ή Θάνατος, "Freedom or Death" (traditional)
🇬🇷
Holidays and Observances in Greece in 2021