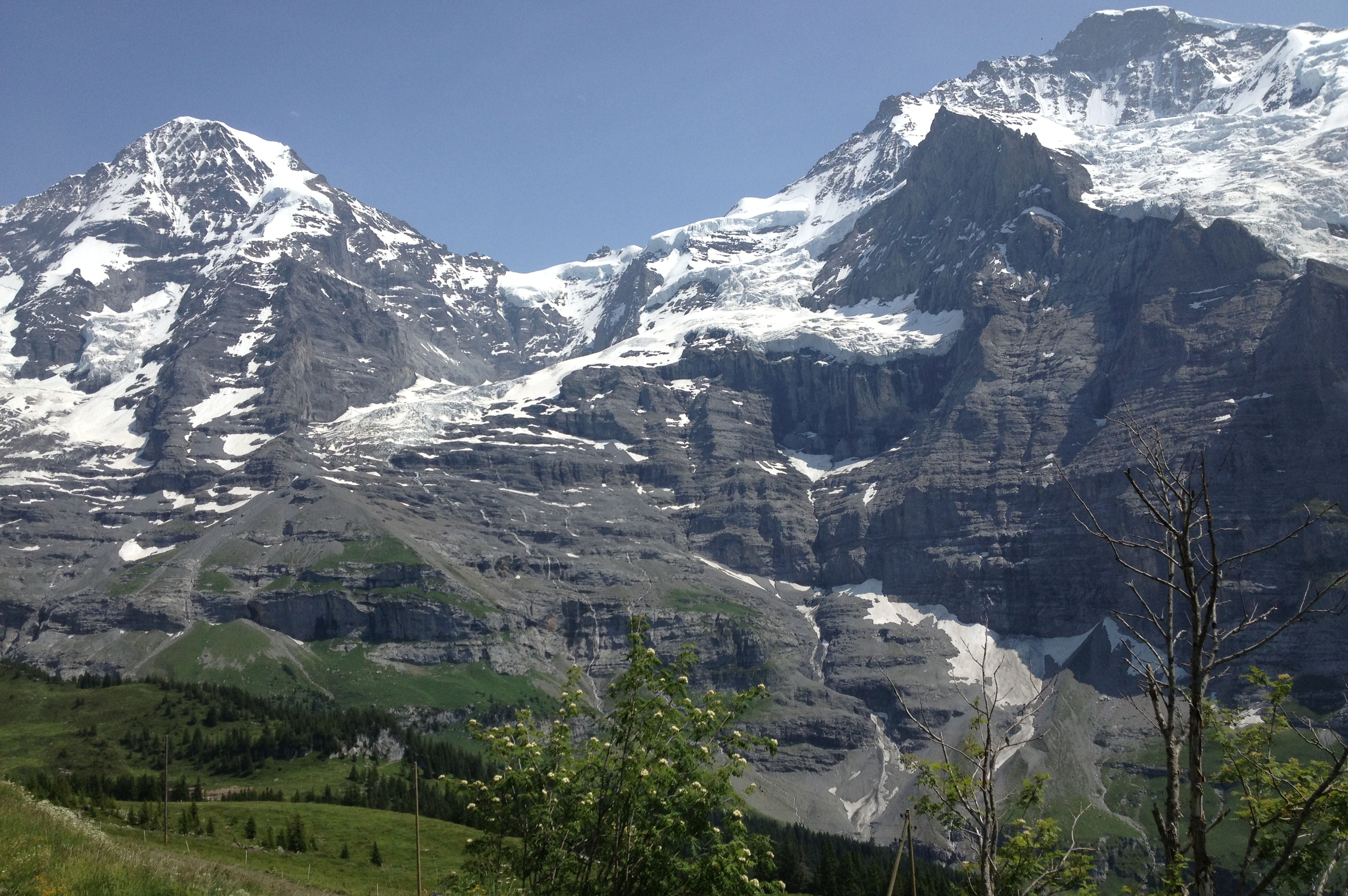 Natural Sights / National Parks
If you're not the type for the hustle and bustle of the big cities and want to see the natural beauty and wonder of the European continent there are some incredible sites to visit. There's a lot for the natural enthusiast to see, do and enjoy throughout the continent from:
Scenic river valleys, gorges and waterfalls.
High mountain ranges, peaks, glaciers, and volcanoes both extinct and active.
Scenic sea and ocean with coastlines doted with sun drenched beaches, quint harbors, rugged cliff terrain and beautiful islands that are a mecca for vacationing.
Placid lakes that are a desirable place for water recreation and relaxation.
Caves that take you deep inside the earth below.
Go to our ➾ Geography page to read about Europe for specific information.
Europe has followed America's lead by setting aside and preserving some of the last vestiges of wilderness and natural beauty. For centuries pristine forest and ecco systems where destroy by growing civilizations. Much of the land was converted into use for agriculture, growing populations and cities encroaching onto the natural ecco systems. Most of all Europe's untouched forests are gone but, Europe has preserved the few that remain and in the past decades has done much to start preserving it's natural resources. As you travel east and north in Scandinavia, you will encounter more forests and unspoiled lands.
National Parks
The implementation of National Parks in most European countries has preserved all areas for all to see and enjoy forever. Besides the natural beauty these parks, they offer plenty of hiking trails and facilities to camp.
Nature or Natural Parks
In addition to national parks European countries have designated areas to be protected by long-term land planning, sustainable resource management and the limiting agricultural and real estate development. These valuable areas are preserved in their present ecological state and promoted for ecotourism purposes.
UNESCO Global Geoparks
UNESCO Global Geoparks are single, unified geographical areas where sites and landscapes of international geological significance are managed with a holistic concept of protection, education and sustainable development. Their bottom-up approach of combining conservation with sustainable development while involving local communities is becoming increasingly popular. At present, there are 169 UNESCO Global Geoparks in 44 countries
National Parks / Geo Parks & Natural Sites
🇦🇱 Albania
Dinaric Alps
Syri Kalter Spring

National Parks
Butrint National Park
Dajti Mountain National Park
Divjaka-Karavasta National Park
Lurë National Park
Llogara National Park
Prespa National Park
Thethi National Park
Tomorr Mountain National Park
Valbona Valley National Park
Fir of Hotova-Dangëlli National Park
Fir of Drenova National Park
Shtamë Pass National Park
Zall-Gjoçaj National Park
Shebenik-Jabllanica National Park
Karaburun-Sazan National Park
Korab-Koritnik National Park
🇦🇩 Andorra
Pyrénées Mountains
🇦🇹 Austria
Achensee
Danube River
Eisriesenwelt Cave
Hallstatter See
Schafberg Peak
Wachau Valley
Wolfgangsee
Zellersee

National Parks
Donau-Auen National Park
Gesäuse National Park
Hohe Tauern National Park
Limestone Alps National Park
Neusiedler See – Seewinkel National Park
Nock Mountain National Park
Thayatal National Park

Nature Parks
Burgenland:
Geschriebenstein-Irottkö
Landseer Berge
Raab-Örseg-Goricko
Weinidylle
Neusiedler See-Leithagebirge
Rosalia-Kogelberg
Carinthia:
Dobratsch
Weißensee
Lower Austria:
Blockheide-Eibenstein-Gmünd
Buchenberg-Waidhofen an der Ybbs
Dobersberg-Thayatal
Eichenhain bei Klosterneuburg
Eisenwurzen NÖ
Falkenstein
Föhrenberge-Mödling
Geras
Heidenreichsteiner Moor
Hochmoor Schrems
Hohe Wand Nature Park
Jauerling-Wachau
Kamptal-Schönberg
Leiser Berge
Mannersdorf-Wüste
Nordwald-Bad Großpertholz
Ötscher-Tormäuer
Purkersdorf-Sandstein-Wienerwald
Seebenstein-Türkensturz
Sierningtal-Flatzer Wand
Sparbach
Upper Austria:
Mühlviertel
Obst-Hügel-Land
Salzburg:
Buchberg
Riedingtal in Zederhaus
Weißbach bei Lofer
Styria:
Almenland
Mürzer Oberland
Sölktäler
Steirische Eisenwurzen
Pöllauer Tal
Südsteirisches Weinland
Zirbitzkogel-Grebenzen
TyrolAlpenpark Karwendel
Kaunergrat (Pitztal-Kaunertal)
Tyrolean Lechtal
Zillertal Alps
Ötztal
Vorarlberg:
Biosphere park Großes Walsertal
Nagelfluhkette
Rhine delta (Lake Constance)

UNESCO GEOPark
Karawanken / Karavanke
Ore of the Alps
Styrian Eisenwurzen
🇧🇾 Belarus
Bialowieza Forest
🇧🇪 Belgium
The Ardennes
North Sea

National Parks
Hoge Kempen National Park

Nature Parks
Biokovo
Kopački rit
Lonjsko polje
Medvednica
Papuk
Telašćica
Učka
Velebit
Vransko jezero
Žumberak-Samoborsko gorje
Lastovo
Nature Park Zavratnica

Nature Parks
Flanders:
Flanders Landscapes
Wallonia:
Attert Valley
Burdinale-Mehaigne
Gaume
High Country
Hill Country
Hill Ferns-Eifel
Scheldt Plains
Sources
Two Ourthes
Upper Sure Anlier Forest
Viroin-Hermeton

UNESCO GEOPark
Famenne – Ardenne Park
🇧🇦 Bosnia & Herzegovina
Dinaric Alps

National Parks
Sutjeska National Park
Kozara National Park
Una National Park
🇧🇬 Bulgaria
Balkan Mountains
Black Sea Coast

National Parks
Central Balkan National Park
Pirin National Park
Rila National Park
🇭🇷 Croatia
National Parks
Plitvice Lakes National Park
Paklenica National Park
Risnjak National Park
Mljet National Park
Kornati National Park
Brijuni National Park
Krka National Park
Sjeverni Velebit National Park

Nature Parks
Biokovo
Kopački rit
Lonjsko polje
Medvednica
Papuk
Telašćica
Učka
Velebit
Vransko jezero
Žumberak-Samoborsko gorje
Lastovo
Nature Park Zavratnica

UNESCO GEOPark
Papuk Park
Vis Archipelago Park
🇨🇿 Czechia
Elbe River
Macocha Abyss Gorge
Moravian Karst Cave

National Parks
Šumava National Park
Krkonoše National Park National Park
Podyjí České Švýcarsko National Park

UNESCO GEOPark
Bohemian Paradise Park
🇪🇪 Estonia
National Parks
Lahemaa National Park
Karula National Park
Soomaa National Park
Vilsandi National Park
Matsalu National Park
🇫🇮 Finland
Åland Archipelago
Finnish Lakeland
Scandinavian Mountains

National Parks
Archipelago National Park
Bothnian Sea National Park
Eastern Gulf of Finland National Park
Ekenäs Archipelago National Park
Helvetinjärvi National Park
Hiidenportti National Park
Isojärvi National Park
Kauhaneva-Pohjankangas National Park
Koli National Park
Kolovesi National Park
Kurjenrahka National Park
Lauhanvuori National Park
Leivonmäki National Park
Lemmenjoki National Park
Liesjärvi National Park
Linnansaari National Park
Nuuksio National Park
Oulanka National Park
Päijänne National Park
Pallas-Yllästunturi National Park
Patvinsuo National Park
Perämeri National Park
Petkeljärvi National Park
Puurijärvi-Isosuo National Park
Pyhä-Häkki National Park
Pyhä-Luosto National Park
Repovesi National Park
Riisitunturi National Park
Rokua National Park
Salamajärvi National Park
Seitseminen National Park
Sipoonkorpi National Park
Syöte National Park
Tiilikkajärvi National Park
Torronsuo National Park
Urho Kekkonen National Park
Valkmusa National Park



UNESCO GEOPark
Lauhanvuori-Hämeenkangas Park
Rokua Park
Saimaa Park
🇫🇷 France
The Alps
• Bernina Range
◦ Piz Bernina
• Graian Alps
◦ Aiguille Verte
◦ Grande Jorasses
◦ Mt. Blanc
Massif des Calanques Coast
Camargue Delta
Corniche d'Or Coast
Dune of Pyla
Étretat Coast – Normandy
Gorges du Fier – Annecy
Gorge du Verdon –
Iles d'Hyeres Islands
Lac du Salagou
Lac de Sainte Croix
Lake Annecy
Loire River
Mount Saint-Michel
Pyrénées Mountains
Rhone River
Seine River

National Parks
Calanques National Park
Cévennes National Park
Écrins National Park
Mercantour National Park
Port-Cros National Park
Pyrénées National Park
Mercantour National Park
Vanoise National Park


Nature Parks
Parc naturel régional Scarpe-Escaut
Parc naturel régional d'Armorique
Parc naturel régional de Camargue
Parc naturel régional de Brière
Parc naturel régional de la Forêt d'Orient
Parc naturel régional des Landes de Gascogne
Parc naturel régional du Morvan
Parc naturel régional du Vercors
Parc naturel régional de Corse
Parc naturel régional du Haut-Languedoc
Parc naturel régional de Lorraine
Parc naturel régional du Pilat
Parc naturel régional Normandie-Maine
Parc naturel régional des Vosges du Nord
Parc naturel régional de Martinique
Parc naturel régional de la Montagne de Reims
Parc naturel régional du Luberon
Parc naturel régional du Queyras website
Parc naturel régional des volcans d'Auvergne
Parc naturel régional de la haute vallée de Chevreuse
Parc naturel régional des Grands Causses
Parc naturel régional du Vexin français
Parc naturel régional du Massif des Bauges
Parc naturel régional Loire-Anjou-Touraine
Parc naturel régional du Verdon
Parc naturel régional du Perche
Parc naturel régional de l'Avesnois
Parc naturel régional Périgord Limousin
Parc naturel régional du Gâtinais Français
Parc naturel régional des Causses du Quercy
Parc naturel régional de Guyane
Parc naturel régional des Boucles de la Seine normande
Parc naturel régional des Monts d'Ardèche
Parc naturel régional de la Narbonnaise en Méditerranée
Parc naturel régional Oise-Pays de France
Parc naturel régional des Pyrénées catalanes
Parc naturel régional de Millevaches en Limousin
Parc naturel régional des Alpilles
Parc naturel régional des Pyrénées ariégeoises
Parc naturel régional des Ardennes turel régional des Préalpes d'Azur
Parc naturel régional du Marais poitevin
Parc naturel régional du Golfe du Morbihan
Parc naturel régional des Baronnies provençales

UNESCO GEOPark
Beaujolais Park
Causses du Quercy Park
Chablais Park
Haute-Provence Park
Luberon Park
Massif des Bauges Park
Monts d'Ardèche Park
🇩🇪 Germany
Bavarian Alps
• Zugspitze
Black Forest
Eisriesenwelt Cave
Elbe River
Königssee
Lange Anna-Heligoland Island
Moselle River
Oder River
Rhine River

National Parks
Schleswig-Holstein Wadden Sea National Park
Hamburg Wadden Sea National Park
Lower Saxony Wadden Sea National Park
Jasmund National Park
Western Pomerania Lagoon Area National Park
Müritz National Park
Lower Oder Valley National Park
Harz National Park
Kellerwald-Edersee National Park
Hainich National Park
Eifel National Park
Saxon Switzerland National Park
Bavarian Forest National Park
Berchtesgaden National Park
Black Forest National Park

UNESCO GEOPark
Bergstraße-Odenwald Park
Harz, Braunschweiger Land Park
Muskauser-Faltenbogen / Łuk Mużakowa
Swabian Alb Park
Terra.vita Park
Thuringia Inselsberg-Drei Gleichen Park
Vulkaneifel Park
🇬🇮 Gibraltar
Rock of Gibraltar
🇬🇷 Greece
Aegean Islands
• Chios
• Samos
Cape Sounion
Cyclades Islands
• Delos
• Fira – Santorini
• Mykonos
• Naxos
• Paros
Dodecanese Islands
• Rhodes
Ionian Islands
• Corfu
Kleftiko Beach Arch – Milos Island
Crete
• Samariá Gorge – Crete
Víkos Gorge

National Parks
Ainos National Park
Alonnisos Marine Park
Oeta National Park
Olympus National Park
Parnassos National Park
Parnitha National Park
Pindus National Park
Prespes National Park
Samaria National Park
Sounio National Park
Vikos–Aoös National Park
Zakynthos National Marine Park

UNESCO GEOPark
Chelmos Vouraikos Park
Grevena-Kozani Park
Lesvos Island
Psiloritis Park
Sitia Park
Vikos Park
🇭🇺 Hungary
Danube River
Lake Balaton

National Parks
Aggtelek National Park
Balaton Uplands National Park
Bükk National Park
Danube-Drava National Park
Danube-Ipoly National Park
Fertő-Hanság National Park
Hortobágy National Park
Kiskunság National Park
Körös-Maros National Park
Őrség National Park

Nature Parks
Geschriebenstein-Írottkő
Raab-Örseg-Goricko

UNESCO GEOPark
Bakony-Balaton Park
Novohrad / Nógrád Park
🇮🇸 Iceland
Askja Caldera
The Blue Lagoon
Dettifoss Falls
Gullfoss Falls
Haukadalur Geyser Basin
Myvatn Lake
Jokulsarlon Lagoon
Laugavegur Trail
Látrabjarg Coast
Reynisfjara Beach
Seljalandsfoss Falls
Skogafoss Falls
Svartifoss Falls
Vatnajokull Ice Caves & Glacier

National Parks
Snæfellsjökull National Park
Vatnajökull National Park
Þingvellir National Park

UNESCO GEOPark
Katla Park
Reykjanes Park
🇮🇪 Ireland
Cliffs of Moher
Great Pollet Arch – Donegal County
Slieve League – Donegal County

National Parks
Ballycroy National Park
Connemara National Park
Glenveagh National Park
Killarney National Park
The Burren National Park
Wicklow Mountains National Park

UNESCO GEOPark
Burren & Cliffs of Moher Park
Copper Coast Park
Marble Arch Caves
🇱🇻 Latvia
Baltic Sea Coast
Daugava River

National Parks
Gauja National Park
Rāzna National Park
Ķemeri National Park
Slītere National Park
🇱🇹 Lithuania
Baltic Sea Coast
Curonian Spit & Lagoon
Nemunas Delta

National Parks
Aukštaitija National Park
Dzūkija National Park
Kuršių Nerija National Park
Trakai National Historic Park
Žemaitija National Park
🇲🇹 Malta
Azure Window Arch – Gozo
Dingli Cliffs
🇲🇪 Montenegro
Bay of Kotor
Dinaric Alps
• Mount Lovcen
Adriatic coast
• Sveti Stefan Island

National Parks
Durmitor National Park
Biogradska Gora National Park
Lovćen National Park
Lake Skadar National Park
Prokletije National Park
🇳🇱 Netherlands
Rhine River
West Frisian Islands

National Parks
Lauwersmeer National Park
Schiermonnikoog National Park
Alde Feanen National Park
Drents-Friese Wold National Park
Dwingelderveld National Park
Drentsche Aa National Landscape
De Weerribben-Wieden National Park
Sallandse Heuvelrug National Park
Veluwezoom National Park Hoge
Veluwe National Park
Utrechtse Heuvelrug National Park
Dunes of Texel National Park
Zuid-Kennemerland National Park
Oosterschelde National Park
De Biesbosch National Park
De Zoom – Kalmthoutse Heide Cross-Border Park
De Loonse en Drunense Duinen National Park
De Groote Peel National Park
Maasduinen National Park Meinweg National Park

UNESCO GEOPark
De Hondsrug Park
🇲🇰 North Macedonia
Lake Orhid

National Parks
Pelister National Park
Mavrovo National Park
Galičica National Park
🇳🇴 Norway
The Fjords
• Geirangerfjord
• Hardangerfjord
• Lysefjord
• Nordfjord
• Sognefjord
Hornelen Mountain – Bremangerlandet Island
Nordkapp
Norwegian Sea coast
Scandinavian Mountains

National Parks
Ånderdalen National Park
Blåfjella–Skjækerfjella National Park
Breheimen National Park
Børgefjell National Park
Dovre National Park
Dovrefjell–Sunndalsfjella National Park
Færder National Park
Femundsmarka National Park
Folgefonna National Park
Forlandet National Park
Forollhogna National Park
Fulufjellet National Park
Gutulia National Park
Hallingskarvet National Park
Hardangervidda National Park
Indre Wijdefjorden National Park
Jostedalsbreen National Park
Jotunheimen National Park
Junkerdal National Park
Làhku National Park
Langsua National Park
Lierne National Park
Lomsdal–Visten National Park
Møysalen National Park
Nordenskiöld Land National Park
Nordre Isfjorden National Park
Nordvest-Spitsbergen National Park
Øvre Anárjohka National Park
Øvre Dividal National Park
Øvre Pasvik National Park
Rago National Park
Reinheimen National Park
Reisa National Park
Rohkunborri National Park
Rondane National Park
Saltfjellet–Svartisen National Park
Sassen – Bünsow Land National Park
Seiland National Park
Sjunkhatten National Park
Skarvan and Roltdalen National Park
Sør-Spitsbergen National Park
Stabbursdalen National Park
Varangerhalvøya National Park
Ytre Healer National Park

UNESCO GEOPark
Gea Norvegica Park
Magma Park
Trollfjell Park
🇵🇹 Portugal
Algarve Coast
• Praia da Marinha
• Sagres Cliffs
Azores
Cabo da Roca
Duro Valley
Madeira Islands
• Cabo Girão coast
Tagus River

National Parks
Peneda-Gerês National Park

UNESCO GEOPark
Azores Park
Arouca park
Estreala park
Naturtejo da Mesta Meridional Park
Terras de Cavaleiros park
🇷🇴 Romania
Carpathian Mountains
• Făgăraş Mountains
• Moldoveanu Peak
• Transylvania Alps
Danube River & Delta
Iron Gates of the Danube

National Parks
Domogled-Valea Cernei National Park
Rodna National Park
Retezat National Park
Cheile Nerei-Beuşniţa National Park
Semenic-Cheile Caraşului National Park
Călimani National Park
Cozia National Park
Piatra Craiului National Park
Munţii Măcinului National Park
Defileul Jiului National Park
Ceahlău National Park
Cheile Bicazului-Hăşmaş National Park
Buila-Vânturariţa National Park
🇷🇺 Russia
Black Sea
Curonian Spit & Lagoon
Sail Rock – Black Sea
Ural Mountains
Ural River
Volga River

National Parks
Bashkiriya National Park
Buzuluksky Bor National Park
Chavash Varmane
Bor National Park
Kalevalsky Bor National Park
Kenozersky National Park
Khvalynsky National Park
Kurshskaya Kosa National Park
Losiny Ostrov National Park
Mariy Chodra National Park
Meshchyora National Park
Meshchyorsky National Park
Nechkinsky National Park
Nizhnyaya Kama National Park
Orlovskoye Polesye National Park
Paanajärvi National Park
Pleshcheyevo Ozero National Park
Prielbrusye National Park
Pripyshminskiye Bory National Park
Russkaya Arktika National Park
Russky Sever National Park
Samarskaya Luka National
Park Sebezhsky National Park
Smolenskoye Poozerye National Park
Smolny National Park
Sochi National Park
Ugra National Park
Valdaysky National Park
Vodlozersky National Park
Yugyd Va National Park

🇷🇸 Serbia
Balkan Mountains
Beljanica waterfalls
Danube River
Dinaric Alps
Iron Gates of the Danube

National Parks
Đerdap National Park
Kopaonik National Park
Tara National Park
Šar Mountain National Park
Fruška Gora National Park

UNESCO GEOPark
Djerbia Park

🇸🇰 Slovakia
Carpathian Mountains High Tatras Gerlachovský štít Peak
Danube River
Dinaric Alps

National Parks
Veľká Fatra National Park
Malá Fatra National Park
Low Tatras National Park
Muránska planina National Park
Pieniny National Park
Poloniny National Park
Slovak Karst National Park
Slovak Paradise National
Park Tatra National Park

UNESCO GEOPark
Novohrad / Nógrád Park
🇸🇮 Slovenia
Lake Bled
Skocjan Cave – Divača

National Parks
Triglav National Park

UNESCO GEOPark
Idrija Park
Karawanken / Karavanke
🇪🇸 Spain
Balearic Islands
Cantabrian Mountains
Canary Islands
• Cliffs of Giants – Tenerife
Gaztelugatxe Peninsula
Guadalquivir River Delta
Playa de las Catedrales Arches- Ribadeo
Punta de Tarifa
Pyrénées Mountains
Sierra Nevada Mountains
Tagus River

National Parks
Aigüestortes i Estany de Sant Maurici
Cabañeros
Cabrera Archipelago
Caldera de Taburiente
Doñana
Garajonay
Guadarrama
Illas Atlánticas de Galicia
Monfragüe
Ordesa y Monte Perdido
Picos de Europa
Sierra Nevada
Sierra de las Nieves
Tablas de Daimiel
Teide
Timanfaya

Nature Parks
Sierras de Cazorla, Segura y Las Villas Natural Park

UNESCO GEOPark
Basque Coast Park
Cabo de Gata-Níjar Park
Central Catalonia Park
Courel Mountains
El Hierro Park
Granada Park
Lanzorote & Chinjo Islands
Las Loras park
Maestrazgo park
Molina & Alto Tajo Park
🇸🇪 Sweden
Scandinavian Mountains
Stockholm Archipelago

National Parks
Aigüestortes i Estany de Sant Maurici National Park
Cabrera Archipelago National Park
Cabañeros Caldera de Taburiente National Park
Doñana National Park
Garajonay National Park
Guadarrama National Park
Illas Atlánticas de Galicia National Park
Monfragüe National Park
Ordesa y Monte Perdido National Park
Picos de Europa National Park
Sierra Nevada National Park
Tablas de Daimiel National Park
Teide National Park
Timanfaya National Park
🇨🇭Switzerland
The Alps
• Bernese Alps
◦ Aletschhorn
◦ Eiger
◦ Finsteraarhorn
◦ Jungfrau
◦ Mönch
◦ Schreckhorn
• Dauphiné Alps
◦Barre des Écrins
• Penninie Alps
◦ Dent Blanche
◦ Dent d'Hérens
◦ Dom
◦ Grand Combin
◦ Lagginhorn
◦ Matterhorn
◦ Ober Gabelhorn
◦ Rimpfischhorn
◦ Weisshorn
◦ Weissmies
Lake Constance
Lake Geneva
Lake Lucerne
Lake Lugano
Lake Thun
Rhine Falls

National Parks
Swiss National Park

Nature Parks
Aargau Jura Park
Beverin Nature Park
Binntal Nature Park
Chasseral Nature Park
Diemtigtal Nature Park
Doubs Nature Park
Parc Ela
UNESCO Entlebuch Biosphere
Gantrisch Nature Park
Gruyère Pays-d'Enhaut Nature Park
Jura vaudois Nature Park
Pfyn-Finges Nature Park
Thal Nature Park
Val Müstair Biosphere
🇹🇷 Turkey
Bosphorus Strait
Cappadocia Landscape
• Göreme Volcanic Rock Formations
The Dardenalles
Pamukkale Springs

National Parks
Yozgat Pine Grove National Park
Karatepe-Arslantaş National Park
Soğuksu National Park
Kuşcenneti National Park
Uludağ National Park
Yedigöller National Park
Dilek Peninsula – Büyük Menderes Delta National Park
Spil Mount National Park Mount
Kızıl National Park
Mount Güllük (Termessos) National Park
Kovada Lake National Park
Munzur Valley National Park
Beydağları Coast National Park
Gallipoli Peninsula Historical National Park
Köprülü Canyon National Park
Mount Ilgaz National Park
Historical Başkomutan National Park
Ancient Göreme National Park
Altındere Valley National Park
Ancient Boğazköy Alacahöyük National Park
Mount Nemrut National Park
Beyşehir Lake National Park
Kazdağı National Park
Altınbeşik Cave National Park
Hatilla Valley National Park
Karagöl-Sahara National Park
Kaçkar Mountains National Park
Aladağlar National Park
Marmaris National Park
Saklıkent National Park
Ancient Troya National Park
Mount Honaz National Park
Kastamonu-Bartın Küre Mountains National Park
Sarıkamış-Allahuekber Mountains National Park
Mount Ararat National Park
Gala Lake National
Park Sultan Reeds National Park
Tek Tek Mountains National Park
İğneada Longoz Forest National Park
Nene Hatun Historical National Park

UNESCO GEOPark
Kula-Salihi Park
🇺🇦 Ukraine
Askania-Nova
Black Sea
Granite-steppe lands of Buh
Dniester Canyon
Dnieper River
Lake Svitiaz
Lake Synevyr
Oleshky Sands
Optimistic Caves
Tovtry of Podillya

National Parks
Azov-Syvash National Park
Bug Fort National Park
Carpathian National Park
Charming Harbor National Park
Cheremosh National Park
Derman-Ostroh National Park
Desna-Stara Huta National Park
Double-River National Park
Dzharylhach National Park
Gomolsha Forests National Park
Great Meadow National Park
Halych National Park
Hetman National Park
Holosiyvsky National Nature Park
Homolsha Forrest National Park
Hutsulshchyna National Park
Ichnya National Park
Khotyn National Park
Krеmеnеts Mountains National Park
Lower Dniester National Park
Lower Sula National Park
Mezyn National Park
Northern Pоdіllya National Park
Podillya Hills National Park
Pyryatyn National Park
Saint Mountains National Park
Shatsky National Park
Siveria-Donets National Park
Skоle Bеskyds National Park
Sloboda Ukraine National Park
Synevir National Park
Tuzly Lagoons National Nature Park
Ukraine Littoral Azov National Park
Uzh National Park
Verkhovyna National Park
Vyzhnytsia National Park
White Coast of Svyatoslav National Park
White Lake National Park
Yavorivskyi National Park
Zalissya National Park
🏴󠁧󠁢󠁥󠁮󠁧󠁿 England
Durdle Door Arch – Dorset
Lindisfarne Holy Island –
Old Harry Rocks – Dorset Coast
St. Micheal's Mount Island – Cornwall
River Thames
White Cliffs of Dover

National Parks
Peak District National Park
Lake District National Park
Dartmoor National Park
North York Moors National Park
Yorkshire Dales National Park
Exmoor National Park
Northumberland National Park
The Broads National Park
New Forest National Park
South Downs National Park

UNESCO GEOPark
Black Country Park
English Riviera Park
North Pennines Aonb Park
Northern Ireland
Ballintoy, County Antrim
Giants Causway Coast
Waterloo Bay, Larne
White Rocks Beach, Bushmills, County Antrim

UNESCO GEOPark
Marble Arch Caves
🏴󠁧󠁢󠁳󠁣󠁴󠁿 Scotland
Eilean Donan Island
Eilean Tioram Island
Glen Coe Valley
The Hebrides Islands
Loch Awe
Loch Lomond & the Trossachs
Loch Ness
Old Man of Hoy – Orkney Islands

National Parks
Loch Lomond and The Trossachs National Park
Cairngorms National Park

UNESCO GEOPark
North-West Highlands Park
Shetland Park
🏴󠁧󠁢󠁷󠁬󠁳󠁿 Wales
Prembrokeshire Coast

National Parks
Snowdonia National Park
Pembrokeshire Coast National Park
Brecon Beacons National Park

UNESCO GEOPark
Fforest Fawr Park
Geomôn Park