Going to Europe is not like getting in the car and driving an hour or so to see Uncle Joe and Aunt Jane. Most likely you'll be gone for two weeks and you'll want to pack enough of everything for those two weeks but, you'll need to cut corners. An outfit for each day, accessories to match, typical traveling toys and all the HBC (health & beauty care) items you use in your daily regiment will never do. You would need three cargo chests like your ready to sail on an ocean liner.
Seeing that you will be traveling a long distance and going from one location to another your goal is to limit the number of items, their size and their weight. Remember there will be times when you will be getting on and off planes, trains, boats, maybe walking to hotels or other venues. Remember, even if it's a short walk or just a half flight of stairs, heavy and awkward baggage can become arduous and bothersome.
So, what should you take or not take? This is always a challenge so here is some information you may find helpful. Start by looking at:
What luggage you are going to take?
What do you plan to take in that luggage?
If it doesn't fit, you will need to limit the things you are taking.
If you are not mobile enough too physically handling that your baggage with ease for a duration of time, you'll need to modify the baggage. There will not always be someone around to assist you at train stations, getting on and off shuttle buses or other rapid transit vehicles. Some hotels have no bell service or elevator so carrying baggage up a flight of stairs may not be possible.
Packing as Light as Possible…
Baggage…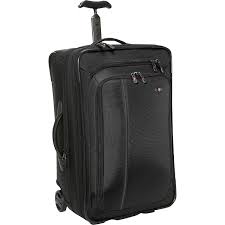 Your suit case should have wheels so you can push it around rather than carrying it. It should be no larger than a 24″ expandable. Expandable means it has a zipper around the whole side of the suitcase and when totally unzipped it will allow the suitcase to expand another 2″-3″ making it thicker. We feel the 26″-32″ suitcases are two big heavy and awkward. 18″ and 20″ may be not large enough to pack for two weeks but, they are small enough to carry on so you won't have to check them. You will pack most of your clothes and HBC (health & Beauty care) products in the suitcase.
We also recommend a smaller carry on tote or duffle bag for essentials you will need on the plane. You can keep extra eyeglasses, headphones, books or magazines, mobile devices, snacks and some HBC like, contact solution, pain relievers, etc. in it for the long plane ride there and back. Which ever you use make sure they have zippers or some other the way to secure your items. Petty pick pockets are always present in tourists areas and open bags can be their prime target.
In addition a small daypack or backpack for walking around once in Europe. You can keep your camera, cell phone, and light jacket or sweater in while walking around sightseeing. If you use a nice DSLR camera with extra accessories you'll want something to carry your camera in safely with some storage for a coat, phone, etc. Lowepro makes a nice line with padded storage for camera equipment, space for other items, and hidden pockets for securing money cards, etc.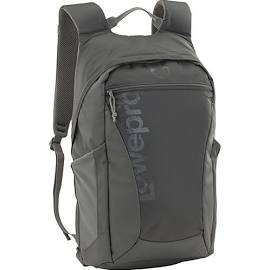 Most airlines flying over to Europe from the USA allow one checked bag to go free. Unless you are flying from one US city, like San Francisco, to another US city, like Newark, and then departing from Newark to Europe. You'll be charge a baggage fee for the flight from San Francisco to Newark. Most airlines limit the size of carry on items to 22″x 14″ x 10″. Check with your airline for their size limits as some do allow for a little larger size. We recommend to check your main suitcase and carry on your tote and backpack. The tote will fit nicely in the overhead compartment and the small backpack will fit nicely under the seat allowing you to retain some leg room if you are in economy.
What Not to Pack In Your Checked Baggage…
Jewelry and Valuables…Bags can be lost by the airlines and once their lost so are your wedding rings, antiques items, family heirlooms like photo albums and other irreplaceable itmes.
Passports, Boarding Passes, Identification and Important Documents…You will need access to some of these while completing your flight so have them on your person at all times. I is also recommended to scan and email yourself copies of important documents in cases you loose your hard copies.
Cash and Credit Cards…Remember bags are randomly open by security agents at airports. Credit cards, cash, and other valuables have been reported stolen when going through security baggage.
Laptop and Electronics…Baggage does get toss around and electronic items can be easily damaged, even when you think it is packed securely in a suitcase. The TSA and airlines have also ban the checking of hoover boards and lithium batteries due to fire they may cause. Your smart devices and laptops use lithium batteries for power, however you may take them on the plane in your carry ons.
Some Clothing…Take a few additional items like a pair of socks, underwear and a top in your carry on. You will have something to change into if your luggage is lost or you are are stranded for a day or longer because of flight cancelations.
Lighters, Matches and other Flammables…This should go without saying. If you are not sure what flammable items are banned go to the ➾ TSA web site for a list.
Medications…Once again if you are stranded at an airport for a prolonged period of time or your luggage is delayed or lost, make sure you have enough medications to get you through several days.
Breakable Items…You will be tempted to buy something fragile made from glass, ceramics, etc. While these are wonderful souvenirs they may not make it checked in a suitcase. Many merchants offer shipping back to the States in properly packed boxes with insurance. The cost is more but, it will arrive undamaged.
Food and Drinks…Avoid putting Foods and drinks in your checked luggage as they can seep or leak into good clothing. If luggage is delayed, it can also start to rot. Certain states like California prohibit even the left over food you didn't eat on the plane from entering.
Certain fabrics will dry quicker than others. Blended cotton fabrics like, micro fiber, lace or silk rather than 100% cotton and lighter colored clothing will dry before dark. For information on cleaning and laundry of clothing go to our » Laundry page. Wrinkle resistant clothing is also preferable as it will need less ironing and appear nicer after packing and use.
Always pack one ensemble on the dressy side as you may want to visit a nice restaurant or function. It does not have to formal, unless it is that kind of function. A dress and nice open toed shoes for a woman, slacks with a collared shirt and nice shoes for a man. Good quality dark walking shoes like Ecco, Mephisto, etc. work great as they are European style brands from. White or bright colored tennis, jogging or gym shoes do not cut it. Europeans do not show up in in nice places wearing shorts, beach tongs and a Bud Light t-shirt. I think you get the picture.
1 – Dress
2 – Skirts
2 – Blouses
3 – Tops
2 – Shorts / Capris
2 – Pants (1 casual, 1 dressy)
1 – Sweater / Sweatshirt
2 – Bras
2 – Scarfs
1 – Sleepware
1 – Swimsuit
6 – Underware
6 pairs- Socks
3 pair Shoes (one dressy, 2 good walking))
1 – Light Jacket / Coat
1 – Hat
Money Belt
Eyeglasses / Contacts
Sun Glasses
Wrist Watch
Minimal Jewelry
Transportation Tickets
Credit Cards – 2
Passport (Visa if required)
Driver's License
ATM Card -1
Checks
All Confirmations
Agenda List
Insurance Cards
Documents for transportation boarding passes, room reservations, may be stored on your mobile devices. Legal documents (passport, driver's license, etc.) must be originals.
Shave Cream / Razor
Toothbrush / Toothpaste / Floss
Vitamins / Medications / prescriptions
Styling Gel / Hair Spray
Saline Solution for contacts
Finger Nail File / clipper / tweezer
Analgesics-(Ibuprofen, Acetaminophen) / Antacids
Sleep Aids
Makeup
Brush / Comb
Travel pack Tissue (for use in toilets)
Micro fiber Wash Cloth in a ziplock bag (many hotels only provide bath & hand towels)
---
1 – Jeans
2 – Slacks / Slacks – (1 dressy, 1 casual)
2 – Shorts
4 – Polo shirts
2 – Oxford long sleeve shirts
1 – Sweater / Sweatshirt
6 – Underware
1 – Swimsuit
1 – Sleepware
3 – T-shirts
4 pairs- Socks
2 – Belts
2 pairs – Shoes (1 good walking, 1 dressy)
1 – Light Windbreaker / Coat
4 – Handkerchiefs
1 – Cap or Hat
Mobile Phone & Charger
Tablet & Charger
Auto Cable for phone
Ear Buds or Headphones
Camera, Cables & Charger
Voltage Converter (See descriptions below)
Clothes Line / Clothes Pins
Travel packs of Laundry Soap
Towelettes (individual travel packs)
Sewing kit – (scissors, thread & needle)
Lens Cleaning Tissues ( individual travel packs)
Rubber sink stopper
Anti-bacterial Lotion
Talc or Baby Powder ( for your shoes)
Use travel sizes to minimize space and weight. If you run out, everything is available for purchase in Europe. Almost all hotels provide shampoo, conditioner & soap.
AC Power Adapters and Converters…
Europe operates on a 220v a different electric current than the US 110v. They also all use a different wall plug for their electric receptacles. Many of your new electronics will operate on dual voltage and will only need a wall adaptor in order to plug safely to a wall outlet. Older ones and appliances may need to be converted to proper voltage. These appliances are irons, hair dryers & curlers, etc. Most hotels do furnish hair dryers and they will have irons on request.
The guide is, any electronic or electrical device you have that is label 110-220v will be safe use. If it is unable to operate on 220v you must use a converter. Should you have any of these device it is best to try on leave them at home. Using them incorrectly burn them out or blow a circuit in the hotel.
While the "C" plug adaptor works in most outlets in continental Europe there are some situations where the alternate plug will be needed. Try to have a selection of adapter's for the uncommon outlets. The "G" adapter will work everywhere in the UK, Ireland and Malta. Use the diagrams below to find a proper adaptor.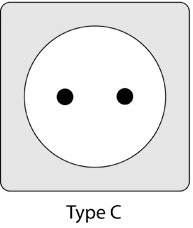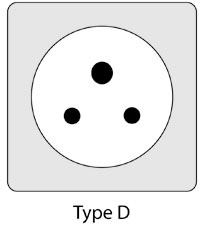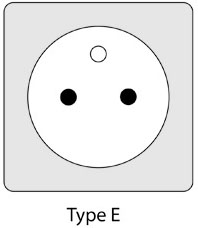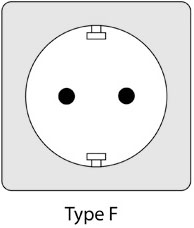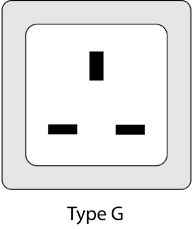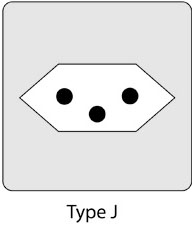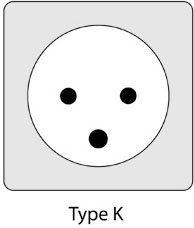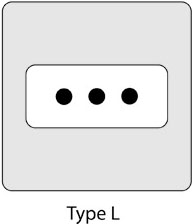 | | | | | | | | |
| --- | --- | --- | --- | --- | --- | --- | --- |
| Country | Plug type | Voltage | Frequency | Country | Plug Type | Voltage | Frequency |
| 🇦🇱 Albania | C, F | 230 v | 50 Hz | 🇱🇺 Luxembourg | C, F | 230 V | 50 Hz |
| 🇦🇩 Andorra | C, F | 230 v | 50 Hz | 🇲🇹 Malta | G | 230 V | 50 Hz |
| 🇦🇹 Austria | C, F | 230 v | 50 Hz | 🇲🇩 Moldova | C, F | 230 V | 50 Hz |
| 🇧🇾 Belarus | C, F | 220 v | 50 Hz | 🇲🇨 Monaco | C, D, E, F | 220 V | 50 Hz |
| 🇧🇪 Belgium | C, E | 230 v | 50 Hz | 🇲🇪 Montenegro | C, F | 230 V | 50 Hz |
| 🇧🇦 Bosnia Herzegovina | C, F | 230 v | 50 Hz | 🇳🇱 Netherlands | C, F | 230 V | 50 Hz |
| 🇧🇬 Bulgaria | C, F | 230 v | 50 Hz | 🇲🇰North Macedonia | C, F | 230 V | 50 Hz |
| 🇭🇷 Croatia | C, F | 230 v | 50 Hz | 🇳🇴 Norway | C, F | 240 V | 50 Hz |
| 🇨🇾 Cyprus | G | 240 v | 50 Hz | 🇵🇱 Poland | C, F | 230 V | 50 Hz |
| 🇨🇿 Czechia | C, E | 230 v | 50 Hz | 🇵🇹 Portugal | C, F | 230 V | 50 Hz |
| 🇩🇰 Denmark | C,E, F, K | 230 v | 50 Hz | 🇷🇴 Romania | C, F | 230 V | 50 Hz |
| 🇪🇪 Estonia | C, F | 230 v | 50 Hz | 🇷🇺 Russia | C, F | 220 V | 50 Hz |
| 🇫🇮 Finland | C, F | 230 v | 50 Hz | 🇸🇲 San Marino | C, F, L | 230 V | 50 Hz |
| 🇫🇷 France | C, E | 230 v | 50 Hz | 🇷🇸 Serbia | C, F | 230 V | 50 Hz |
| 🇩🇪 Germany | C, F | 230 v | 50 Hz | 🇸🇰 Slovakia | C, F | 230 V | 50 Hz |
| 🇬🇷 Greece | C, F | 230 v | 50 Hz | 🇸🇮 Slovenia | C, F | 230 V | 50 Hz |
| 🇭🇺 Hungary | C, F | 230 v | 50 Hz | 🇪🇸 Spain | C, F | 230 V | 50 Hz |
| 🇮🇸 Iceland | C, F | 230 v | 50 Hz | 🇸🇪 Sweden | C, F | 230 V | 50 Hz |
| 🇮🇪 Ireland | G | 230 v | 50 Hz | 🇨🇭 Switzerland | C, J | 230 V | 50 Hz |
| 🇮🇹 Italy | C,F, L | 230 v | 50 Hz | 🇹🇷 Turkey | C, F | 230 V | 50 Hz |
| 🇱🇻 Latvia | C, F | 230 v | 50 Hz | 🇺🇦 Ukraine | C, F | 220 V | 50 Hz |
| 🇱🇹 Lithuania | C, F | 230 v | 50 Hz | 🇬🇧 United Kingdom | G | 230v | 50 Hz |
| 🇱🇮 Liechtenstein | C, J | 230 v | 50 Hz | | | | |
Once you have everything laid out that you need try a dress rehearsal and pack it in your baggage to see if it all fits. If it doesn't, you will need to start eliminating things. Some HBC items can be purchased in Europe. If you are going during the late spring to early fall eliminate heavy clothing like bulky sweaters for cold weather.