One thing a trip to Europe will have is plenty of walking. As we have mentioned many sights are old and require walking to get to them but it's not all drudgery, taking a walk in one of the cities neighborhoods soaking up the activities of the locals shopping at the street markets or sitting in cafes. Strolling through beautiful gardens where people relax by fountains or down along a boulevards or a narrow ancient street. Notice the architecture of the buildings and how different they are from your home towns buildings. Waking around an old medieval villages of an old castle that has been standing for centuries. Yes, there can be a lot of walking but most of it is all enjoyable when you can do it at your own pace and not someone else's.Walking tours are one of the most popular tours in and around major sightseeing areas. City walking tours are offered several different ways for a half day or full. You don't have to take a walking tour to enjoy an area. Just walking around a city's neighborhood by yourself away from the crowds and absorbing the culture can be a real treat.Hiking has always been away to enjoy the European rural country. The Alps are a favorite because of the incredible scenery. Thousands of trails exist throughout Europe and some mark and commemorate an historic event or route taken.
Climbing is also popular activity in the Alps, Carpathian and Pyrenee mountains.
As in the US there are many hiking trails. Hiking is a very big activity amongst Europeans and why not, they have incredible scenery and history to hike through.
E-Paths…
E-Paths are European Long Distance paths that run for hundreds of miles across multiple countries. These routes are similar to our Appalachian or Pacific Crest Trails. They run from the Atlantic coast to the Carpathian Mountains and the Black Sea and from the North Cape in Scandinavia to Crete in the Mediterranean Sea in the south. The paths are maintain and marked by the European Ramblers Association. Also go our our culture route page for long distance walking that recalls the sojourns of pilgrimages and events in European history.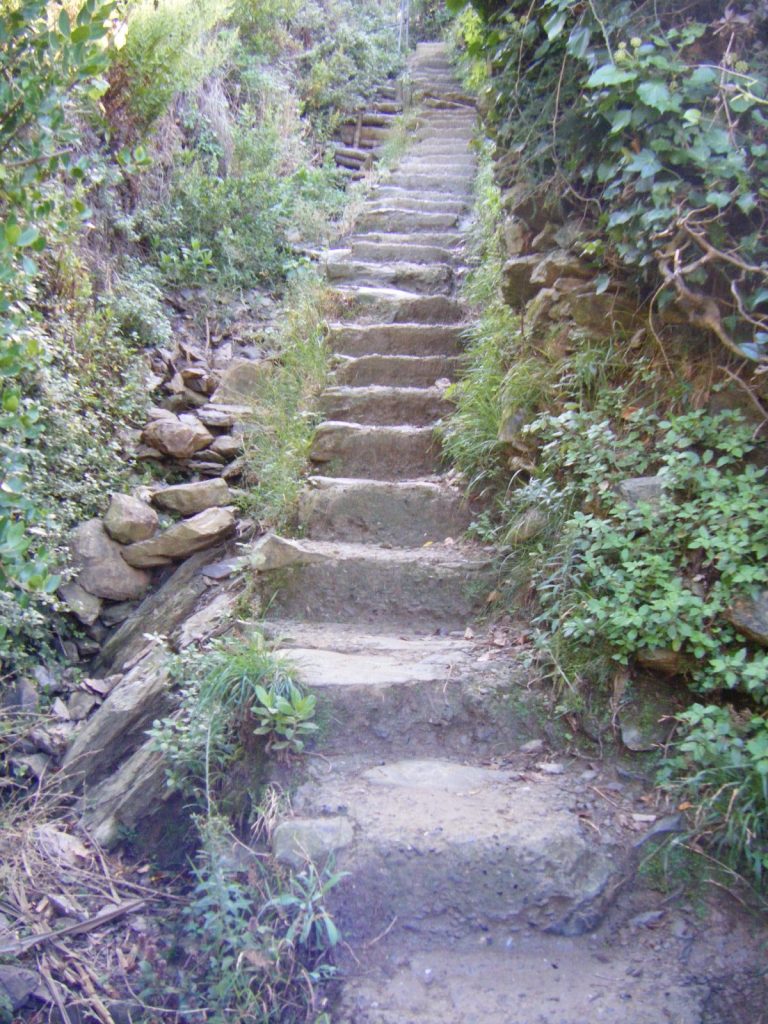 E1
It starts in Grövelsjön, Sweden near the Norwegian – Swedish border. It proceeds through Denmark, Germany, Switzerland and ends in Scapoli, Italy.
E2
It starts in Northern Ireland and proceeds to Scotland, England, Belgium, Luxembourg and Switzerland ending in Nice, France on the Mediterranean. There are alternative routes through England and into the Netherlands.
E3
It is planned to run from Portugal to the Black Sea via Spain, France, Germany, Poland, Slovakia, Hungary, Romania and ending in Bulgaria
E4

Starting at its westernmost point in Spain it proceeds through France, Switzerland, Germany, Austria, Hungary,Romania and Bulgaria ending in Greece with visits to Crete and Cyprus.
E5
Starting on the Atlantic coast in Pointe du Raz, Brittany France through Switzerland, Austria and Germany, ending in Verona, Italy.
E6
tarting in Kilpisjärvi, Finland by ferry to Sweden and train to Denmark, then onto Germany, Austria, Slovenia, Greece and ending in Dardanelles, Turkey.
E7
It starts in Monfortinho, Portugal and proceeds to Spain, Andorra, France, Italy, Slovenia and ending in Nagylak, Hungary.
E8
Starting in Cork, Ireland crossing the North Sea and going through the Netherlands, Germany, Austria, Slovakia, Poland, Ukraine and Romania, Bulgaria and ending in Turkey.
E9
Starting in Cabo de São Vicente, Portugal it makes it way along the Atlantic coast in Spain, France, Belgium, Netherlands onto Germany, Poland, Russia, Lithuania, Latvia ending in Narva-Jõesuu in Estonia.
E10
Starting in Finland through Germany, the Czech Republic, Austria, Italy and France and finishing at Tarifa, Spain.
E11
Starting at the Hague in the Netherlands through Germany and Poland to the Lithuanian border.
GR Foot Paths…
A network of long-distance footpaths in Europe, mostly in France, Belgium, the Netherlands and Spain.
🇫🇷 Grande Randonnée – GR Paths in France
GR 1 Chantilly • Coulommiers • Provins • Fontainebleau • Chevreuse • Mantes-la-Jolie
GR 2 Le Havre • Paris • Dijon
GR 3 La Baule • Guérande • Brière • Nantes • Saumur • Orléans • Nevers • Mount Mézenc
GR 4 Royan • Limoges • puy de Dôme • Saint-Flour • Pont-Saint-Esprit • Grasse
GR 5 Bergen op Zoom • Hasselt • Metz • Belfort • Chamonix • Nice
GR 6 Saint-Véran • Tarascon • Forcalquier • Conques • Langon
GR 7 Ballon d'Alsace • Dijon • Saint-Étienne • Lodève • Andorre-la-Vieille
GR 9 Saint-Amour • Léoncel • Saint-Tropez
GR 10 Hendaye • Arette-la-Pierre-Saint-Martin • Bagnères-de-Luchon • Mérens-les-Vals • Banyuls-sur-Mer • Port-Vendres
GR 11 Grand Tour of Paris
GR 12 Amsterdam • Bergen op Zoom • Brussels • Paris
GR 13 Fontainebleau • Bourbon-Lancy
GR 14 Paris • Malmédy • Ardenne
GR 20 Calenzana • Conca
GR 21 Dieppe • Le Havre • Étretat • Fécamp • Saint-Valery-en-Caux • Veules-les-Roses • Tréport
GR 22 La Perrière • Carrouges • Bagnoles-de-l'Orne • Mortain • Avranches • Mont Saint-Michel
GR 26 Paris • Villers-sur-Mer
GR 30 Chaîne des Puys • Plomb du Cantal
GR 34 Vitré • Mont Saint-Michel • Saint-Brieuc • Morlaix • Brest • Crozon • Douarnenez • Pointe du Raz • Lorient • Quimperlé
GR 34A Louannec • Gurunhuel
GR 35 Verneuil-sur-Avre • Seiches-sur-le-Loir
GR 36 Ouistreham • Caen • Saumur • Angoulême • Albi • Carcassonne • Bourg-Madame
GR 37 Vitré • Douarnenez
GR 38 Redon • Douarnenez
GR 39 Mont Saint-Michel • Guérande
GR 41 Tours • Farges-Allichamps • Mont-Dore
GR 42 Saint-Étienne • Avignon
GR 43 Col des Faïsses • Sainte-Eulalie
GR 44 Les Vans • Champerboux
GR 46 Tours • Cahuzac-sur-Vère
GR 51 Mediterranean
GR 52 Menton • le col du Berceau • le col de Trétore • Sospel • Baisse de Linière • Pointe des Trois Communes • Baisse Cavaline • le refuge des Merveilles • Baisse du Basto • La Balme • Madone de Fenestre • le torrent du Boréon • le col de Salèse • le col du Bam • Saint-Dalmas-Valdeblore Near Nice – Breil-sur-Roya to Gorges de Saorge and Vallon de Zouayne.
GR 52A Mercantour
GR 53 Massif des Vosges
GR 54 Tour of Oisans and the Écrins
GR 55 Vanoise
GR 56 Ubaye
GR 57 Liège • Diekirch
GR 58 Queyras
GR 59 Massif des Vosges • Jura • Bugey • Revermont
GR 60 Montpellier • Saint-Chély-d'Aubrac
GR 65 Genève • Le Puy-en-Velay • Nasbinals • Conques • Figeac • Moissac • Aire-sur-l'Adour • Roncevaux
GR 66 Mont Aigoual
GR 68 Mont Lozère
GR 70 Le Puy-en-Velay • Lozère • Ardèche • Saint-Jean-du-Gard
GR 71 Espérou • Mazamet
GR 71C/D Larzac
GR 71E
GR 72 Col du Bez • Barre-des-Cévennes
Gran Recorrido – GR Paths in Spain
GR 1 Empúries • Banyoles • Besalú • Ripoll • Gironella • Sant Llorenç de Morunys • Puente de Montañana • Graus • La Fueva • Montanejos • Ligüerre de Cinca • Abizanda • Alquézar • Loarre • Riglos • Ayerbe • Fuencalderas • Biel • Uncastillo • Sos del Rey Católico • Ujué • Olite • Larraga • Alto • Los Arcos • Torralba Del Río • Santa Cruz de Campezo • Bernedo • Salinas de Añana • Espejo • Valdegovía • San Pantaleón de Losa • Villamor • Bárcena de Pienza • Torme • Salcedillo • Prioro • Maraña • Finisterre
GR 7 Algeciras • Andorra
GR 11 Pyrenees between Hondarribia (near Irún) and Cap de Creus (near Cadaqués)
GR 71 Path of the Saja Nature Reserve. From the balneary of Corconte (Cantabria) to Sotres (Asturias).
GR 72 Route of Campurrians. From Santillana del Mar to Reinosa (Cantabria).
GR 73 Paved Road of the Blendii (Cantabria y Palencia). From Herrera de Pisuerga to Suances.
GR 74 Eastern Corridor of Cantabria. From Ramales de la Victoria to Reinosa (Cantabria).
GR 92 Eastern and Southern Coasts of Spain. From Portbou, on the French-Spanish border to Tarifa, the most southerly point of Spain. . GR 92 forms the southern portion of the E10.
GR 142 Alpujarras route
GR 221 Ruta de la Pedra en Sec (Balearic Islands): Port d'Andratx – Sant Elm – La Trapa – Estellencs – Banyalbufar – Esporles – Valldemossa – Deià – Port de Sóller – Sóller – Santuari de Lluc – Pollença
GR 222 Ruta de Artà a Lluc (Balearic Islands)
GR 223 Camí de Cavalls (Minorca, Balearic Islands)
GR 236 Route of the Monasteries of Valencia. From Gandia to Alzira
Grote Routepaden or Grande Randonnée – GR Paths in Belgium
GR 5 North Sea to Mediterranean: Bergen op Zoom • Liège • Diekirch • Nice
GR 5A Antwerp • Brugge • De Panne • Ronse
GR 12 Amsterdam • Bergen op Zoom • Brussels • Paris
GR 14 Malmedy • Sedan
GR 15 Monschau • Martelange
GR 16 Semois Path: Arlon • Monthermé
GR 56 East Cantons: Malmedy • Botrange • Monschau • Sankt-Vith (loop)
GR 57 Ourthe valley: Liège • Diekirch
GR 121 Braine-le-Comte • Boulogne-sur-Mer
GR 122 Zeeland – Champagne – Ardenne: Hulst • Son
GR 123 Tour of West Hainaut: loop from Tournai
GR 125 Tour between the Sambre and the Meuse: loop from Walcourt
GR 126 Brussels • Membre-sur-Semois
GR 128 Wissant • Kemmel • Maastricht • Aachen
GR 129 Brugge • Dinant
GR 130 Maldegem • Stavele
GR 412 Terrils path: Bernissart • Blegny
GR 512 Flemish Brabant: Diest • Geraardsbergen
GR 561 Diest • Valkenswaard • Lanaken • Maastricht
GR 563 Land of Herve: loop Dalhem • Berneau • Eupen
GR 564 Kempen – Condroz: Lommel • Huy
GR 565 Renier Snieders path (or Reinier Schniederspad): Antwerp • Bladel
GR 571 Valleys of the Legends: Comblain-au-Pont • Nonceveux
GR 573 Angleur • Pepinster • Eupen • Botrange • Pepinster
GR 575 Tour of Namurois Condroz: loop from Andenne
GR 576 Tour of Liègeois Condroz: loop from Huy
GR 577 Tour of the Famenne: loop from Marche-en-Famenne
GR 579 Brussels • Liège
GR Ijzer Buysscheure • Nieuwpoort from the source to the mouth of the river Yser
GR Hageland loop from Leuven
GR Kempen loop from Turnhout
GR Mol-Om loop from Mol
GR Reynaertland Hulst • Rupelmonde
Langeafstandswandelpaden – GR Paths in the Netherlands
LAW 1-1 Zevenwoudenpad: Lauwersoog • Steenwijk
LAW 1-2 Pionierspad: Steenwijk • Muiden
LAW 1-3 Floris V-pad: Amsterdam • Muiden • Bergen op Zoom
LAW 2 Trekvogelpad: Bergen aan Zee • Amsterdam • Enschede
LAW 3 Marskramerpad: Bad Bentheim • Deventer • Amersfoort • Leiden • The Hague
LAW 4 Maarten van Rossumpad: 's-Hertogenbosch • Arnhem • Apeldoorn • Ommen
LAW 5-1 Deltapad: Sluis or Bergen op Zoom • Goedereede • Hook of Holland
LAW 5-2/5-3 Hollands Kustpad: Hook of Holland • The Hague • Haarlem • Den Helder or Den Oever
LAW 5-4 Friese Kustpad: Stavoren • Lauwersoog
LAW 5-5 Wad- en Wierdenpad: Lauwersoog • Nieuweschans
LAW 6-1 Oeverlooperpad: Europoort or Hook of Holland • Nederkerk • Leerdam
LAW 6-2 Lingepad: Leerdam • Nijmegen • Beek
LAW 7-1 Pelgrimspad part 1: Amsterdam • 's Hertogenbosch
LAW 7-2 Pelgrimspad part 2: 's-Hertogenbosch • Maastricht
LAW 8 Zuiderzeepad: Enkhuizen • Amsterdam • Kampen • Stavoren
LAW 9-1 Pieterpad part 1: Pieterburen • Vorden
LAW 9-2 Pieterpad part 2: Vorden • Maastricht • Sint Pietersberg
LAW 10 Noaberpad: Nieuweschans • Emmen, Netherlands • Emmerich am Rhein
LAW 11 Grenslandpad: Sluis • Bergen op Zoom • Thorn
LAW 12 Overijssels Havezatenpad: Oldenzaal • Zwolle • Steenwijk
LAW 701 Peellandpad: 's-Hertogenbosch • Roermond
Other Multi Country Paths…
Sultans Trail – Vienna to Istanbul, Austria, Hungary, Croatia, Serbia, Bulgaria and Turkey
Via AlpinaPurple Trail, Tržaška koča na Doliču, Slovenia – Oberstdorf, Germany
Yellow Trail, Muggia, Italy – Oberstdorf, Germany
Green Trail, Sücka, Liechtenstein – Lenk, Switzerland
Blue Trail, Riale, Italy – Sospel, France
Red Trail, Muggia, Italy – Monaco
Via Egnatia – Istanbul to Rome, Turkey, Greece, Macedonia, Albania & Italy
List of Long Distance Paths by Country
🇦🇹 Austria
Alpe Adria Trail, Austria, Slovenia, Italy
North Alpine Trail
Central Alpine Trail
South Alpine Trail
North South Path
East Austrian Borderland Trail
Sultans Trail – Austria, Slovakia, Hungary, Croatia, Serbia, Romania, Bulgaria, Greece and Turkey
Way of the book
See Via Alpina in Multi Country paths above.
🇧🇪 Belgium
See GR paths listed above
🇧🇬 Bulgaria
Kom-Emine 700 kilometres (430 mi), from Mount Kom to Cape Emine (part of E3)
Sultans Trail Austria, Slovakia, Hungary, Croatia, Se
🇭🇷 Croatia
Sultans Trail Austria, Slovakia, Hungary, Croatia, Serbia, Romania, Bulgaria, Greece and Turkey
🇩🇰 Denmark
Hærvejen, ancient trail on the Jutland Peninsula.
🇫🇮 Finland
The Karhunkierros Trail (80 kilometres (50 mi), in the municipalities of Kuusamo and Salla, Oulanka National Park, Lapland
The Peuran polku Trail: (115 kilometres (71 mi), in the municipalities of Kivijärvi, Kinnula, Perho, Lestijärvi and Reisjärvi in Central Finland and Pohjanmaa (Ostrobothnia) – a part of E6
🇫🇷 France
Grande Randonnée – GR paths within France , see list above
Haute Randonnée Pyrénéenne (HRP): High Pyrenees Trail, along the border with Spain.
The Tour du Lot: a circuit of over 500 kilometres (310 mi) around the Department of the Lot's periphery.
🇩🇪 Germany
Barbarossaweg: Korbach to Kyffhäuserdenkmal (332 kilometres (206 mi))
Bonifatiusweg: Mainz to Fulda (180 kilometres (110 mi))
Christine-Koch-Weg: Menden to Bad Laasphe (123 kilometres (76 mi))
König-Ludwig-Weg: Berg am Starnberger See to Füssen (120 kilometres (75 mi))
Maximiliansweg: Lindau to Berchtesgaden (350 kilometres (220 mi))
Moselhöhenweg: Trier to Koblenz
Pandurensteig: Waldmuenchen to Passau
Rennsteig: Hörsel to Blankenstein/Saale through the Thuringian Forest (169 kilometres (105 mi))
Rheinburgenweg Trail: Bingen to Koblenz to Rüdesheim am Rhein (c.200 kilometres (120 mi))
Rheinhöhenweg Trail: Bonn to Alsheim/Wiesbaden (530 kilometres (330 mi))
Rheinsteig: Bonn to Wiesbaden (320 kilometres (200 mi))
Westweg (Schwarzwald Höhenweg West): Pforzheim to Basel (279 kilometres (173 mi))
Mittelweg (Schwarzwald Höhenweg Mittel): Pforzheim to Waldshut (233 kilometres (145 mi))
Ostweg (Schwarzwald Höhenweg Ost): Pforzheim to Schaffhausen (238 kilometres (148 mi))
Schwarzwald Nordrandweg: Mühlacker to Karlsruhe (71 kilometres (44 mi))
Schwarzwald-Querweg Freiburg-Bodensee: Freiburg to Konstanz (183 kilometres (114 mi))
Saar-Hunsrück-Steig: Trier to Saarschleife in Mettlach or Idar-Oberstein 9 (180 kilometres (110 mi))
🇬🇷 Greece
European walking route E4 (Florina to Agios Nikolaos)
European walking route E6 (Igoumenitsa to Alexandroupoli)
Sultans Trail Austria, Slovakia, Hungary, Croatia, Serbia, Romania, Bulgaria, Greece and Turkey
🇭🇺 Hungary
Countrywide Blue Tour in Hungary (part of E4)
Sultans Trail – Austria, Slovakia, Hungary, Croatia, Serbia, Romania, Bulgaria, Greece and Turkey
🇮🇪 Ireland
Ballyhoura Way Cork; Tipperary Linear St John's Bridge Limerick Junction 89 km (55 mi)
Barrow Way Carlow; Laois Linear Robertstown St Mullin's 100 km (62 mi)
Bealach na Gaeltachta – Slí an Earagail Donegal Circular Dunlewey Dunlewey 77 km (48 mi)
Bealach na Gaeltachta – Slí Cholmcille[b] Donegal Circular Ardara Ardara 65 km (40 mi)
Bealach na Gaeltachta – Slí Chonamara Galway Closed
Bealach na Gaeltachta – Slí na Finne Donegal Circular Fintown Fintown 51 km (32 mi)
Bealach na Gaeltachta – Slí na Rosann Donegal Circular Dungloe Dungloe 65 km (40 mi)
Beara Way; Kerry Circular Glengarriff Glengarriff 206 km (128 mi)
Blackwater Way (Avondhu); Tipperary Linear Clogheen Bweeng 94 km (58 mi)
Blackwater Way (Duhallow); Kerry Linear Bweeng Shrone 67 km (42 mi)
Bluestack Way Donegal Linear Donegal Ardara 65 km (40 mi)
Burren Way Clare Linear Lahinch Corofin 114 km (71 mi)
Cavan Way Cavan Linear Dowra Blacklion 22 km (14 mi)
Croagh Patrick Heritage Trail Mayo Linear Balla Murrisk 61 km (38 mi)
Dingle Way Kerry Circular Tralee Tralee 162 km (101 mi)
Dublin Mountains Way Dublin Linear Shankill Tallaght 55 km (34 mi)
East Clare Way Clare Circular Killaloe Killaloe 180 km (110 mi)
East Munster Way; Tipperary Linear Carrick-on-Suir Clogheen 75 km (47 mi)
Grand Canal Way Dublin; Offaly Linear Lucan Bridge Shannon Harbour 117 km (73 mi)
Hymany Way Galway Linear Portumna Aughrim 55 km (34 mi)
Kerry Way Kerry Circular Killarney Killarney 214 km (133 mi)
Leitrim Way Leitrim Closed
Lough Derg Way Limerick; Tipperary Linear Limerick Dromineer 65 km (40 mi)
Mid Clare Way Clare Circular Newmarket-on-Fergus Newmarket-on-Fergus 148 km (92 mi)
Miners Way and Historical Trail; Roscommon; Leitrim Circular Arigna Arigna 118 km (73 mi)
Monaghan Way Monaghan Linear Monaghan Inishkeen 65 km (40 mi)
Multeen Way Tipperary Linear Milestone Tipperary Town 23 km (14 mi)
Nore Valley Way Kilkenny Linear Kilkenny Inistioge 34 km (21 mi)
North Kerry Way Kerry Linear Tralee Ballyheigue 45 km (28 mi)
Offaly Way Offaly Linear Cadamstown Lemanaghan 37 km (23 mi)
Royal Canal Way Dublin; Kildare; Meath;
Longford; Westmeath Linear Ashtown Abbeyshrule 79 km (49 mi)
Sheep's Head Way Cork Circular Bantry Bantry 90 km (56 mi)
Slieve Bloom Way Laois; Offaly Circular Glenbarrow Glenbarrow 84 km (52 mi)
Slieve Felim Way Limerick; Tipperary Linear Murroe Silvermines 43 km (27 mi)
Sligo Way Sligo Linear Larrigan Dromahair 78 km (48 mi)
South Leinster Way[c] Carlow; Kilkenny; Tipperary Linear Kildavin Carrick-on-Suir 104 km (65 mi)
Suck Valley Way[a] Roscommon; Galway Circular Castlerea Castlerea 105 km (65 mi)
Táin Way Louth Circular Carlingford Carlingford 40 km (25 mi)
Tipperary Heritage Way Tipperary Linear Vee Gap Cashel 56 km (35 mi)
Western Way (Galway) Galway Linear Oughterard Leenaun 55 km (34 mi)
Western Way (Mayo) Mayo Linear Leenaun Ballycastle 124 km (77 mi)
Westmeath Way Westmeath Linear Kilbeggan Mullingar 33 km (21 mi)
Wicklow Way[c] Wicklow; Dublin; Carlow Linear Marlay Park Clonegal 129 km (80 mi)
🇮🇹 Italy
Grand Italian Trail (Sentiero Italia): nation-wide trail of more than 6,000 kilometres (3,700 mi) length
Dolomites Classical High Route (no.1) from Braies Lake to Belluno
High Route of the Legends (no.2) from Brixen to Feltre
Dolomites High Route of the Chamoi (no.3) from Villabassa to Longarone
Dolomites Grohmann's High Route (no.4) from San Candido in Pusteria to Pieve di Cadore
Dolomites Titans's High Route (no.5) from Sesto in Pusteria to Pieve di Cadore
Dolomites High Route of Silence (no.6) from Pieve d'Alpago to Vittorio Veneto
Dolomites Patera's High Route (no.7) from Ponte nelle Alpi to Tambre d'Alpago
Dolomites High Route of the Heroes (no.8) from Feltre to Bassano del Grappa
Dolomites High Route (n. 9): the Trasversale from Bolzano to Santo Stefano di Cadore
Dolomites High Route (n. 10) of Giudicarie from Bolzano to the Garda Lake
Liguria: From Portovenere to Camogli hiking trail along the sea
Alta Via dei Monti Liguri
Il Sentiero del Viandante The "Wayfarer's trail" from Lecco to Colico on the east side of Lake Como.
Il Sentiero delle 4 Valli The "Four Valleys Path" between Lake Como and Lake Lugano
La Via dei Monti Lariani: The Monti Lariani trail on the west side of Lake Como, from Cernobbio to Sorico
Grande Traversata delle Alpi (GTA): 55 days in the Alps of Piedmont
Grande Escursione Appenninica (Great Appenines Walk): largely along the ridge of the Apennine Mountains
🇳🇱 Netherlands
Zevenwoudenpad from Lauwersoog to Steenwijk (200 kilometres (120 mi))
Pionierspad from Steenwijk to Muiden (200 kilometres (120 mi))
Floris V-pad from Amsterdam to Bergen op Zoom (245 kilometres (152 mi))
Trekvogelpad from Bergen aan Zee to Enschede (380 kilometres (240 mi))
Marskramerpad from Bad Bentheim to Den Haag (360 kilometres (220 mi))
Maarten van Rossumpad from 's-Hertogenbosch to Ommen (308 kilometres (191 mi))
Deltapad from Sluis to Hoek van Holland (237 kilometres (147 mi))
Hollands Kustpad from Hoek van Holland to Den Helder (213 kilometres (132 mi))
Friese Kustpad from Stavoren to Lauwersoog (131 kilometres (81 mi))
Wad- en Wierdenpad from Lauwersoog to Nieuweschans (123 kilometres (76 mi))
Oeverloperpad from Rotterdam Europoort to Leerdam (232 kilometres (144 mi))
Lingepad from Leerdam to Nijmegen (German border) (98 kilometres (61 mi))
Pelgrimspad from Amsterdam to Maastricht (453 kilometres (281 mi))
Zuiderzeepad from Enkhuizen to Stavoren (400 kilometres (250 mi))
Pieterpad from Pieterburen to the Sint Pietersberg (492 kilometres (306 mi))
Noaberpad from Nieuweschans to Emmerich (363 kilometres (226 mi))
Grenslandpad from Sluis to Thorn (363 kilometres (226 mi))
Overijssels Havezatenpad from Oldenzaal to Steenwijk (272 kilometres (169 mi))
Peellandpad from 's-Hertogenbosch to Roermond (160 kilometres (99 mi))
🇳🇴 Norway
Jotunheimen Trail (Norwegian: "Jotunheimstien"): 320 kilometres (200 mi) from downtown Oslo to Lake Gjende in Jotunheimen
Nordkalottruta (Finnish: Kalottireitti, Swedish: Nordkalottleden): 800 kilometres (500 mi) from Kautokeino (located in Finnmark, Northern Norway) to Sulitjelma (Norway) or alternately Kvikkjokk (Sweden)
Norway from south to north (Norwegian: "Norge på langs"): 2,500 kilometres (1,600 mi) from Lindesnes to North Cape, Norway
🇵🇱 Poland
Główny Szlak Sudecki (Main Sudety Trail): 350 kilometres (220 mi) in Sudetes Mountains from Świeradów Zdrój to Prudnik
Główny Szlak Beskidzki (Main Beskidy Trail): 519 kilometres (322 mi) in Beskids Mountains, from Wołosate to Ustroń,[5] the longest public trail in Poland
Polish – Czech Friendship Trail: trail along the Polish and Czech border in Sudetes
🇷🇴 Romania
Sultans Trail – Austria, Slovakia, Hungary, Croatia, Serbia, Romania, Bulgaria, Greece and Turkey
🇸🇰 Slovakia
Sultans Trail – Austria, Slovakia, Hungary, Croatia, Serbia, Romania, Bulgaria, Greece and Turkey
🇪🇸 Spain
Way of St. James (Spanish: El Camino de Santiago)
GR paths Gran Recorrido listed above
Route of the Monasteries of Valencia (Spanish: Ruta de los Monasterios de Valencia)
Grande Randonnée 7 (GR 7): From Tarifa to the mountain cabin of Fontferrera, part of the E4.
Grande Randonnée 11 (GR 11): Pyrenees Trail, staying within Spain.
Haute Randonnée Pyrénéenne (HRP): High Pyrenees Trail, along the border with France.


🇸🇪 Sweden
Kungsleden, 425 kilometres (264 mi) from the northern extremity of the country
Sörmlandsleden 1,000 kilometres (620 mi) of winding paths through the county of Sörmland.
Bohusleden 360 kilometres (220 mi) past at Göteborg, Uddevalla, Munkedal and ends finally in Strömstad
Ingegerdsleden, 110 kilometres (68 mi), pilgrimage route in county of Uppland between Uppsala Cathedral and Stockholm Cathedral
🇹🇷 Turkey
Saint Paul Trail – 500km trail following St Paul's 1st journey
Sultans Trail – Austria, Slovakia, Hungary, Croatia, Serbia, Romania, Bulgaria, Greece and Turkey
Hittite Trail – in central Turkey on ancient Hittite roads
Kackar Trails – 8 multi-day trails in Northeast Turkey
Evliya Çelebi Way – the first part of Evliya's route to Mecca in the 17th century
Phrygian Way – 600km route around the Phrygian Valleys near Ankara
Carian Trail – 800km trail around the south-west coast of Turkey
Abraham Path – international route starting in Urfa, southeast Turkey
🏴󠁧󠁢󠁥󠁮󠁧󠁿 England
National Trails on the United Kingdom – Long distances paths and bridleways administered by the UK government and Natural Resources Wales.
Cleveland Way in England
Cotswold Way in England
Glyndŵr's Way in Wales
Hadrian's Wall Path in England
North Downs Way in England
Offa's Dyke Path in Wales and England
Peddar's Way and Norfolk Coast Path in England (treated as a single National Trail)
Pembrokeshire Coast Path in Wales
Pennine Bridleway in England (bridleway)
Pennine Way in England and Scotland
The Ridgeway in England (mostly bridleway/restricted byway/byway)
South Downs Way in England (bridleway)
South West Coast Path (South West Way) in England—the UK's longest
Thames Path in England
Yorkshire Wolds Way in England
1066 Country Walk, East Sussex – 50 km (31 miles) Pevensey Castle to Rye
Abbeys Amble, North Yorkshire, 167 km (104 miles)
Abbott's Hike, 172 km (107 miles) Cumbria challenging moorland walking
Ainsty Bounds Walk, North Yorkshire, circular from Tadcaster, 71 km (44 miles)
Angles Way, 123 km (76 miles) from Great Yarmouth to Knettishall Heath
Avon Valley Path, 54 km (34 miles) Christchurch to Salisbury
Basingstoke Canal, 53 km (33 miles)
Bishop Bennet Way, 55 km (34 miles) Beeston to Wirswall
Boudica's Way, 60 km (37 miles) from Norwich to Diss
Bournemouth Coast Path, 59 km (37 miles) from Sandbanks to Milford-on-Sea
Bronte Way, 69 km (43 miles) from Birstall, West Yorkshire to Padiham, Lancashire
Bullock Smithy Hike, a 90 km (56 miles) circular challenge walk that starts and finishes at Hazel Grove, Greater Manchester
Burnley Way, a 64 km (40 miles) circular trail around Burnley in Lancashire
Calderdale Way, West Yorkshire, circular from Greetland 80 km (50 miles)
Capital Ring, 115 km (71 miles) circular through inner London
Celtic Way – runs from the west of Wales to Stonehenge and then heads south-west to Cornwall, a total of 1,162 km (722 miles)
Centenary Way, Warwickshire – covers 158 km (98 miles) from Kingsbury to Upper Quinton.
Centenary Way, Yorkshire, a 134 km (83 miles) trail from York Minster to Filey
Channel to Channel Path, Seaton to Watchet, 80 km (50 miles)[3]Cheshire Ring 156 km (97 miles) circular walk alongside six canals, via Dukinfield and Marple
Chiltern Way, 200 km (124 miles) circular walk from Hemel Hempstead (275 km (171 miles) with extensions)
Cistercian Way, Grange-over-Sands to Roa Island (Cumbria) 53 km (33 miles)[4]Coast to Coast Walk, 309 km (192 miles) from St. Bees in Cumbria to Robin Hood's Bay in North Yorkshire
Coleridge Way, Nether Stowey to Lynmouth Devon 82 km (51 miles)
Cross Cotswold Pathway – see Macmillan Ways below
Coventry Way circumnavigates Coventry from a start point in Meriden 64 km (40 miles)
Cumbria Coastal Way 241 km (150 miles) from Silverdale in Lancashire to Gretna Green in southern Scotland
Cumbria Way, 112 km (70 miles) from Ulverston to Carlisle
Dales Way, 126 km (78 miles) from Bowness-on-Windermere to Ilkley with extensions to Leeds, Shipley and Harrogate
D'Arcy Dalton Way, Wormleighton, Warwickshire – Waylands Smithy, Oxfordshire 106 km (66 miles)[5]Dartmoor Way, 139.5 km (87 miles) around Dartmoor
Derwent Valley Heritage Way, 88 km (55 miles) from Bamford to Shardlow via the Derwent Valley Mills World Heritage Site
Devonshire Heartland Way 69 km (43 miles) from Stoke Canon in the Exe Valley to Okehampton[6]Downs Link 59 km (37 miles) from the North Downs Way at St. Martha's Hill near Guildford to the South Downs Way at Steyning, and on to Shoreham-by-Sea
East Devon Way, 61 km (38 miles) Exmouth to Lyme Regis
Ebor Way, 112 km (70 miles) from Ilkley to Helmsley (connecting the Dales Way to the Cleveland Way)
Esk Valley Walk, North Yorkshire56 km (35 miles) from Castleton to Whitby
Essex Way, Epping to Harwich, 130 km (81 miles)
Exe Valley Way, Devon 72 km (45 miles) from the River Exe extuary to Exmoor[7]Fen Rivers Way, runs 98.5 km (61 miles) Cambridge to King's Lynn
Geopark Way, 175 km (109 miles) Bridgnorth to Gloucester
Gloucestershire Way, 161 km (100 miles) Chepstow to Tewkesbury
The Greater Ridgeway. 583 km (362 miles) crossing from Lyme Regis, Dorset on the English Channel to Hunstanton on The Wash
Greensand Way, 169 km (105 miles) from Haslemere, Surrey to Hamstreet, Kent
Gritstone Trail, 56 km (35 miles) from Disley to Kidsgrove
Hampshire Millennium Pilgrims Trail, 48 km (30 miles) from Winchester to Portsmouth
Hardy Way, Dorset and Wiltshire, 342 km (213 miles) Hardy's Cottage, Higher Bockhampton to Stinsford
Heart of England Way, Midlands – 161 km (100 miles) Milford, Staffordshire to Bourton-on-the-Water
Herefordshire Trail, 246.5 km (153 miles) circular route from Ledbury via Ross-on-Wye, Kington, Leominster and Bromyard
Howardian Way, 46.3 km (29 miles) from Coxwold to Kirkham Priory
Hereward Way, 166 km (103 miles) from Oakham to East Harling (Rutland, Lincolnshire, Cambridgeshire, Norfolk). The Stamford to Peterborough section is not fully waymarked, but walkers travelling between those two places can follow the waymarked Torpel Way
High Weald Landscape Trail, running 145 km (90 miles) from Horsham to Rye
Hyndburn Clog, a 53 km (33 miles) circular around Hyndburn in Lancashire, with a main start point at Stanhill
Icknield Way Path, 206 km (128 miles) Bledlow to Knettishall Heath
Irwell Sculpture Trail, 48 km (30 miles) from Salford Quays to Bacup, Rossendale following the River Irwell
Isaac's Tea Trail, circular route of 58 km (36 miles) from Ninebanks via Allendale, Nenthead and Alston in the North Pennines Area of Outstanding Natural Beauty
Isle of Wight Coastal Path, circular from Ryde 105 km (65 miles)
Itchen Way, 51 km (32 miles) from Hinton Ampner to Sholing railway station
Jack Mytton Way 160 km (99 miles) in Shropshire
Jubilee Trail, Forde Abbey – Bokerley Dyke, 145 km (90 miles)
Jurassic Way, 142 km (88 miles) Banbury, Oxfordshire to Stamford, Lincolnshire
King's Way, 72 km (45 miles) from Winchester to Portchester
Kirklees Way, 72 km (45 miles) circular in Kirklees, West Yorkshire
Knightly Way, Northamptonshire
Lake to Lake Walk, 267 km (166 miles) from Windermere in Cumbria to Kielder Water
Lancashire Coastal Way, 200 km (124 miles) from Silverdale to Freckleton
Land's End Trail, 480 km (298 miles)[10]Lea Valley Walk, 80 km (50 miles) from Leagrave to the East India Docks in London
Leeds Country Way, 99 km (62 miles), circular route around Leeds, West Yorkshire
Leland Trail, 45 km (28 miles) Stourhead to Ham Hill
Liberty Trail, 45 km (28 miles) Ham Hill to Lyme Regis
Limestone Link, 58 km (36 miles) Mendip Hills (Somerset) to Cold Aston
Limestone Way, 80 km (50 miles) from Castleton to Rocester
Limey Way, 65 km (40 miles) from Castleton via 20 Limestone Dales to Dovedale and Thorpe
London Outer Orbital Path, 241 km (150 miles) Erith to Rainham
Lyke Wake Walk across the North York Moors, 63 km (39 miles)

The Macmillan Ways
Macmillan Way – Abbotsbury in Dorset to Boston, Lincolnshire 464 km (288 miles)
Macmillan Way West from Castle Cary in Somerset to Barnstaple in Devon, 163 km (101 miles) (Boston to Barnstaple is 563 km (350 miles))
the Macmillan Abbotsbury Langport Link, a 38.5 km (24 miles) short-cut for walkers from Abbotsbury to Barnstaple, a total of 202 km (126 miles)
the Macmillan Cross Cotswold Pathway from Banbury to Bath, 138 km (86 miles), mostly on the main Macmillan Way
the Cotswold Link, 33 km (21 miles) from Banbury to Chipping Campden where it links to the Cotswold Way National Trail
The Maelor Way, 38 km (24 miles) from the Shropshire Way to Offa's Dyke Path National Trail at Bronygarth
Mendip Way, Uphill – Frome 80 km (50 miles)
The Mercian Way is part of National Cycle Route 45,
Midshires Way, Princes Risborough – Stockport, 363 km (226 miles)
Monarch's Way, Worcester – Shoreham-by-Sea 1,016 km (631 miles)
Mortimer Trail, 48 km (30 miles) from Ludlow in Shropshire to Kington, Herefordshire
Nar Valley Way, Norfolk – 54 km (34 mi) King's Lynn to Gressenhall
Nene Way, Badby, Northamptonshire to Sutton Bridge, Lincolnshire 177 km (110 mi)
New Lipchis Way, Liphook, Hampshire through Midhurst and Chichester to West Wittering, West Sussex (60.8 kilometres (37.8 mi))
New River Path, 46 km (28 mi) follows the course of the New River from its source in Hertfordshire to its culmination in Islington, London
Nidderdale Way, a circular route of 85 km (53 mi), centred on Pateley Bridge in North Yorkshire
Northumberland Coast Path, from Cresswell to Berwick-upon-Tweed, part of the North Sea Trail, a 103 km (64 mi)
North Worcestershire Path, 43 km (27 mi) from Kinver to Major's Green
Oldham Way, 64 kilometres (40 mi), circular walk around the Borough of Oldham[14]Orange Way, 563 km (350 mi) from Brixham, Devon to London via Dorset, Hampshire and Berkshire[15]Ouse Valley Way, 240 km (149 mi) from Syresham, Northamptonshire to King's Lynn, Norfolk
Oxford Canal Walk, 132 km (82 mi) from Oxford to Coventry
Oxford Green Belt Way, a circular route of 84 km (52 mi) around Oxford
Oxfordshire Way, Bourton-on-the-Water – Henley 104 km (65 mi)
Pendle Way, a 72 km (45 mi) circular starting and finishing at Barley, incorporating Pendle Hill
Pilgrims' Trail, 45 km (28 mi) from Winchester to Portsmouth
Pilgrims' Way, 192 km (119 mi) from Winchester to Canterbury
Quantock Greenway, a figure of 8 centred on Triscombe in Somerset, the northern loop is 31 km (19 mi), the southern loop 29 km (18 mi).
Reiver's Way, 242 km (150 mi) from Corbridge to Alnmouth (Northumberland)
Ribble Way, follows the River Ribble for 114 km (71 mi) from Longton to Ribblehead
River Parrett Trail, 75 km (47 mi) along the river in Somerset and Dorset
Robin Hood Way runs 169 km (105 mi) from Nottingham to Edwinstowe
Rochdale Way
Rossendale Way, a 75 km (47 mi) circular around the Rossendale Valley, Lancashire
Royal Military Canal Path, 46 km (29 mi) along the Royal Military Canal from Pett Level, East Sussex to Seabrook, Kent
Sabrina Way, 324 km (201 mi), Hartington to Great Barrington
Saints' Way, Padstow – Fowey 42 km (26 mi) (Cornwall)
Samaritans Way South West, runs 160 km (100 mi) from Bristol to Lynton
Sandlings Walk, 96 km (60 mi) from Ipswich to Southwold
Sandstone Trail, 51 km (32 mi) from Frodsham in Cheshire to Whitchurch
Sarum Way, Wiltshire, 51.5 km (32 mi) circular
Saxon Shore Way, 261 km (162 mi) from Gravesend, Kent to Hastings, East Sussex
Severn Way, Plynlimon – Bristol 360 km (224 mi)
Shakespeare's Way, 235 km (146 mi) from Stratford-Upon-Avon to the Globe Theatre on London's South Bank
Sheffield Country Walk, a circular walk of 85 km (53 mi) starting and finishing at Eckington, Derbyshire
Shropshire Way, 224 km (139 mi) from Shrewsbury via the Ironbridge World Heritage Site to Wem with a further 19 km (12 mi) northern spur to Grindley Brook
Six Dales Trail 38 miles across the Nidderdale AONB from Otley in West Yorkshire to Middleham in North Yorkshire
Solent Way, 112 km (70 mi) from Christchurch, Dorset to Emsworth on the Hampshire/West Sussex border
South Cheshire Way, 51 km (32 mi) from Grindley Brook to Mow Cop
Staffordshire Way, 147 km (91 mi) from Mow Cop to Kinver Edge
Stour Valley Path, 96 km (60 mi) from Newmarket to Manningtree
Stour Valley Walk, 82 km (51 mi) from Lenham to Pegwell Bay
Stour Valley Way, 103 km (64 mi) from Stourton to Christchurch Priory
St Bega's Way, 58 km (36 mi) from St Bees Priory to St Bega's, Bassenthwaite in Cumbria.
St. Cuthbert's Way, 100 km (62 mi) from Melrose to Lindisfarne
St. Kenelm's Trail, 100 km (62 mi) from Clent Hills, Worcestershire to Winchcombe Gloucestershire
St. Oswald's Way, 156 km (97 mi) from Lindisfarne to Heavenfield (on Hadrian's Wall)
St. Peter's Way, 66 km (41 mi) from Chipping Ongar, Essex to Chapel of St Peter-on-the-Wall, Essex
St. Swithun's Way, 55 km (34 mi) Winchester to Farnham
Suffolk Coast Path, Felixstowe – Lowestoft 80 km
Sussex Border Path, 256 km (159 mi) from Thorney Island to Rye
Sussex Ouse Valley Way, 67.5 km (42 mi) Lower Beeding to Seaford
Swan's Way, Salcey Forest – Bledlow 104 km (65 mi) through Buckinghamshire (Aylesbury Vale and Milton Keynes (borough))
Tarka Trail, Devon – 2 separate circles from Barnstaple totalling 288 km (179 mi)
Tas Valley Way[7], 40 km (25 mi) from Norwich to Attleborough (Norfolk)
Teesdale Way, 161 km (100 mi) from Dufton to Warrenby
Test Way, Walbury Hill – Eling 70.5 km (44 mi) through Hampshire and West Berkshire
Thames Down Link, 24 km (15 mi) from Kingston upon Thames to Box Hill, Surrey
Three Castles Path, Windsor to Winchester, Hampshire, 96 km (60 mi)
Three Forests Way[8], 96 km (60 mi) through Epping, Hainault and Hatfield forests on the borders of Essex and Greater London
Three Shires Way[9], East Anglia, Grafham Water to Salcey Forest 59.5 km (37 mi)
Trans Pennine Trail, 333 km (207 mi) from Southport, Lancashire to Hornsea, East Riding of Yorkshire
Trent Valley Way, 187 km (116 mi) from Trent Lock, Derbyshire, to Alkborough, Lincolnshire.
Two Castles Trail, 39 km (24 mi) from Okehampton to Launceston
Two Moors Way, Devon – Ivybridge to Lynmouth 166 km (103 mi)
Vanguard Way, 107 km (66 mi) Croydon to Newhaven
Viking Way, 235 km (146 mi) Barton-upon-Humber to Oakham
Way for the Millennium, Newport, Shropshire to Burton upon Trent, Staffordshire – 65 km (40 mi)
Wayfarers Walk, 110 km (68 mi) from Walbury Hill to Emsworth
Wealdway, Gravesend to Eastbourne 129 km (80 mi)
Weardale Way, runs 117 km (73 mi) from Sunderland to Wearhead
Weavers Way[10], 90 km (56 mi) Cromer – Great Yarmouth
Wessex Ridgeway, runs 219 km (136 mi) from Marlborough to Lyme Regis
West Deane Way in the Vale of Taunton Deane, circular 72.5 km (45 mi)
West Devon Way – Okehampton to Plymouth, 58 km (36 mi)
Wey South Path – 51.5 km (32 mi) from Guildford, Surrey to Houghton Bridge, West Sussex
Wherryman's Way, 56 km (35 mi) following the River Yare from Norwich to Great Yarmouth
White Rose Walk, 65 km (40 mi) North Yorkshire walk, starting at the White Horse – Kilburn, to Roseberry Topping
The White Rose Way, Leeds to Scarborough 167 km (104 mi)
Wild Edric's Way, 79 km (49 mi) from Church Stretton to Ludlow
Windermere Way, 72 km (45 mi) a circular walk around Windermere in Cumbria
Witton Weavers Way, a 51.5 km (32 mi) circular around the West Pennine Moors, Blackburn and Darwen
Worcestershire Way, 49.5 km (31 mi) from Bewdley to Malvern
Wychavon Way, Droitwich Spa to Winchcombe 67 km (42 mi)
Wychwood Way, Oxfordshire, a circular route of 59.5 km (37 mi) in the former Royal Forest of Wychwood
Wysis Way, 88 km (55 mi) from the Offa's Dyke Path National Trail at Monmouth to the Thames Path National Trail at Kemble

🏴󠁧󠁢󠁳󠁣󠁴󠁿 Scotland
Annandale Way Exploring the River Annan
Arran Coastal Way Around the Coastline of Arran
Ayrshire Coastal Path From Stranraer to Skelmorlie
Borders Abbeys Way, 64.5 miles / 103 km
Cape Wrath Trail, runs around 300 km (186 mi) from Fort William to Cape Wrath
Cateran Trail, a circular 101 km (63 mi) walk centred on Blairgowrie
Central Scottish Way, 251 km (156 mi) from Milngavie to Byrness
Coast to Coast, 205 km (128 mi), Oban to St Andrews
Cowal Way, runs 75 km (47 mi) from Portavadie to Ardgartan
Clyde Walkway Meander the length of the mighty Clyde river.
The East Highland Way, runs from Fort William to Aviemore
Fife Coastal Path, 107 km (66 mi) from North Queensferry to Tayport
John Muir Way, 73 km (45 mi) from Musselburgh to Dunglass
Kintyre Way, 140 km (87 mi) from Tarbert to Dunaverty
Moray Coast trail, Forres to Cullen, 50 Miles
Rob Roy Way, Drymen to Pitlochry, 127 or 148 km (79 or 92 mi)
St. Cuthbert's Way, 100 km (62 mi) from Melrose to Lindisfarne, England
Sir Walter Scott Way from Moffat, Dumfries and Galloway to Cockburnspath
West Island Way, 48 km (30 mi) from Kilchattan Bay to Port Bannatyne on the Isle of Bute
West Highland Way, 150 km (93 mi) from Milngavie to Fort William