Once you have an idea of which days you will be in what countries or cities you'll know what days will be travel days. This page will show you distances and travel times between destinations that will allow you to allocate the time of the day or night devoted to traveling to your next destination. As you will find there are many ways to travel between the Europe destinations you have chosen to visit. Go to our ➾ Transportation Options page to view whether driving by car, flying by plane or riding the train, bus or boat will be the best options.
The distance between your selected destinations and the transportation available will determine which mode of travel will be efficient time wise, maybe save you money and an overall good experience.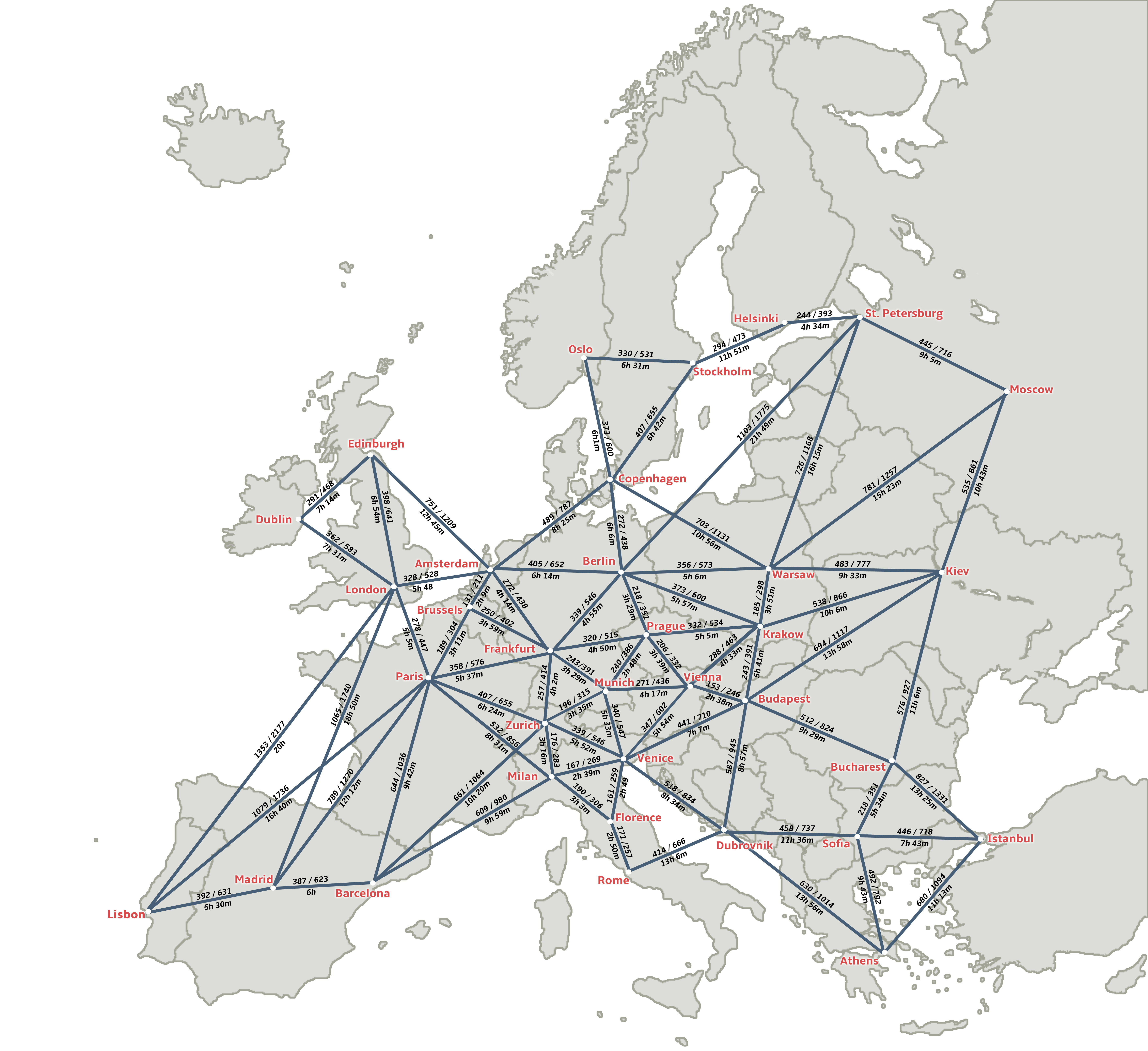 Calculating Travel Time between Cities…
The table below will provide you with distances and times for flying by plane, driving by car and good train options when they are practical.
Flying by Plane – flying time is based a plane departure time arrival time at destination airport. Times are based on non-stop flights when available or shortest duration available with stops. Please add time for travel from the city to the airports as well as time for checking in, going through security, customs or port of entry upon arrival and departure. Airlines suggest check in 1 hour prior to your flights departure for domestic and 2 hours for international flights.
Driving by Car – because of the geographical features of Europe driving to destinations may require going around large bodies of water. This will add significantly to the total miles over flying as the crow flies. It may also require the use of boat service to reach locations like Ireland or parts of Scandinavia, the Baltic and Balkan countries. Driving miles and times are based on shortest route available. Times shown do not take into consideration stops for gas, food and rest.
Riding the Train – May be the best option when distances are not too far apart. 2 to 4 hour train trips work as additional time is required for check-in, security and boarder entry on air travel. For long distances consider the many night trains that run throughout most of Europe's major cities. Night travel allows for a good rest and a night's hotel stay. Times are based on the fastest trains available with fewest stops. Longer destinations can get long when crossing multiple countries which may require train changes. Layovers are generally short in western and central Europe. Travel is based on departure from a departing city train station to the final destination station.
🇳🇱 Amsterdam
| city | flying | driving | train option |
| --- | --- | --- | --- |
| to Athens | 1344 mi / 3 hrs, 11 min | 1776 mi / 27 hrs, 31 min | |
| to Barcelona | 768 mi / 2hrs, 2 min | 955 mi / 14 hrs, 18 min | 11 hrs, 9 min |
| to Berlin | 358 mi / 1 hr, 13 min | 408 mi / 6 hrs, 31 min | 6hrs, 20 min |
| to Brussels | 108 mi / 43 min | 131 mi / 2 hrs, 15 min | 1 hr, 52 min |
| to Bucharest | 1112 mi / 2 hrs, 43 min | 1377 mi / 23 hrs 55 min | |
| to Budapest | 714 mi / 1hr, 56 min | 868 mi / 13 hrs 21 min | 15 hrs |
| to Copenhagen | 387 mi / 1 hr, 16 min | 494 mi / 8 hrs, 40 min | 10 hrs, 54 min |
| to Dublin | 472 mi / 1 hr, 27 min | 703 mi / 13 hrs, 36 min | |
| to Dubrovnik | 908 mi / 2 hrs, 19 min | 1184 mi / 19 hrs, 11 min | |
| to Edinburgh | 413 mi / 1 hr, 20 min | 604 mi / 12 hrs, 41 min | 8 hrs, 57 min |
| to Florence | 661 mi / 1 hr, 49 min | 862 mi / 13 hrs, 45 min | 14 hrs, 11 min |
| to Frankfurt am Main | 225 mi / 57 min | 271 mi / 4 hrs, 21 min | 3 hrs, 59 min |
| to Helsinki | 936 mi / 2 hrs, 22 min | 1395 mi / 26 hrs, 39 min | |
| to Istanbul | 1375 mi / 3 hrs, 15 min | 1684 mi / 26 hrs, 16 min | |
| to Kraków | 670 mi / 1 hr, 50 min | 775 mi / 11 hrs, 12 min | 16 hrs, 23 min |
| to Kyiv | 1,109 mi / 2 hrs, 43 min | 1,304 mi / 20 hrs, 58 min | |
| to Lisbon | 1158 Mi / 2 hrs, 49 min | 1391 mi / 20 hrs, 59 min | |
| to London | 223 mi / 57 min | 329 mi / 6 hrs, 18 min | 4 hrs, 47 min |
| to Madrid | 921 mi / 2 hrs, 20 min | 1100 mi / 16 hrs, 41 min | 15 hrs, 15 min |
| to Milan | 514 mi / 1 hr, 32 min | 667 mi / 10 hrs, 54 min | 11 hrs, 47 min |
| to Moscow | 1338 mi / 3 hrs, 11 min | 1513 mi / 24 hrs, 52 min | |
| to Munich | 414 mi / 1 hr, 20 min | 509 mi / 7 hrs, 55 min | 7 hrs, 50 min |
| to Oslo | 569 mi / 1 hr, 38 min | 786 mi / 14 hrs, 7 min | |
| to Paris | 266 mi / 1 hr, 2 min | 314 mi / 5 hrs, 12 min | 3hrs, 21 min |
| to Prague | 443 mi / 1 hr, 23 min | 542 mi / 8 hrs, 28 min | 11 hrs, 42 min |
| to Rome | 804 mi / 2 hrs, 7 min | 1024 mi / 16 hrs, 14 min | 15 hrs, 25 min |
| to Saint Petersburg | 1100 mi / 2 hrs, 42 min | 1471 mi / 25 hrs, 57 min | |
| to Stockholm | 701 mi / 1 hr, 54 min | 892 mi / 14 hrs, 55 min | |
| to Venice | 584 mi / 1 hr, 40 min | 811 mi / 13 hrs, 7 min | 14 hrs, 37 min |
| to Vienna | 582 mi / 1 hr, 40 min | 709 mi / 10 hrs, 59 min | 11 hrs, 16 min |
| to Warsaw | 608 mi / 1 hr, 52 min | 740 mi / 11 hrs, 6 min | 13 hrs, 19 min |
| to Zürich | 381 mi / 1 hr, 16 min | 505 mi / 8 hrs | 8 hrs, 59 min |
🇬🇷 Athens
| | flying | driving | train option |
| --- | --- | --- | --- |
| to Amsterdam | 1344 mi / 3 hrs, 11 min | 1776 mi / 27 hrs, 31 min | |
| to Barcelona | 1169 mi / 2 hrs, 50 min | 1915 mi / 29 hrs, 48 min | |
| to Berlin | 1120 mi / 2 hrs, 44 min | 1451 mi / 22 hrs, 56 min | |
| to Brussels | 1300 mi / 3 hrs, 6 min | 1727 mi / 28 hrs, 6 min | |
| to Bucharest | 462 mi / 1 hr, 25 min | 734 mi / 13 hrs, 6 min | |
| to Budapest | 698 mi / 1 hr, 54 min | 912 mi / 14 hrs, 27 min | |
| to Copenhagen | 1327 mi / 3 hrs, 9 min | 1725 mi / 29 hrs | |
| to Dublin | 1776 mi / 4 hrs, 3 min | 2310 mi / 43 hrs, 20 min | |
| to Dubrovnik | 439 mi / 1 hr, 23 min | 603 mi / 14 hrs, 19 min | |
| to Edinburgh | 1757 mi / 4 hrs, 1 min | 1757 mi / 4 hrs, 1 min | |
| to Florence | 765 mi / 2 hrs, 2 min | 1319 mi / 20 hrs, 16 min | |
| to Frankfurt am Main | 1120 mi / 2 hrs, 44 min | 1510 mi / 23 hrs, 37 min | |
| to Helsinki | 1534 mi / 3 hrs, 34 min | 2132 / 43 hrs, 12 min | |
| to Istanbul | 349 mi / 1 hr, 12 min | 680 mi / 11 hrs, 1 min | |
| to Kraków | 855 mi / 2 hrs, 13 min | 1156 mi / 22 hrs, 9 min | |
| to Kyiv | 922 mi / 2 hrs, 21 min | 1330 mi / 27 hrs, 17 min | |
| to Lisbon | 1776 mi / 4 hrs, 3 min | 2363 mi / 42 hrs, 27 min | |
| to London | 1488 mi / 3 hrs, 29 min | 1975 mi / 31 hrs, 31 min | |
| to Madrid | 1476 mi / 3 hrs, 27 min | 2016 mi / 37 hrs, 15 min | |
| to Milan | 910 mi / 2 hrs, 19 min | 1312 mi / 20 hrs, 38 min | |
| to Moscow | 1387 mi / 3 hrs, 16 min | 2039 mi / 35 hrs, 46 min | |
| to Munich | 931 mi / 2 hrs, 22 min | 1267 mi / 20 hrs, 10 min | |
| to Oslo | 1620 mi / 3 hrs, 44 min | 2206 mi / 37 hrs, 20 min | |
| to Paris | 1306 mi / 3 hrs, 7 min | 1833 mi / 28 hrs, 26min | |
| to Prague | 953 mi / 2 hrs, 24 min | 1235 mi / 19 hrs, 24 min | |
| to Rome | 655 mi / 1 hr, 49 min | 809 mi / 20 hrs, 27 min | |
| to Saint Petersburg | 1541 mi / 3 hrs, 35 min | 2196 mi / 37 hrs, 19 min | |
| to Stockholm | 1497 mi / 3 hrs, 30 min | 2128 mi / 34 hrs, 47 min | |
| to Venice | 781 mi / 2 hrs, 4 min | 1158 mi / 18 hrs, 20 min | |
| to Vienna | 797 mi / 2 hrs, 6 min | 1061 mi / 16 hrs, 40 min | |
| to Warsaw | 994 mi / 2 hrs, 29 mi | 1469 mi / 23 hrs | |
| to Zürich | 1006 mi / 2 hrs, 31 min | 1460 mi / 24 hrs, 49 min | |
🇪🇸 Barcelona
| | flying | driving | train option |
| --- | --- | --- | --- |
| to Amsterdam | 768 mi / 2hrs, 2 min | 955 mi / 14 hrs, 18 min | 11 hrs, 9 min |
| to Athens | 1169 mi / 2 hrs, 50 min | 1915 mi / 29 hrs, 48 min | |
| to Berlin | 932 mi / 2 hrs, 22 min | 1162 mi / 17 hrs, 31 min | |
| to Brussels | 661 mi / 1 hr, 49 min | 831 mi / 12 hrs, 20 min | |
| to Bucharest | 1227 mi / 2 hrs, 57 min | 1702 mi / 26 hrs, 34 min | |
| to Budapest | 934 mi / 2 hrs, 22 min | 1198 mi / 18 hrs, 38 min | |
| to Copenhagen | 1094 mi / 2hrs, 41 min | 1328 mi / 21 hrs, 7 min | |
| to Dublin | 914 mi / 2 hrs, 20 min | 1297 mi / 22 hrs, 17 min | |
| to Dubrovnik | 822 mi / 2 hrs, 9 min | 1276 mi / 21 hrs, 22 min | |
| to Edinburgh | 1035 mi / 2 hrs, 34 min | 1321 mi / 22 hrs, 27 min | |
| to Florence | 491 mi / 1 hr, 29 min | 687 mi / 11 hrs, 14 min | |
| to Frankfurt am Main | 679 mi / 1 hr, 51 min | 830 mi / 12 hrs, 21 min | 11 hrs, 54 min |
| to Helsinki | 1620 mi / 3 hrs, 44 min | 2142 mi / 44 hrs, 15 min | |
| to Istanbul | 1390 mi / 3 hrs, 17 min | 1826 mi / 28 hrs, 42 min | |
| to Kraków | 1043 mi / 2 hrs, 35 min | 1407 mi / 20 hrs, 22 min | |
| to Kyiv | 1490 mi / 3 hrs, 29 min | 1954 mi / 30 hrs | |
| to Lisbon | 2363 mi / 42 hrs, 27 min | 776 mi / 11 hrs, 23 min | |
| to London | 707 mi / 1 hr, 55 min | 920 mi / 14 hrs, 49 min | |
| to Madrid | 315 mi / 1 hr, 8 min | 386 mi / 5 hrs, 44 min | 3hrs, 10 min |
| to Milan | 451 mi / 1 hr, 24 min | 608 mi / 9 hrs, 41 min | 11 hrs, 51 min |
| to Moscow | 1847 mi / 4 hrs, 15 min | 2282 mi / 36 hrs, 22 min | |
| to Munich | 656 mi / 1 hr, 49 min | 645 mi / 9 hrs, 40 min | |
| to Oslo | 1333 mi / 3 hrs, 10 min | 1633 mi / 26 hrs, 11 min | |
| to Paris | 517 mi / 1 hr, 32 min | 645 mi / 9 hrs, 40 min | |
| to Prague | 843 mi / 2 hrs, 11 min | 1072 mi / 16 hrs, 8 min | |
| to Rome | 534 mi / 1 hr, 34 min | 847 mi / 13 hrs, 38 min | |
| to Saint Petersburg | 1752 mi / 4 hrs | 2245 mi / 37 hrs, 50 min | |
| to Stockholm | 1417 mi / 3 hrs, 20 min | 1731 mi / 27 hrs, 26 min | |
| to Venice | 582 mi / 1 hr, 40 min | 766 mi / 11 hrs, 56 min | |
| to Vienna | 839 mi / 2 hrs, 11 min | 1117 mi / 17 hrs, 24 min | |
| to Warsaw | 1160 mi / 2 hrs, 49 min | 1462 mi / 21 hrs, 32 min | |
| to Zürich | 519 mi / 1 hr, 32 min | 660 mi / 10 hrs, 9 min | 11 hrs, 43 min |
🇩🇪 Berlin
| | flying | driving | train option |
| --- | --- | --- | --- |
| to Amsterdam | 358 mi / 1 hr, 13 min | 408 mi / 6 hrs, 31 min | 6hrs, 20 min |
| to Athens | 1120 mi / 2 hrs, 44 min | 1451 mi / 22 hrs, 56 min | |
| to Barcelona | 932 mi / 2 hrs, 22 min | 1162 mi / 17 hrs, 31 min | |
| to Brussels | 406 mi / 1 hr, 19 | 475 mi / 7 hrs, 36 min | 6 hrs, 25 min |
| to Bucharest | 806 mi / 2 hrs, 7 min | 1058 mi / 18 hrs, 12 min | |
| to Budapest | 429 mi / 1 hr, 21 min | 544 mi / 8 hrs, 53 min | 11 hrs, 9 min |
| to Copenhagen | 220 mi / 56 min | 272 mi / 6 hrs, 42 min | 6hrs, 42 min |
| to Dublin | 820 mi / 2 hrs, 8 min | 1053 mi / 19 hrs, 12 min | |
| to Dubrovnik | 716 mi / 1 hrs, 56 min | 1029 mi / 16 hrs, 50 min | |
| to Edinburgh | 711 mi / 1 hr, 55 min | 1076 mi / 18 hrs, 11 min | 15 hrs, 10 min |
| to Florence | 613 mi / 1 hr, 44 min | 768 mi / 11 hrs, 25 min | 13 hrs, 27 min |
| to Frankfurt am Main | 263 mi / 1 hr, 2 min | 339 mi / 5 hrs, 31 min | 4hrs, 11 min |
| to Helsinki | 689 mi / 1 hr, 53 min | 1018 mi / 21 hrs, 51 min | |
| to Istanbul | 1080 mi / 2 hrs, 40 min | 1361 mi / 21 hrs, 48 min | |
| to Kraków | 330 mi / 1 hr, 10 min | 372 mi / 5 hrs, 57 min | 9hrs, 49 min |
| to Kyiv | 751 mi / 2 hrs | 832 mi / 14 hrs, 35 min | |
| to Lisbon | 1438 mi / 3 hrs, 23 min | 1777 mi / 26 hrs, 8 min | |
| to London | 580 mi / 1 hr, 40 min | 678 mi / 11 hrs, 46 min | 10 hrs, 22 min |
| to Madrid | 1163 mi / 2 hrs, 50 min | 1441 mi / 22 hrs | |
| to Milan | 523 mi / 1 hr, 33 min | 644 mi / 10 hrs, 43 min | 12 hrs, 7 min |
| to Moscow | 1003 mi / 2 hrs, 30 min | 1130 mi / 19 hrs, 13 min | |
| to Munich | 312 mi / 1 hr, 7 min | 362 mi / 5 hrs, 44 min | 3 hrs, 59 min |
| to Oslo | 522 mi / 1 hr, 33 min | 641 mi / 12 hrs, 44 min | 16 hrs, 52 min |
| to Paris | 547 mi / 1 hr, 36 min | 654 mi / 10 hrs, 32 min | 9 hrs, 9 min |
| to Prague | 174 mi / 51 min | 217 mi / 3 hrs, 42 min | 4hrs, 20 min |
| to Rome | 735 mi / 1 hr, 58 min | 935 mi / 14 hrs, 50 min | 15 hrs, 13 min |
| to Saint Petersburg | 823 mi / 2 hrs, 9 min | 1103 mi / 21 hrs, 49 min | |
| to Stockholm | 505 mi / 1 hr, 31 min | 674 mi / 12 hrs, 59 min | 13 hrs, 42 min |
| to Venice | 492 mi / 1 hr, 29 min | 702 mi / 11 hrs, 13 min | 11 hrs, 48 min |
| to Vienna | 326 mi / 1 hr, 9 min | 423 mi / 7 hrs, 12 min | 7 hrs, 4 min |
| to Warsaw | 322 mi / 1 hr, 9 min | 355 mi / 5 hrs, 27 min | 5 hrs, 51 min |
| to Zürich | 416 mi / 1 hr, 20 min | 524 mi / 8 hrs, 26 min | 8 hrs, 28 min |
🇧🇪 Brussels
| | flying | driving | train option |
| --- | --- | --- | --- |
| to Amsterdam | 108 mi / 43 min | 131 mi / 2 hrs, 15 min | 1 hr, 52 min |
| to Athens | 1300 mi / 3 hrs, 6 min | 1727 mi / 28 hrs, 6 min | |
| to Barcelona | 661 mi / 1 hr, 49 min | 831 mi / 12 hrs, 20 min | |
| to Berlin | 406 mi / 1 hr, 19 | 475 mi / 7 hrs, 36 min | 6 hrs, 25 min |
| to Bucharest | 1103 mi / 2 hrs, 42 min | 1355 mi / 23 hrs, 41 min | |
| to Budapest | 706 mi / 1 hr, 55 min | 846 mi / 12 hrs, 38 min | 14 hrs, 7 min |
| to Copenhagen | 478 mi / 1 hr, 27 min | 572 mi / 10 hrs, 7 min | 11 hrs, 52 min |
| to Dublin | 482 mi / 1 hr, 28 min | 594 mi / 12 hrs, 7 min | |
| to Dubrovnik | 861 mi / 2 hrs, 13 min | 1163 mi / 18 hrs, 56 min | |
| to Edinburgh | 471 mi / 1 hr, 26 min | 625 mi / 12 hrs, 22 min | 6 hrs, 40 min |
| to Florence | 586 mi / 1 hr, 40 min | 752 mi / 12 hrs, 39 min | 11 hrs, 51 min |
| to Frankfurt am Main | 198 mi / 54 min | 250 mi / 4 hrs, 2 min | 2hrs, 57 min |
| to Helsinki | 1028 mi / 2 hrs, 33 min | 1350 mi / 28 hrs, 18 min | |
| to Istanbul | 1358 mi / 3 hrs, 13 min | 1639 mi / 26 hrs, 51 min | |
| to Kraków | 689 mi / 1 hr, 53 min | 818 mi / 11 hrs, 55 min | 16 hrs, 59 min |
| to Kyiv | 1146 mi / 2 hrs, 47 min | 1365 mi / 21 hrs, 39 min | |
| to Lisbon | 1064 mi / 2 hrs, 38 min | 1267 mi / 19 hrs, 23 min | |
| to London | 199 mi / 54 min | 228 mi / 4 hrs, 44 min | 2 hrs, 11 min |
| to Madrid | 817 mi / 2 hrs, 8 min | 975 mi / 14 hrs, 40 min | 13 hrs, 14 min |
| to Milan | 434 mi / 1 hr, 22 min | 569 mi / 9 hrs, 37 min | 9hrs, 29 min |
| to Moscow | 1406 mi / 3 hrs, 19 min | 1603 mi / 26 hrs, 45 min | |
| to Munich | 375 mi / 1 hr, 15 min | 487 mi / 7 hrs, 36 min | 6 hrs, 42 min |
| to Oslo | 677 mi / 1 hr, 51 min | 869 mi / 15 hrs, 40 min | |
| to Paris | 163 mi / 50 min | 189 mi / 3 hrs, 12 min | 1 hr, 23 min |
| to Prague | 450 mi / 1 hr, 24 min | 569 mi / 8 hrs, 53 min | 11 hrs, 34 min |
| to Rome | 729 mi / 1 hr, 57 min | 925 mi / 14 hrs, 56 min | 13 hrs, 19 min |
| to Saint Petersburg | 1187 mi / 2 hrs, 52 min | 1565 mi / 28 hrs, 15 min | |
| to Stockholm | 798 mi / 2 hrs, 6 min | 975 mi / 16 hrs, 28 min | |
| to Venice | 524 mi / 1 hr, 33 min | 730 mi / 11 hrs, 51 min | 12 hrs, 31 min |
| to Vienna | 570 mi / 1 hr, 38 min | 688 mi / 10 hrs, 40 min | 10 hrs, 20 min |
| to Warsaw | 723 mi / 1 hr, 57 min | 818 mi / 11 hrs. 32 min | 13 hrs, 55 min |
| to Zürich | 306 mi / 1 hr, 7 min | 411 mi / 6 hrs, 45 min | 7 hrs, 27 min |
🇷🇴 Bucharest
| | flying | driving | train option |
| --- | --- | --- | --- |
| to Amsterdam | 1112 mi / 2 hrs, 43 min | 1377 mi / 23 hrs 55 min | |
| to Athens | 462 mi / 1 hr, 25 min | 734 mi / 13 hrs, 6 min | |
| to Barcelona | 1227 mi / 2 hrs, 57 min | 1702 mi / 26 hrs, 34 min | |
| to Berlin | 806 mi / 2 hrs, 7 min | 1058 mi / 18 hrs, 12 min | |
| to Brussels | 1103 mi / 2 hrs, 42 min | 1355 mi / 23 hrs, 41 min | |
| to Budapest | 399 mi / 2 hrs, 27 min | 519 mi / 9 hrs, 35 min | |
| to Copenhagen | 979 mi / 1 hr, 46 min | 1434 mi / 26 hrs, 5 min | |
| to Dublin | 1580 mi / 3 hrs, 40 min | 1955 mi / 34 hrs, 9 min | |
| to Dubrovnik | 480 mi / 1 hr, 20 min | 594 mi / 13 hrs, 42 min | |
| to Edinburgh | 1507 mi / 3 hrs, 31 min | 1971 mi / 32 hrs, 2 min | |
| to Florence | 739 mi / 1 hr, 59 min | 999 mi / 18 hrs, 8 min | |
| to Frankfurt am Main | 905 mi / 2 hrs, 19 min | 1111 mi / 19 hrs, 58 min | |
| to Helsinki | 1090 mi / 2 hrs, 41 min | 1605 mi / 33 hrs, 9 min | |
| to Istanbul | 277 mi / 1 hr, 3 min | 396 mi / 8 hrs, 6 min | |
| to Kraków | 485 mi / 1 hr, 28 min | 691 mi / 16 hrs, 14 min | |
| to Kyiv | 463 mi / 1hr, 26 min | 566 mi / 11 hrs 39 min | |
| to Lisbon | 1853 mi / 4 hrs, 12 min | 2323 mi 38 hrs, 6 min | |
| to London | 1302 mi / 3 hrs, 6 min | 1582 mi / 26 hrs, 50 min | |
| to Madrid | 1540 mi / 3 hrs, 35 min | 1978 mi / 32 hrs, 45 min | |
| to Milan | 830 mi / 2 hrs, 10 min | 1110 mi / 18 hrs, 6 min | |
| to Moscow | 932 mi / 2 hrs, 22 min | 1129 mi / 22 hrs, 47 min | |
| to Munich | 740 mi / 1 hr, 59 min | 942 mi / 16 hrs, 8 min | |
| to Oslo | 1247 mi / 3 hrs | 1690 mi / 29 hrs, 35 min | |
| to Paris | 1166 mi / 2 hrs, 50 min | 1440 mi / 23 hrs, 34 min | |
| to Prague | 671 mi / 1 hr, 51 min | 841 mi / 14 hrs, 41 min | |
| to Rome | 709 mi / 1 hr, 55 min | 1270 mi / 212 hrs, 9 min | |
| to Saint Petersburg | 1083 mi / 2 hrs, 40 min | 1356 mi / 28 hrs, 6 min | |
| to Stockholm | 1084 mi / 2 hrs, 40 min | 1928 mi / 32 hrs, 47 min | |
| to Venice | 678 mi / 1 hr, 51 min | 936 mi / 15 hrs, 44 min | |
| to Vienna | 533 mi / 1hr, 34 min | 667 mi / 11 hrs, 48 min | |
| to Warsaw | 589 mi / 1 hr, 41 min | 789 mi / 17 hrs, 51 min | |
| to Zürich | 868 mi / 2 hrs, 14 min | 1148 mi / 21 hrs, 5 min | |
🇭🇺 Budapest
| | flying | driving | train option |
| --- | --- | --- | --- |
| to Amsterdam | 714 mi / 1hr, 56 min | 868 mi / 13 hrs 21 min | 15 hrs |
| to Athens | 698 mi / 1 hr, 54 min | 912 mi / 14 hrs, 27 min | |
| to Barcelona | 934 mi / 2 hrs, 22 min | 1198 mi / 18 hrs, 38 min | |
| to Berlin | 429 mi / 1 hr, 21 min | 544 mi / 8 hrs, 53 min | 11 hrs, 9 min |
| to Brussels | 706 mi / 1 hr, 55 min | 846 mi / 12 hrs, 38 min | 14 hrs, 7 min |
| to Bucharest | 399 mi / 2 hrs, 27 min | 519 mi / 9 hrs, 35 min | |
| to Copenhagen | 630 mi / 1 hr, 46 min | 838 mi / 14 hrs, 17 min | |
| to Dublin | 1182 mi / 2 hrs, 52 min | 1443 mi / 24 hrs, 54 min | |
| to Dubrovnik | 338 mi / 1 hr, 11 min | 586 mi / 9 hrs, 15 min | |
| to Edinburgh | 1113 mi / 2 hrs, 44 min | 1449 mi / 22 hrs, 44 min | |
| to Florence | 458 mi / 1 hr, 25 min | 592 mi / 9 hrs, 24 min | 13 hrs, 50 min |
| to Frankfurt am Main | 507 mi / 1 hr, 31 min | 823 mi / 13 hrs, 22 min | 10 hrs, 45 min |
| to Helsinki | 908 mi / 2 hrs, 19 min | 1221 mi / 27 hrs, 9 min | |
| to Istanbul | 663 mi / 1 hr, 50 min | 823 mi / 13 hrs, 22 min | |
| to Kraków | 181 mi / 52 min | 244 mi / 5 hrs, 58 min | 9 hrs, 57 min |
| to Kyiv | 714 mi / 1hr, 56 min | 868 mi / 13 hrs 21 min | |
| to Lisbon | 1540 mi / 3 hrs, 35 min | 1917 mi 29 hrs, 22 min | |
| to London | 904 mi / 2 hrs, 19 min | 1068 mi / 17 hrs, 26 min | |
| to Madrid | 1231 mi / 2 hrs, 58 min | 1572 mi / 24 hrs | |
| to Milan | 492 mi / 1 hr, 29 min | 595 mi / 9 hrs 20 min | 13hrs, 56 min |
| to Moscow | 975 mi / 2 hrs, 27 min | 1133 mi / 21 hrs, 5 min | |
| to Munich | 352 mi / 1 hr, 12 min | 428 mi / 6 hrs, 45 min | 6 hrs, 49 min |
| to Oslo | 923 mi / 2 hrs, 21 min | 1292 mi / 21 hrs 23 min | |
| to Paris | 778 mi / 2 hrs, 3 min | 926 mi / 14 hrs, 21 min | 6 hrs, 33 min |
| to Prague | 276 mi / 1 hr, 3 min | 328 mi / 5 hrs, 15 min | 6 hrs, 41 min |
| to Rome | 505 mi / 1 hr, 31 min | 760 mi / 11 hrs, 52 min | 15 hrs, 35 min |
| to Saint Petersburg | 969 mi / 2 hrs, 26 min | 1295 mi / 26 hrs, 9 min | |
| to Stockholm | 819 mi / 2 hrs, 8 min | 1215 mi / 21 hrs, 6 min | |
| to Venice | 352 mi / 1 hr, 12 min | 440 mi / 6 hrs, 56 min | 10 hrs, 59 min |
| to Vienna | 135 mi / 46 min | 153 mi / 2 hrs, 35 min | 2 hrs, 31 min |
| to Warsaw | 339 mi / 1 hr, 11 min | 559 mi / 8 hrs, 38 min | 10 hrs, 29 min |
| to Zürich | 493 mi / 1 hr, 29 min | 618 mi / 9 hrs, 59 min | 10 hrs, 39 min |
🇩🇰 Copenhagen
| | flying | driving | train option |
| --- | --- | --- | --- |
| to Amsterdam | 387 mi / 1 hr, 16 min | 494 mi / 8 hrs, 40 min | 10 hrs, 54 min |
| to Athens | 1327 mi / 3 hrs, 9 min | 1725 mi / 29 hrs | |
| to Barcelona | 1094 mi / 2hrs, 41 min | 1328 mi / 21 hrs, 7 min | |
| to Berlin | 220 mi / 56 min | 272 mi / 6 hrs, 42 min | |
| to Brussels | 478 mi / 1 hr, 27 min | 572 mi / 10 hrs, 7 min | 11 hrs, 52 min |
| to Bucharest | 979 mi / 1 hr, 46 min | 1434 mi / 26 hrs, 5 min | |
| to Budapest | 630 mi / 1 hr, 46 min | 838 mi / 14 hrs, 17 min | 6hrs, 42 min |
| to Dublin | 773 mi / 2 hrs, 3 min | 1216 mi / 24 hrs, 54 min | |
| to Dubrovnik | 933 mi / 2 hrs, 22 min | 1450 mi / 22 hrs, 42 min | |
| to Edinburgh | 614 mi / 1 hr, 44 min | 1257 mi / 22 hrs, 1 min | |
| to Florence | 825 mi / 2 hrs, 9 min | 1189 mi , 17 hrs, 17 min | |
| to Frankfurt am Main | 417 mi / 1 hr, 20 min | 508 mi / 9 hrs, 11 min | 9 hrs, 18 min |
| to Helsinki | 550 mi / 1 hr, 36 min | 704 mi / 17 hrs, 38 min | |
| to Istanbul | 1256 mi / 3 hrs, 1 min | 1746 mi / 29 hrs, 32 min | |
| to Kraków | 494 mi / 1 hr, 29 min | 1391 mi / 23 hrs, 41 min | |
| to Kyiv | 827 mi / 2 hrs, 9 min | 1184 mi / 21 hrs, 23 min | |
| to Lisbon | 1541 mi / 3 hrs, 35 min | 1924 mi / 28 hrs, 51 min | |
| to London | 596 mi / 1 hr, 41 min | 783 mi / 14 hrs, 15 min | |
| to Madrid | 1289 mi / 3 hrs, 5 min | 1545 mi / 23 hrs, 27 min | |
| to Milan | 720 mi / 1 hr, 56 min | 892 mi / 15 hrs, 34 min | |
| to Moscow | 972 mi / 2 hrs, 27 min | 1487 mi / 26 hrs, 12 min | |
| to Munich | 521 mi / 1 hr, 33 min | 609 mi / 11 hrs, 8 min | 10 hrs, 44 min |
| to Oslo | 302 mi / 1 hr, 6 min | 375 mi / 6 hrs, 23 min | 7 hrs, 54 min |
| to Paris | 639 mi / 1 hr, 47 min | 757 mi / 13hrs, 6 min | 13 hrs, 45 min |
| to Prague | 394 mi / 1 hr, 17 min | 486 mi / 9 hrs, 40 min | |
| to Rome | 951 mi / 2 hrs, 24 min | 1181 mi / 20 hrs, 7 min | |
| to Saint Petersburg | 713 mi / 1 hr, 56 min | 940 mi / 23 hrs, 48 min | |
| to Stockholm | 325 mi / 1 hr, 9 min | 409 mi / 6 hrs, 38 min | 5 hrs |
| to Venice | 707 mi / 1 hr, 55 min | 950 mi / 16 hrs, 8 min | |
| to Vienna | 541 mi / 1 hr, 35 min | 701 mi / 13 hrs, 20 min | |
| to Warsaw | 416 mi / 1 hr, 20 min | 626 mi / 10 hrs, 28 min | |
| to Zürich | 599 mi / 1 hr, 42 min | 740 mi / 12 hrs, 58 min | |
🇮🇪 Dublin
| | flying | driving | train option |
| --- | --- | --- | --- |
| to Amsterdam | 472 mi / 1 hr, 27 min | 703 mi / 13 hrs, 36 min | |
| to Athens | 1776 mi / 4 hrs, 3 min | 2310 mi / 43 hrs, 20 min | |
| to Barcelona | 914 mi / 2 hrs, 20 min | 1297 mi / 22 hrs, 17 min | |
| to Berlin | 820 mi / 2 hrs, 8 min | 1053 mi / 19 hrs, 12 min | |
| to Brussels | 482 mi / 1 hr, 28 min | 594 mi / 12 hrs, 7 min | |
| to Bucharest | 1580 mi / 3 hrs, 40 min | 1955 mi / 34 hrs, 9 min | |
| to Budapest | 1182 mi / 2 hrs, 52 min | 1443 mi / 24 hrs, 54 min | |
| to Copenhagen | 773 mi / 2 hrs, 3 min | 1216 mi / 24 hrs, 54 min | |
| to Dubrovnik | 1338 mi / 3 hrs, 11 min | 1750 mi / 29 hrs, 36 | |
| to Edinburgh | 218 mi / 56 min | 292 mi / 7 hrs, 15 min | |
| to Florence | 1035 mi / 2 hrs, 34 min | 1359 mi / 26 hrs, 50 min | |
| to Frankfurt am Main | 677 mi / 1 hr, 51 min | 847 mi / 15 hrs. 48 min | |
| to Helsinki | 1262 mi / 3 hrs, 1 min | 1910 mi / 43 hrs, 9 min | |
| to Istanbul | 1839 mi / 4 hrs, 11 min | 2266 mi / 37 hrs, 32 min | |
| to Kraków | 1141 mi / 2 hrs, 47 min | 1391 mi / 23 hrs, 41 min | |
| to Kyiv | 1568 mi / 3 hrs, 38 min | 1871 mi / 31 hrs, 12 min | |
| to Lisbon | 1019 mi / 2 hrs, 32 min | 1726 mi / 28 hrs, 41 min | |
| to London | 288 mi / 1 hr 5 min | 371 mi / 8 hrs, 29 min | |
| to Madrid | 901 mi / 2 hrs, 18 min | 1436 mi / 24 hrs, 29 min | |
| to Milan | 881 mi / 2 hrs, 16 min | 1177 mi / 20 hrs, 50 min | |
| to Moscow | 1742 mi / 3 hrs, 59 min | 2152 mi / 37 hrs, 34 min | |
| to Munich | 857 mi / 2 hrs, 13 min | 1087 mi / 18 hrs, 58 min | |
| to Oslo | 789 mi / 2 hrs, 5 min | 1451 mi / 27 hrs, 17 min | |
| to Paris | 484 mi / 1 hr, 28 min | 650 mi / 13 hrs, 9 min | |
| to Prague | 914 mi / 2 hrs, 20 min | 1151 mi / 20 hrs, 46 min | |
| to Rome | 1172 mi / 2 hrs, 51 min | 1532 mi / 26 hrs, 7 min | |
| to Saint Petersburg | 1444 mi / 3 hrs, 23 min | 2122 mi / 43 hrs, 28 min | |
| to Stockholm | 1015 mi / 2 hrs, 32 min | 1566 mi / 28 hrs, 10 min | |
| to Venice | 995 mi / 2 hrs, 29 min | 1338 mi / 23 hrs, 4 min | |
| to Vienna | 1048 mi / 2 hrs, 36 min | 1293 mi / 22 hrs, 14 min | |
| to Warsaw | 1138 mi / 2 hrs, 47 min | 1392 mi / 21 hrs, 56 min | |
| to Zürich | 771 mi / 2 hrs, 3 min | 1006 mi / 17 hrs, 50 min | |
🇭🇷 Dubrovnik
| | flying | driving | train option |
| --- | --- | --- | --- |
| to Amsterdam | 908 mi / 2 hrs, 19 min | 1184 mi / 19 hrs, 11 min | |
| to Athens | 439 mi / 1 hr, 23 min | 603 mi / 14 hrs, 19 min | |
| to Barcelona | 822 mi / 2 hrs, 9 min | 1276 mi / 21 hrs, 22 min | |
| to Berlin | 716 mi / 1 hrs, 56 min | 1029 mi / 16 hrs, 50 min | |
| to Brussels | 861 mi / 2 hrs, 13 min | 1163 mi / 18 hrs, 56 min | |
| to Bucharest | 480 mi / 1 hr, 20 min | 594 mi / 13 hrs, 42 min | |
| to Budapest | 338 mi / 1 hr, 11 min | 586 mi / 9 hrs, 15 min | |
| to Copenhagen | 933 mi / 2 hrs, 22 min | 1450 mi / 22 hrs, 42 min | |
| to Dublin | 1338 mi / 3 hrs, 11 min | 1750 mi / 29 hrs, 36 | |
| to Edinburgh | 1320 mi / 3 hrs, 8 min | 1782 mi / 28 hrs, 28 min | |
| to Florence | 354 mi / 1 hr, 12 min | 670 mi / 12 hrs, 4 min | |
| to Frankfurt am Main | 683 mi / 1 hr, 52 min | 920 mi / 15 hrs. 23 min | |
| to Helsinki | 1245 mi / 2 hrs, 59 min | 1664 mi / 31 hrs, 52 min | |
| to Istanbul | 572 mi / 1 hr, 39 min | 791 mi / 16 hrs, 10 min | |
| to Kraków | 519 mi / 1 hr, 32 min | 877 mi / 15 hrs, 28 min | |
| to Kyiv | 798 mi / 2 hrs, 6 min | 1305 mi / 24 hrs, 11 min | |
| to Lisbon | 1449 mi / 3 hrs, 24 min | 1992 mi / 32 hrs, 11 min | |
| to London | 1050 mi / 2 hrs, 36 min | 1385 mi / 21 hrs, 38 min | |
| to Madrid | 1137 mi / 2 hrs, 46 min | 1648 mi / 26 hrs, 49 min | |
| to Milan | 483 mi / 1 hr, 28 min | 680 mi / 12 hrs, 8 min | |
| to Moscow | 1257 mi / 3 hrs, 1 min | 1713 mi / 31 hrs, 19 min | |
| to Munich | 494 mi / 1 hr, 29 min | 663 mi / 11 hrs, 5 min | |
| to Oslo | 1233 mi / 2 hrs, 58 min | 1726 mi / 27 hrs, 46 min | |
| to Paris | 872 mi / 2 hrs, 15 min | 1227 mi / 19 hrs, 46 min | |
| to Prague | 542 mi / 1 hr, 35 min | 793 mi / 13 hrs, 2 min | |
| to Rome | 292 mi / 1 hr, 5 min | 415 mi / 13 hrs, 20 min | |
| to Saint Petersburg | 1299 mi / 3 hrs, 6 min | 1785 mi / 32 hrs, 29 min | |
| to Stockholm | 1153 mi / 2 hrs, 48 min | 1678 mi / 27 hrs, 17 min | |
| to Venice | 346 mi / 1 hr, 11 min | 518 mi / 8 hrs, 57 min | |
| to Vienna | 392 mi / 1 hr, 17 min | 591 mi / 9 hrs, 41 min | |
| to Warsaw | 677 mi / 1 hr, 51 min | 1026 mi / 18 hrs, 2 min | |
| to Zürich | 569 mi / 1 hr, 31 min | 848 mi / 15 hrs, 23 min | |
🏴󠁧󠁢󠁳󠁣󠁴󠁿 🇬🇧 Edinburgh
| | flying | driving | train option |
| --- | --- | --- | --- |
| to Amsterdam | 413 mi / 1 hr, 20 min | 604 mi / 12 hrs, 41 min | 8 hrs, 57 min |
| to Athens | 1757 mi / 4 hrs, 1 min | 2349 mi / 40 hrs, 13 min | |
| to Barcelona | 1035 mi / 2 hrs, 34 min | 1321 mi / 22 hrs, 27 min | |
| to Berlin | 711 mi / 1 hr, 55 min | 1076 mi / 18 hrs, 11 min | 15 hrs, 10 min |
| to Brussels | 471 mi / 1 hr, 26 min | 625 mi / 12 hrs, 22 min | 6 hrs, 40 min |
| to Bucharest | 1507 mi / 3 hrs, 31 min | 1971 mi / 32 hrs, 2 min | |
| to Budapest | 1113 mi / 2 hrs, 44 min | 1449 mi / 22 hrs, 44 min | |
| to Copenhagen | 614 mi / 1 hr, 44 min | 1257 mi / 22 hrs, 1 min | |
| to Dublin | 218 mi / 56 min | 292 mi / 7 hrs, 15 min | |
| to Dubrovnik | 1320 mi / 3 hrs, 8 min | 1782 mi / 28 hrs, 28 min | |
| to Florence | 1057 mi / 2 hrs, 37 min | 1397 mi / 23 hrs, 39 min | |
| to Frankfurt am Main | 638 mi / 1 hr, 47 min | 872 mi / 16 hrs, 5 min | 11 hrs, 27 min |
| to Helsinki | 1063 mi / 2 hrs, 38 min | 2056 mi / 36 hrs, 30 min | |
| to Istanbul | 1776 mi / 4 hrs, 3 min | 2290 mi / 39 hrs, 12 min | |
| to Kraków | 1041 mi / 2 hrs, 35 min | 1416 mi 24 hrs, 38 min | |
| to Kyiv | 1436 mi / 3 hrs, 22 min | 1963 mi / 33 hrs, 39 min | |
| to Lisbon | 1122 mi / 2 hrs, 57 min | 1755 mi / 29 hrs, 32 min | |
| to London | 333 mi / 1 hr, 10 min | 408 mi / 7 hrs, 30 min | 4 hrs, 18 min |
| to Madrid | 1075 mi / 2 hrs, 39 min | 1465 mi / 24 hrs, 47 min | |
| to Milan | 903 mi / 2 hrs, 18 min | 1206 mi / 21 hrs | |
| to Moscow | 1565 mi / 3 hrs, 38 min | 2195 mi / 38 hrs, 49 min | |
| to Munich | 826 mi / 2 hrs, 9 min | 1101 mi / 19 hrs, 11 min | |
| to Oslo | 581 mi / 1 hr, 40 min | 1465 mi / 25 hrs, 19 min | |
| to Paris | 542 mi / 1 hr, 35 min | 680 mi / 13 hrs, 10 min | |
| to Prague | 838 mi / 2 hrs, 11 min | 1188 mi / 20 hrs, 52 min | |
| to Rome | 1199 mi / 2 hrs, 54 min | 1566 mi / 25 hrs, 57 min | |
| to Saint Petersburg | 1248 mi / 3 hrs | 2117 mi / 36 hrs, 1 min | |
| to Stockholm | 819 mi / 2 hrs, 8 min | 1656 mi / 28 hrs, 27 min | |
| to Venice | 992 mi / 2 hrs, 29 min | 1365 mi / 23 hrs, 6 min | |
| to Vienna | 986 mi / 2 hrs, 28 min | 1308 mi / 20 hrs, 38 min | |
| to Warsaw | 1011 mi / 2 hrs, 31 min | 1410 mi / 21 hrs, 53 min | |
| to Zürich | 777 mi / 2 hrs, 3 min | 1023 mi / 18 hrs, 21 min | |
🇮🇹 Florence
| | flying | driving | train option |
| --- | --- | --- | --- |
| to Amsterdam | 661 mi / 1 hr, 49 min | 862 mi / 13 hrs, 45 min | 14 hrs, 11 min |
| to Athens | 765 mi / 2 hrs, 2 min | 1319 mi / 20 hrs, 16 min | |
| to Barcelona | 491 mi / 1 hr, 29 min | 687 mi / 11 hrs, 14 min | |
| to Berlin | 613 mi / 1 hr, 44 min | 768 mi / 11 hrs, 25 min | 13 hrs, 27 min |
| to Brussels | 586 mi / 1 hr, 40 min | 752 mi / 12 hrs, 39 min | 11 hrs, 51 min |
| to Bucharest | 739 mi / 1 hr, 59 min | 999 mi / 18 hrs, 8 min | |
| to Budapest | 458 mi / 1 hr, 25 min | 592 mi / 9 hrs, 24 min | 13 hrs, 50 min |
| to Copenhagen | 825 mi / 2 hrs, 9 min | 1189 mi , 17 hrs, 17 min | |
| to Dublin | 1035 mi / 2 hrs, 34 min | 1359 mi / 26 hrs, 50 min | |
| to Dubrovnik | 354 mi / 1 hr, 12 min | 670 mi / 12 hrs, 4 min | |
| to Edinburgh | 1057 mi / 2 hrs, 37 min | 1397 mi / 23 hrs, 39 min | |
| to Frankfurt am Main | 455 mi / 1 hr, 25 min | 602 mi / 9 hrs, 58 min | 10 hrs, 18 min |
| to Helsinki | 1270 mi / 3 hrs, 2 min | 1613 mi / 30 hrs, 14 min | |
| to Istanbul | 924 mi / 2 hrs, 21 min | 1232 mi / 20 hrs, 53 min | |
| to Kraków | 598 mi / 1 hr, 42 min | 805 min / 12 hrs, 46 min | |
| to Kyiv | 1015 mi / 2 hrs, 32 min | 1297 mi / 21 hrs, 15 min | |
| to Lisbon | 1114 mi / 2 hrs, 44 min | 1392 mi / 21 hrs, 26 min | |
| to London | 751 mi / 2 hrs | 992 mi / 16 hrs, 6 min | |
| to Madrid | 801 mi / 2 hrs, 6 min | 1048 mi / 16 hrs, 38 min | |
| to Milan | 155 mi / 49 min | 186 mi / 3 hrs, 10 min | 1 hr, 55 min |
| to Moscow | 1428 mi / 3 hrs, 21 min | 1730 mi / 30 hrs, 51 min | |
| to Munich | 303 mi / 1 hr, 6 min | 402 mi / 6 hrs, 46 min | 7 hrs, 58 min |
| to Oslo | 1117 mi / 2 hrs, 44 min | 1560 mi / 24 hrs, 2 min | |
| to Paris | 553 mi / 1 hr, 36 min | 715 mi / 11 hrs, 19 min | 9hrs, 36 min |
| to Prague | 462 mi / 1 hr, 25 min | 647 mi / 10 hrs, 25 min | |
| to Rome | 143 mi / 47 min | 174 mi / 3 hrs, 6 min | 1 hr, 35 min |
| to Saint Petersburg | 1307 mi / 3 hrs, 14 min | 1674 mi / 29 hrs, 42 min | |
| to Stockholm | 1114 Mi / 2 hrs, 44 min | 1581 mi / 24 hrs, 1 min | |
| to Venice | 127 mi / 45 min | 159 mi / 2 hrs, 47 min | 2 hr, 14 min |
| to Vienna | 393 mi / 1 hr, 17 min | 525 mi / 8 hrs, 31 min | 10 hrs, 30 min |
| to Warsaw | 739 mi / 1 hr, 59 min | 963 mi / 15 hrs, 27 min | |
| to Zürich | 281 mi / 1 hr, 4 min | 371 mi / 6 hrs, 21 min | 6 hrs, 35 min |
| | flying | driving | train option |
| --- | --- | --- | --- |
| to Amsterdam | 225 mi / 57 min | 271 mi / 4 hrs, 21 min | 3 hrs, 59 min |
| to Athens | 1120 mi / 2 hrs, 44 min | 1510 mi / 23 hrs, 37 min | |
| to Barcelona | 679 mi / 1 hr, 51 min | 830 mi / 12 hrs, 21 min | 11 hrs, 54 min |
| to Berlin | 263 mi / 1 hr, 2 min | 339 mi / 5 hrs, 31 min | 4 hrs, 11 min |
| to Brussels | 198 mi / 54 min | 250 mi / 4 hrs, 2 min | 2 hrs, 57 min |
| to Bucharest | 905 mi / 2 hrs, 19 min | 1111 mi / 19 hrs, 58 min | |
| to Budapest | 507 mi / 1 hr, 31 min | 823 mi / 13 hrs, 22 min | 10 hrs, 45 min |
| to Copenhagen | 417 mi / 1 hr, 20 min | 508 mi / 9 hrs, 11 min | 9 hrs, 18 min |
| to Dublin | 677 mi / 1 hr, 51 min | 847 mi / 15 hrs. 48 min | |
| to Dubrovnik | 683 mi / 1 hr, 52 min | 920 mi / 15 hrs. 23 min | |
| to Edinburgh | 638 mi / 1 hr, 47 min | 872 mi / 16 hrs, 5 min | 11 hrs, 27 min |
| to Florence | 455 mi / 1 hr, 25 min | 602 mi / 9 hrs, 58 min | 10 hrs, 18 min |
| to Helsinki | 943 mi / 2 hrs, 23 min | 1324 mi / 24 hrs, 59 min | |
| to Istanbul | 1161 mi / 2 hrs, 49 min | 1418 mi / 22 hrs, 25 min | |
| to Kraków | 500 mi / 1 hr, 30 min | 608 mi / 9 hrs, 12 min | 14 hrs, 23 min |
| to Kyiv | 964 mi / 2 hrs, 26 min | 1143 mi / 18 hrs, 26 min | |
| to Lisbon | 1176 mi / 2 hrs, 51 min | 1442 mi / 21 hrs, 29 min | |
| to London | 397 mi / 1 hr, 18 min | 473 mi / 8 hrs, 28 min | 6 hrs, 9 min |
| to Madrid | 900 mi / 2 hrs, 18 min | 1151 mi / 17 hrs | 15 hrs, 44 min |
| to Milan | 322 mi / 1 hr, 9 min | 413 mi / 7 hrs, 12 min | 7 hrs, 49 min |
| to Moscow | 1260 mi / 3 hrs, 1 min | 1459 mi / 24 hrs, 29 min | |
| to Munich | 189 mi / 53 min | 243 mi / 3 hrs, 59 min | 3 hrs, 38 min |
| to Oslo | 683 / 1 hr, 52 min | 813 mi / 14 hrs, 2 min | |
| to Paris | 298 mi / 1 hr, 6 min | 357 mi / 5 hrs, 48 min | 3 hrs, 54 min |
| to Prague | 257 mi / 1 hr, 1 min | 321 mi / 5 hrs, 19 min | 8 hrs, 41 min |
| to Rome | 596 mi / 1 hr, 41 min | 770 mi / 12 hrs, 32 min | 11 hrs, 46 min |
| to Saint Petersburg | 1084 mi / 2 hrs, 40 min | 1422 mi / 25 hrs, 56 min | |
| to Stockholm | 738 mi / 1 hr, 59 min | 913 mi / 15 hrs, 28 min | |
| to Venice | 365 mi / 1 hr, 14 min | 562 mi / 9 hrs, 22 min | 11 hrs, 29 min |
| to Vienna | 372 mi / 1 hr, 15 min | 443 mi / 7 hrs, 5 min | 6 hrs, 23 min |
| to Warsaw | 554 mi / 1 hr, 37 min | 670 mi / 9 hrs, 52 min | 10 hrs, 36 min |
| to Zürich | 190 mi / 53 min | 250 mi / 4 hrs, 18 min | 3 hrs, 54 min |
🇫🇮 Helsinki
| | flying | driving | train option |
| --- | --- | --- | --- |
| to Amsterdam | 936 mi / 2 hrs, 22 min | 1395 mi / 26 hrs, 39 min | |
| to Athens | 1534 mi / 3 hrs, 34 min | 2132 / 43 hrs, 12 min | |
| to Barcelona | 1620 mi / 3 hrs, 44 min | 2142 mi / 44 hrs, 15 min | |
| to Berlin | 689 mi / 1 hr, 53 min | 1018 mi / 21 hrs, 51 min | |
| to Brussels | 1028 mi / 2 hrs, 33 min | 1350 mi / 28 hrs, 18 min | |
| to Bucharest | 1090 mi / 2 hrs, 41 min | 1605 mi / 33 hrs, 9 min | |
| to Budapest | 908 mi / 2 hrs, 19 min | 1221 mi / 27 hrs, 9 min | |
| to Copenhagen | 550 mi / 1 hr, 36 min | 704 mi / 17 hrs, 38 min | |
| to Dublin | 1262 mi / 3 hrs, 1 min | 1910 mi / 43 hrs, 9 min | |
| to Dubrovnik | 1245 mi / 2 hrs, 59 min | 1664 mi / 31 hrs, 52 min | |
| to Edinburgh | 1063 mi / 2 hrs, 38 min | 2056 mi / 36 hrs, 30 min | |
| to Florence | 1270 mi / 3 hrs, 2 min | 1613 mi / 30 hrs, 14 min | |
| to Frankfurt am Main | 943 mi / 2 hrs, 23 min | 1324 mi / 24 hrs, 59 min | |
| to Istanbul | 1335 mi / 3 hrs, 10 min | 1941 mi / 41 hrs, 25 min | |
| to Kraków | 727 mi / 1 hr, 57 min | 841 mi / 19 hrs, 7 min | |
| to Kyiv | 709 mi / 1 hr, 55 min | 1017 mi / 21 hrs, 9 min | |
| to Lisbon | 2019 Mi / 4 hrs, 41 min | 2618 mi / 47 hrs, 13 min | |
| to London | 1135 mi / 2 hrs, 46 min | 1673 mi / 32 hrs, 44 min | |
| to Madrid | 1835 mi / 4 hrs, 10 min | 2326 mi / 42 hrs, 51 min | |
| to Milan | 1205 mi / 2 hrs, 55 min | 1552 mi / 31 hrs, 42 | |
| to Moscow | 556 mi / 1 hr, 37 min | 689 mi / 12 hrs, 17 min | |
| to Munich | 989 mi / 2 hrs, 29 min | 1305 mi / 28 hrs, 9 min | |
| to Oslo | 490 mi / 1 hr, 29 min | 606 mi / 17 hrs, 12 min | |
| to Paris | 1189 mi / 2 hrs, 53 min | 1634 mi / 28 hrs, 59 min | |
| to Prague | 820 mi / 2 hrs, 7 min | 1115 mi / 24 hrs, 48 min | |
| to Rome | 1370 mi / 3 hrs, 14 min | 1842 mi / 35 hrs, 6 min | |
| to Saint Petersburg | 186 mi / 52 min | 245 mi / 4 hrs, 30 min | 3 hrs, 27 min |
| to Stockholm | 247 mi / 1 hr | 295 mi / 12 hrs, 223 min | |
| to Venice | 1143 mi / 2 hrs, 47 min | 1819 mi / 35 hrs, 25 min | |
| to Vienna | 896 mi / 2 hrs, 18 min | 1102 mi / 25 hrs, 38 min | |
| to Warsaw | 569 mi / 1 hr, 38 min | 653 mi / 15 hrs, 43 min | |
| to Zürich | 1105 mi / 2 hrs, 43 min | 1430 mi / 29 hrs, 16 min | |
🇹🇷 Istanbul
flying

driving

train

option

to Amsterdam
1375 mi / 3 hrs, 15 min
1684 mi / 26 hrs, 16 min
to Athens
349 mi / 1 hr, 12 min
680 mi / 11 hrs, 1 min
to Barcelona
1390 mi / 3 hrs, 17 min
1826 mi / 28 hrs, 42 min
to Berlin
1080 mi / 2 hrs, 40 min
1361 mi / 21 hrs, 48 min
to Brussels
1358 mi / 3 hrs, 13 min
1639 mi / 26 hrs, 51 min
to Bucharest
277 mi / 1 hr, 3 min
396 mi / 8 hrs, 6 min
to Budapest
663 mi / 1 hr, 50 min
823 mi / 13 hrs, 22 min
to Copenhagen
1256 mi / 3 hrs, 1 min
1746 mi / 29 hrs, 32 min
to Dublin
1839 mi / 4 hrs, 11 min
2266 mi / 37 hrs, 32 min
to Dubrovnik
572 mi / 1 hr, 39 min
791 mi / 16 hrs, 10 min
to Edinburgh
1776 mi / 4 hrs, 3 min
2290 mi / 39 hrs, 12 min
to Florence
924 mi / 2 hrs, 21 min
1232 mi / 20 hrs, 53 min
to Frankfurt am Main
1161 mi / 2 hrs, 49 min
1418 mi / 22 hrs, 25 min
to Helsinki
1335 mi / 3 hrs, 10 min
1941 mi / 41 hrs, 25 min
to Kraków
762 mi / 2 hrs, 1 min
1072 mi / 20 hrs, 7 min
to Kyiv
654 mi / 1 hr, 49 min
925 mi / 20 hrs, 25 min
to Lisbon
2016 mi / 4 hrs, 32 min
2555 mi / 40 hrs, 38 min
to London
1556 mi / 3 hrs, 37 min
1886 mi / 30 hrs, 32 min
to Madrid
1705 mi / 3 hrs, 55 min
2210 mi / 35 hrs, 17 min
to Milan
1041 mi / 2 hrs, 35 min
1225 mi / 19 hrs, 35 min
to Moscow
1091 mi / 2 hrs, 41 min
1335 mi / 29 hrs, 55 min
to Munich
986 mi / 2 hrs, 28 min
1174 mi / 19 hours, 1 min
to Oslo
1522 mi / 3 hrs, 33 min
2214 mi / 35 hrs, 59 min
to Paris
1405 mi / 3 hrs, 19 min
1744 mi / 27 hrs, 30 min
to Prague
939 mi / 2 hrs, 23 min
1146 mi / 18 hrs, 24 min
to Rome
699 mi / 1 hr, 53 min
885 mi / 13 hrs, 52 min
to Saint Petersburg
1306 mi / 3 hrs, 7 min
1692 mi / 36 hrs, 22 min
to Stockholm
1351 mi / 3 hrs, 12 min
2162 mi / 36 hrs, 26 min
to Venice
892 mi / 2 hrs, 17 min
1070 mi / 17 hrs, 4 min
to Vienna
793 mi / 2 hrs, 5 min
972 mi / 15 hrs, 40 min
to Warsaw
862 mi / 2 hrs, 13 min
1384 mi / 23 hrs, 38 min
to Zürich
1101 mi / 2 hrs, 42 min
1364 mi / 22 hrs, 2 min
🇵🇱 Kraków
| | flying | driving | train option |
| --- | --- | --- | --- |
| to Amsterdam | 670 mi / 1 hr, 50 min | 775 mi / 11 hrs, 12 min | 16 hrs, 23 min |
| to Athens | 855 mi / 2 hrs, 13 min | 1156 mi / 22 hrs, 9 min | |
| to Barcelona | 1043 mi / 2 hrs, 35 min | 1407 mi / 20 hrs, 22 min | |
| to Berlin | 330 mi / 1 hr, 10 min | 372 mi / 5 hrs, 57 min | 9hrs, 49 min |
| to Brussels | 689 mi / 1 hr, 53 min | 818 mi / 11 hrs, 55 min | 16 hrs, 59 min |
| to Bucharest | 485 mi / 1 hr, 28 min | 691 mi / 16 hrs, 14 min | |
| to Budapest | 181 mi / 52 min | 244 mi / 5 hrs, 58 min | 9hrs, 57 min |
| to Copenhagen | 494 mi / 1 hr, 29 min | 639 mi / 11 hrs, 40 min | |
| to Dublin | 1141 mi / 2 hrs, 47 min | 1391 mi / 23 hrs, 41 min | |
| to Dubrovnik | 519 mi / 1 hr, 32 min | 877 mi / 15 hrs, 28 min | |
| to Edinburgh | 1041 mi / 2 hrs, 35 min | 1416 mi 24 hrs, 38 min | |
| to Florence | 598 mi / 1 hr, 42 min | 805 min / 12 hrs, 46 min | |
| to Frankfurt am Main | 500 mi / 1 hr, 30 min | 608 mi / 9 hrs, 12 min | 14 hrs, 23 min |
| to Helsinki | 727 mi / 1 hr, 57 min | 841 mi / 19 hrs, 7 min | |
| to Istanbul | 762 mi / 2 hrs, 1 min | 1072 mi / 20 hrs, 7 min | |
| to Kyiv | 469 mi / 1 hr, 26 min | 538 mi / 10 hrs, 6 min | |
| to Lisbon | 1624 mi / 3 hrs, 45 min | 2044 mi / 29 hrs, 51 min | |
| to London | 882 mi / 2 hrs, 16 min | 1018 mi / 17 hrs, 32 min | |
| to Madrid | 1323 mi / 3 hrs, 9 min | 1763 mi / 25 hrs, 36 min | |
| to Milan | 592 mi / 1 hr, 41 min | 819 mi / 12 hrs, 55 min | |
| to Moscow | 834 mi / 2 hrs, 10 min | 962 mi / 18 hrs, 50 min | |
| to Munich | 401 mi / 1 hr, 18 min | 568 mi / 8 hrs, 50 min | 11 hrs, 38 min |
| to Oslo | 772 mi / 2 hrs, 3 min | 1008 mi / 17 hrs, 36 min | |
| to Paris | 795 mi / 2 hrs, 5 min | 960 mi / 13 hrs, 49 min | |
| to Prague | 243 mi / 59 min | 332 mi / 5 hrs, 22 min | 7 hrs, 31 min |
| to Rome | 668 mi / 1 hr, 50 min | 983 mi / 15 hrs, 22 min | |
| to Saint Petersburg | 793 mi / 2 hrs, 5 min | 903 mi / 18 hrs, 29 min | |
| to Stockholm | 646 mi / 1 hr, 47 min | 1150 mi / 18 hrs, 42 min | |
| to Venice | 477 mi / 1 hr, 27 min | 662 mi / 10 hrs, 44 min | |
| to Vienna | 207 mi / 55 min | 295 mi / 4 hrs, 53 min | |
| to Warsaw | 158 mi / 49 min | 239 mi / 4 hrs | 2 hrs, 21 min |
| to Zürich | 552 mi / 1 hr, 36 min | 768 mi / 11 hrs, 8 min | 15 hrs, 28 min |
🇺🇦 Kyiv
| | flying | driving | train option |
| --- | --- | --- | --- |
| to Amsterdam | 1,109 mi / 2 hrs, 43 min | 1,304 mi / 20 hrs, 58 min | |
| to Athens | 922 mi / 2 hrs, 21 min | 1330 mi / 27 hrs, 17 min | |
| to Barcelona | 1490 mi / 3 hrs, 29 min | 1954 mi / 30 hrs | |
| to Berlin | 751 mi / 2 hrs | 832 mi / 14 hrs, 35 min | |
| to Brussels | 1146 mi / 2 hrs, 47 min | 1365 mi / 21 hrs, 39 min | |
| to Bucharest | 463 mi / 1hr, 26 min | 566 mi / 11 hrs 39 min | |
| to Budapest | 714 mi / 1hr, 56 min | 868 mi / 13 hrs 21 min | |
| to Copenhagen | 827 mi / 2 hrs, 9 min | 1184 mi / 21 hrs, 23 min | |
| to Dublin | 1568 mi / 3 hrs, 38 min | 1871 mi / 31 hrs, 12 min | |
| to Dubrovnik | 798 mi / 2 hrs, 6 min | 1305 mi / 24 hrs, 11 min | |
| to Edinburgh | 1436 mi / 3 hrs, 22 min | 1963 mi / 33 hrs, 39 min | |
| to Florence | 1015 mi / 2 hrs, 32 min | 1297 mi / 21 hrs, 15 min | |
| to Frankfurt am Main | 964 mi / 2 hrs, 26 min | 1143 mi / 18 hrs, 26 min | |
| to Helsinki | 709 mi / 1 hr, 55 min | 1017 mi / 21 hrs, 9 min | |
| to Istanbul | 654 mi / 1 hr, 49 min | 925 mi / 20 hrs, 25 min | |
| to Kraków | 469 mi / 1 hr, 26 min | 538 mi / 10 hrs, 6 min | |
| to Lisbon | 2087 Mi / 4 hrs, 40 min | 2593 mi / 39 hrs, 42 min | |
| to London | 1330 mi / 3hrs, 10 min | 1492 mi / 25 hrs, 44 min | |
| to Madrid | 1782 mi / 4 hrs, 4 min | 2303 mi / 35 hrs, 11 min | |
| to Milan | 1043 mi / 2 hrs, 35 min | 1369 mi / 22 hrs, 49 min | |
| to Moscow | 471 mi / 1 hr, 27 min | 535 mi / 9 hrs, 56 min | 13 hrs, 30 min |
| to Munich | 868 mi / 2 hrs, 14 min | 1153 mi / 18 hrs, 19 min | |
| to Oslo | 1014 mi / 2 hrs, 32 min | 1614 mi / 30 hrs, 3 min | |
| to Paris | 1262 mi / 3 hrs, 1 min | 1508 mi / 23 hrs, 42 min | |
| to Prague | 710 mi / 1 hr, 55 min | 881 mi / 15 hrs, 2 min | |
| to Rome | 1043 mi / 2 hrs, 35 min | 1531 mi / 25 hrs, 16 min | |
| to Saint Petersburg | 655 mi / 1 hr, 49 min | 762 mi / 16 hrs, 1 min | |
| to Stockholm | 789 mi / 2 hrs, 5 min | 1501 mi / 26 hrs, 23 min | |
| to Venice | 909 mi / 2 hrs, 19 min | 1151 mi / 19 hrs, 15 min | |
| to Vienna | 657 mi / 1 hr, 49 min | 824 mi / 14 hrs, 1 min | |
| to Warsaw | 431 mi / 1 hr, 22 min | 491 mi / 9 hrs, 36 min | |
| to Zürich | 1019 mi / 2 hrs, 32 min | 1321 mi / 22 hrs, 21 min | |
🇵🇹 Lisbon
| | flying | driving | train option |
| --- | --- | --- | --- |
| to Amsterdam | 1158 Mi / 2 hrs, 49 min | 1391 mi / 20 hrs, 59 min | |
| to Athens | 1776 mi / 4 hrs, 3 min | 2363 mi / 42 hrs, 27 min | |
| to Barcelona | 627 mi / 1 hr, 45 min | 776 mi / 11 hrs, 23 min | |
| to Berlin | 1438 mi / 3 hrs, 23 min | 1777 mi / 26 hrs, 8 min | |
| to Brussels | 1064 mi / 2 hrs, 38 min | 1267 mi / 19 hrs, 23 min | 2 hrs, 11 min |
| to Bucharest | 1853 mi / 4 hrs, 12 min | 2323 mi 38 hrs, 6 min | |
| to Budapest | 1540 mi / 3 hrs, 35 min | 1917 mi 29 hrs, 22 min | |
| to Copenhagen | 1541 mi / 3 hrs, 35 min | 1924 mi / 28 hrs, 58 min | |
| to Dublin | 1019 mi / 2 hrs, 32 min | 1726 mi / 28 hrs, 41 min | |
| to Dubrovnik | 1449 mi / 3 hrs, 24 min | 1992 mi / 32 hrs, 11 min | |
| to Edinburgh | 1122 mi / 2 hrs, 57 min | 1755 mi / 29 hrs, 32 min | |
| to Florence | 1114 mi / 2 hrs, 44 min | 1392 mi / 21 hrs, 26 min | |
| to Frankfurt am Main | 1176 mi / 2 hrs, 51 min | 1442 mi / 21 hrs, 29 min | |
| to Helsinki | 2019 Mi / 4 hrs, 41 min | 2618 mi / 47 hrs, 13 min | |
| to Istanbul | 2016 mi / 4 hrs, 32 min | 2555 mi / 40 hrs, 38 min | |
| to Kraków | 1624 mi / 3 hrs, 45 min | 2044 mi / 29 hrs, 51 min | |
| to Kyiv | 2087 Mi / 4 hrs, 40 min | 2593 mi / 39 hrs, 42 min | |
| to London | 985 mi / 2 hrs, 28 min | 1354 mi / 21 hrs, 17 min | |
| to Madrid | 313 mi / 1 hr, 8 min | 393 mi / 5 hrs, 45 min | |
| to Milan | 1048 Mi / 2 hrs, 36 min | 1326 mi / 20 hrs, 8 min | |
| to Moscow | 2432 mi / 5 hrs, 22 min | 2836 mi / 44 hrs, 33 min | |
| to Munich | 1223 Mi / 2 hrs, 57 min | 1528 mi / 23 hrs, 29 min | |
| to Oslo | 1703 Mi / 3 hrs, 54 min | 2128 mi / 34 hrs, 27 min | |
| to Paris | 903 mi / 2 hrs, 18 min | 1081 mi / 16 hrs, 17 min | |
| to Prague | 1398 mi / 3 hrs, 18 min | 1728 mi , 25 hrs, 40 min | |
| to Rome | 1160 mi / 2 hrs, 49 min | 1567 mi / 24 hrs, 9 min | |
| to Saint Petersburg | 2249 Mi / 5 hrs | 2858 mi / 47 hrs, 11 min | |
| to Stockholm | 1859 mi / 4 hrs, 13 min | 2325 mi / 35 hrs, 34 min | |
| to Venice | 1192 mi / 2 hrs, 53 min | 1486 mi / 22 hrs, 27 min | |
| to Vienna | 1430 mi / 3 hrs, 22 min | 1853 mi / 27 hrs, 19 min | |
| to Warsaw | 1718 mi / 3 hrs, 56 min | 2064 mi / 30 hrs, 46 min | |
| to Zürich | 1072 mi / 2 hrs, 39 min | 1319 mi / 20 hrs, 44 min | |
🏴󠁧󠁢󠁥󠁮󠁧󠁿 🇬🇧 London
| | flying | driving | train option |
| --- | --- | --- | --- |
| to Amsterdam | 223 mi / 57 min | 329 mi / 6 hrs, 18 min | 4 hrs, 47 min |
| to Athens | 1488 mi / 3 hrs, 29 min | 1975 mi / 31 hrs, 31 min | |
| to Barcelona | 707 mi / 1 hr, 55 min | 920 mi / 14 hrs, 49 min | |
| to Berlin | 580 mi / 1 hr, 40 min | 678 mi / 11 hrs, 46 min | 10 hrs, 22 min |
| to Brussels | 199 mi / 54 min | 228 mi / 4 hrs, 44 min | 2 hrs, 11 min |
| to Bucharest | 1302 mi / 3 hrs, 6 min | 1582 mi / 26 hrs, 50 min | |
| to Budapest | 904 mi / 2 hrs, 19 min | 1068 mi / 17 hrs, 26 min | |
| to Copenhagen | 596 mi / 1 hr, 41 min | 783 mi / 14 hrs, 15 min | |
| to Dublin | 288 mi / 1 hr 5 min | 371 mi / 8 hrs, 29 min | |
| to Dubrovnik | 1050 mi / 2 hrs, 36 min | 1385 mi / 21 hrs, 38 min | |
| to Edinburgh | 333 mi / 1 hr, 10 min | 408 mi / 7 hrs, 30 min | 4 hrs, 18 min |
| to Florence | 751 mi / 2 hrs | 992 mi / 16 hrs, 6 min | |
| to Frankfurt am Main | 397 mi / 1 hr, 18 min | 473 mi / 8 hrs, 28 min | 6 hrs, 9 min |
| to Helsinki | 1135 mi / 2 hrs, 46 min | 1673 mi / 32 hrs, 44 min | |
| to Istanbul | 1556 mi / 3 hrs, 37 min | 1886 mi / 30 hrs, 32 min | |
| to Kraków | 882 mi / 2 hrs, 16 min | 1018 mi / 17 hrs, 32 min | |
| to Kyiv | 1330 mi / 3hrs, 10 min | 1492 mi / 25 hrs, 44 min | |
| to Lisbon | 985 mi / 2 hrs, 28 min | 1354 mi / 21 hrs, 17 min | |
| to Madrid | 785 mi / 2 hrs, 4 min | 1065 mi / 17 hrs, 8 min | |
| to Milan | 597 mi / 1 hr, 42 min | 805 mi / 13 hrs, 28 min | |
| to Moscow | 1558 mi / 3 hrs, 37 min | 1789 mi / 30 hrs, 13 min | |
| to Munich | 571 mi / 1 hr, 39 min | 705 mi / 11 hrs, 48 min | |
| to Oslo | 719 mi / 1 hr, 56 min | 1079 mi / 20 hrs, 6 min | |
| to Paris | 212 mi / 55 min | 282 mi / 5 hr, 45 min | 2 hr, 16 min |
| to Prague | 645 mi / 1 hr, 47 min | 791 mi / 13 hrs, 24 min | |
| to Rome | 891 mi / 2hrs, 17 min | 1150 mi / 18 hrs, 41 min | |
| to Saint Petersburg | 1306 mi / 3hrs, 7 min | 1747 mi / 31 hrs, 16 min | |
| to Stockholm | 892 mi / 2 hrs, 17 min | 1184 mi / 20 hrs, 38 min | |
| to Venice | 707 mi / 1 hr, 55 min | 966 mi / 15 hrs, 41 min | |
| to Vienna | 769 mi / 2 hrs, 2 min | 913 mi / 15 hrs, 10 min | |
| to Warsaw | 902 mi / 3 hrs, 21 min | 1016 mi / 16 hrs, 25 min | |
| to Zürich | 483 mi / 1 hr 28 min | 574 mi / 10 hrs, 42 min | 7 hrs, 42 min |
🇪🇸 Madrid
| | flying | driving | train option |
| --- | --- | --- | --- |
| to Amsterdam | 921 mi / 2 hrs, 20 min | 1100 mi / 16 hrs, 41 min | 15 hrs, 15 min |
| to Athens | 1476 mi / 3 hrs, 27 min | 2016 mi / 37 hrs, 15 min | |
| to Barcelona | 315 mi / 1 hr, 8 min | 386 mi / 5 hrs, 44 min | 3hrs, 10 min |
| to Berlin | 1163 mi / 2 hrs, 50 min | 1441 mi / 22 hrs | |
| to Brussels | 817 mi / 2 hrs, 8 min | 975 mi / 14 hrs, 40 min | 13 hrs, 14 min |
| to Bucharest | 1540 mi / 3 hrs, 35 min | 1978 mi / 32 hrs, 45 min | |
| to Budapest | 1231 mi / 2 hrs, 58 min | 1572 mi / 24 hrs | |
| to Copenhagen | 1289 mi / 3 hrs, 5 min | 1545 mi / 23 hrs, 27 min | |
| to Dublin | 901 mi / 2 hrs, 18 min | 1436 mi / 24 hrs, 29 min | |
| to Dubrovnik | 1137 mi / 2 hrs, 46 min | 1648 mi / 26 hrs, 49 min | |
| to Edinburgh | 1075 mi / 2 hrs, 39 min | 1465 mi / 24 hrs, 47 min | |
| to Florence | 801 mi / 2 hrs, 6 min | 1048 mi / 16 hrs, 38 min | |
| to Frankfurt am Main | 900 mi / 2 hrs, 18 min | 1151 mi / 17 hrs | |
| to Helsinki | 1835 mi / 4 hrs, 10 min | 2326 mi / 42 hrs, 51 min | |
| to Istanbul | 1705 mi / 3 hrs, 55 min | 2210 mi / 35 hrs, 17 min | |
| to Kraków | 1323 mi / 3 hrs, 9 min | 1763 mi / 25 hrs, 36 min | |
| to Kyiv | 1782 mi / 4 hrs, 4 min | 2303 mi / 35 hrs, 11 min | |
| to Lisbon | 313 mi / 1 hr, 8 min | 393 mi / 5 hrs, 45 min | |
| to London | 785 mi / 2 hrs, 4 min | 1065 mi / 17 hrs, 8 min | |
| to Milan | 740 mi / 1 hr, 59 min | 980 mi / 15 hrs, 1 min | |
| to Moscow | 2142 mi / 4 hrs, 47 min | 2587 mi / 40 hrs, 9 min | |
| to Munich | 925 mi / 2 hrs, 21 min | 1221 mi / 18 hrs, 39 min | |
| to Oslo | 1486 mi / 3 hrs, 28 min | 2003 mi / 31 hrs | |
| to Paris | 655 mi / 1 hr, 49 min | 790 mi / 12 hrs, 3 min | |
| to Prague | 1105 mi / 2 hrs, 43 min | 1440 mi / 21 hrs, 26 min | |
| to Rome | 848 mi / 2 hrs, 12 min | 1218 mi / 18 hrs, 54 min | |
| to Saint Petersburg | 1983 mi / 4 hrs, 28 min | 2569 mi / 42 hrs, 45 min | |
| to Stockholm | 1613 mi / 3 hrs, 44 min | 2035 mi / 31 hrs, 8 min | |
| to Venice | 882 mi / 2 hrs, 16 min | 1137 mi / 17 hrs, 15 min | |
| to Vienna | 1126 mi / 2 hrs, 45 min | 1488 mi / 22 hrs, 37min | |
| to Warsaw | 1426 mi / 2 hrs, 50 min | 1821 mi / 26 hrs, 2 min | |
| to Zürich | 776 mi / 2 hrs, 3 min | 1032 mi / 15 hrs, 28 min | 15 hrs, 48 min |
🇮🇹 Milan
| | flying | driving | train option |
| --- | --- | --- | --- |
| to Amsterdam | 514 mi / 1 hr, 32 min | 667 mi / 10 hrs, 54 min | 11 hrs, 47 min |
| to Athens | 910 mi / 2 hrs, 19 min | 1312 mi / 20 hrs, 38 min | |
| to Barcelona | 451 mi / 1 hr, 24 min | 608 mi / 9 hrs, 41 min | 11 hrs, 51 min |
| to Berlin | 523 mi / 1 hr, 33 min | 644 mi / 10 hrs, 43 min | 12 hrs, 7 min |
| to Brussels | 434 mi / 1 hr, 22 min | 569 mi / 9 hrs, 37 min | 9hrs, 20 min |
| to Bucharest | 830 mi / 2 hrs, 10 min | 1110 mi / 18 hrs, 6 min | |
| to Budapest | 492 mi / 1 hr, 29 min | 595 mi / 9 hrs 20 min | 13 hrs, 56 min |
| to Copenhagen | 720 mi / 1 hr, 56 min | 892 mi / 15 hrs, 34 min | |
| to Dublin | 881 mi / 2 hrs, 16 min | 1177 mi / 20 hrs, 50 min | |
| to Dubrovnik | 483 mi / 1 hr, 28 min | 680 mi / 12 hrs, 8 min | |
| to Edinburgh | 903 mi / 2 hrs, 18 min | 1206 mi / 21 hrs | |
| to Florence | 155 mi / 49 min | 186 mi / 3 hrs, 10 min | 1 hr, 55 min |
| to Frankfurt am Main | 322 mi / 1 hr, 9 min | 413 mi / 7 hrs, 12 min | 7 hrs, 49 min |
| to Helsinki | 1205 mi / 2 hrs, 55 min | 1552 mi / 31 hrs, 42 | |
| to Istanbul | 1041 mi / 2 hrs, 35 min | 1225 mi / 19 hrs, 35 min | |
| to Kraków | 592 mi / 1 hr, 41 min | 819 mi / 12 hrs, 55 min | |
| to Kyiv | 1043 mi / 2 hrs, 35 min | 1369 mi / 22 hrs, 49 min | |
| to Lisbon | 1048 Mi / 2 hrs, 36 min | 1326 mi / 20 hrs, 8 min | |
| to London | 597 mi / 1 hr, 42 min | 805 mi / 13 hrs, 28 min | |
| to Madrid | 740 mi / 1 hr, 59 min | 980 mi / 15 hrs, 1 min | |
| to Moscow | 1423 mi / 3 hrs, 21 min | 1764 mi / 29 hrs, 59 min | |
| to Munich | 217 mi / 56 min | 307 mi / 5 hrs, 43 min | 7 hrs, 39 min |
| to Oslo | 1001 mi / 2 hrs, 30 min | 1355 mi / 21 hrs, 56 min | |
| to Paris | 400 mi / 1 hr, 18 min | 529 mi / 8 hrs, 39 min | 7hrs, 13 min |
| to Prague | 402 mi / 1 hr, 18 min | 541 mi / 9 hrs, 13 min | 14 hrs, 13 min |
| to Rome | 296 mi / 1 hr, 6 min | 356 mi / 5 hrs, 50 min | 3 hrs, 39 min |
| to Saint Petersburg | 1322 mi / 3 hrs, 9 min | 1659 mi / 31 hrs, 22 min | |
| to Stockholm | 1027 mi / 2 hrs, 33 min | 1387 mi / 21 hrs, 47 min | |
| to Venice | 152 mi / 48 min | 167 mi / 2 hrs, 57 min | 2 hrs, 27 min |
| to Vienna | 388 mi / 1 hr, 17 min | 533 mi / 8 hrs, 37 min | 10 hrs, 36 min |
| to Warsaw | 712 mi / 1 hr, 55 min | 948 mi / 14 hrs, 41 min | |
| to Zürich | 135 mi / 46 min | 175 mi / 3 hrs, 36 min | 3 hrs, 55 min |
🇷🇺 Moscow
| | flying | driving | train option |
| --- | --- | --- | --- |
| to Amsterdam | 1338 mi / 3 hrs, 11 min | 1513 mi / 24 hrs, 52 min | |
| to Athens | 1387 mi / 3 hrs, 16 min | 2039 mi / 35 hrs, 46 min | |
| to Barcelona | 1847 mi / 4 hrs, 15 min | 2282 mi / 36 hrs, 22 min | |
| to Berlin | 1003 mi / 2 hrs, 30 min | 1130 mi / 19 hrs, 13 min | |
| to Brussels | 1406 mi / 3 hrs, 19 min | 1603 mi / 26 hrs, 45 min | |
| to Bucharest | 932 mi / 2 hrs, 22 min | 1129 mi / 22 hrs, 47 min | |
| to Budapest | 975 mi / 2 hrs, 27 min | 1133 mi / 21 hrs, 5 min | |
| to Copenhagen | 972 mi / 2 hrs, 27 min | 1487 mi / 26 hrs, 12 min | |
| to Dublin | 1742 mi / 3 hrs, 59 min | 2152 mi / 37 hrs, 34 min | |
| to Dubrovnik | 1257 mi / 3 hrs, 1 min | 1713 mi / 31 hrs, 19 min | |
| to Edinburgh | 1565 mi / 3 hrs, 38 min | 2195 mi / 38 hrs, 49 min | |
| to Florence | 1428 mi / 3 hrs, 21 min | 1730 mi / 30 hrs, 51 min | |
| to Frankfurt am Main | 1260 mi / 3 hrs, 1 min | 1459 mi / 24 hrs, 29 min | |
| to Helsinki | 556 mi / 1 hr, 37 min | 689 mi / 12 hrs, 17 min | |
| to Istanbul | 1091 mi / 2 hrs, 41 min | 1335 mi / 29 hrs, 55 min | |
| to Kraków | 834 mi / 2 hrs, 10 min | 962 mi / 18 hrs, 50 min | |
| to Kyiv | 471 mi / 1 hr, 27 min | 535 mi / 9 hrs, 56 min | 13 hrs, 30 min |
| to Lisbon | 2432 mi / 5 hrs, 22 min | 2836 mi / 44 hrs, 33 min | |
| to London | 1558 mi / 3 hrs, 37 min | 1789 mi / 30 hrs, 13 min | |
| to Madrid | 2142 mi / 4 hrs, 47 min | 2587 mi / 40 hrs, 9 min | |
| to Milan | 1423 mi / 3 hrs, 21 min | 1764 mi / 29 hrs, 59 min | |
| to Munich | 1220 mi / 2 hrs, 56 min | 1481 mi . 24 hrs, 39 min | |
| to Oslo | 1025 mi / 2 hrs, 33 min | 1302 mi / 33 hrs, 7 min | |
| to Paris | 1550 mi / 3 hrs, 36 min | 1767 mi / 28 hrs, 42 min | |
| to Prague | 1038 mi / 2 hrs, 35 min | 1221 mi / 21 hrs, 55 min | |
| to Rome | 1479 mi / 3 hrs, 27 min | 1905 mi / 31 hrs, 42 min | |
| to Saint Petersburg | 394 mi / 1 hr, 17 min | 446 mi / 7 hrs, 44 min | 7 hrs, 37 min |
| to Stockholm | 766 mi / 2 hrs, 2 min | 976 mi / 26 hrs, 48 min | |
| to Venice | 1310 mi / 3 hrs, 7 min | 1578 mi / 28 hrs, 35 min | |
| to Vienna | 1041 mi / 2 hrs, 35 min | 1205 mi / 22 hrs, 58 min | |
| to Warsaw | 717 mi / 1 hr, 56 min | 777 mi / 13 hrs, 52 min | |
| to Zürich | 1367 mi / 3 hrs, 14 min | 1643 mi / 27 hrs, 20 min | |
🇩🇪 Munich
| | flying | driving | train option |
| --- | --- | --- | --- |
| to Amsterdam | 414 mi / 1 hr, 20 min | 509 mi / 7 hrs, 55 min | 7 hrs, 50 min |
| to Athens | 931 mi / 2 hrs, 22 min | 1267 mi / 20 hrs, 10 min | |
| to Barcelona | 656 mi / 1 hr, 49 min | 850 mi / 13 hrs, 21 min | |
| to Berlin | 312 mi / 1 hr, 7 min | 362 mi / 5 hrs, 44 min | 3 hrs, 59 min |
| to Brussels | 375 mi / 1 hr, 15 min | 487 mi / 7 hrs, 36 min | 6 hrs, 42 min |
| to Bucharest | 740 mi / 1 hr, 59 min | 942 mi / 16 hrs, 8 min | |
| to Budapest | 352 mi / 1 hr, 12 min | 428 mi / 6 hrs, 45 min | 6 hrs, 49 min |
| to Copenhagen | 521 mi / 1 hr, 33 min | 609 mi / 11 hrs, 8 min | 10 hrs, 44 min |
| to Dublin | 857 mi / 2 hrs, 13 min | 1087 mi / 18 hrs, 58 min | |
| to Dubrovnik | 494 mi / 1 hr, 29 min | 663 mi / 11 hrs, 5 min | |
| to Edinburgh | 826 mi / 2 hrs, 9 min | 1101 mi / 19 hrs, 11 min | |
| to Florence | 303 mi / 1 hr, 6 min | 402 mi / 6 hrs, 46 min | 7hrs, 58 min |
| to Frankfurt am Main | 189 mi / 53 min | 243 mi / 3 hrs, 59 min | 3hrs, 38 min |
| to Helsinki | 989 mi / 2 hrs, 29 min | 1305 mi / 28 hrs, 9 min | |
| to Istanbul | 986 mi / 2 hrs, 28 min | 1174 mi / 19 hours, 1 min | |
| to Kraków | 401 mi / 1 hr, 18 min | 568 mi / 8 hrs, 50 min | 11 hrs, 38 min |
| to Kyiv | 868 mi / 2 hrs, 14 min | 1153 mi / 18 hrs, 19 min | |
| to Lisbon | 1223 Mi / 2 hrs, 57 min | 1528 mi / 23 hrs, 29 min | |
| to London | 571 mi / 1 hr, 39 min | 705 mi / 11 hrs, 48 min | |
| to Madrid | 925 mi / 2 hrs, 21 min | 1221 mi / 18 hrs, 39 min | |
| to Milan | 217 mi / 56 min | 307 mi / 5 hrs, 43 min | 7 hrs, 39 min |
| to Moscow | 1220 mi / 2 hrs, 56 min | 1481 mi . 24 hrs, 39 min | |
| to Oslo | 814 mi / 2 hrs, 8 min | 979 mi / 16 hrs, 13 min | |
| to Paris | 427 mi / 1 hr, 21 min | 522 mi / 8 hrs, 8 min | 5 hrs, 46 min |
| to Prague | 187 mi / 52 min | 239 mi / 3 hrs, 55 min | 5 hrs, 34 min |
| to Rome | 434 mi / 1 hr, 22 min | 572 mi / 9 hrs, 18 min | |
| to Saint Petersburg | 1105 mi / 2 hrs, 43 min | 1442 mi / 26 hrs, 55 min | |
| to Stockholm | 817 mi / 2 hrs, 8 min | 1011 mi / 17 hrs, 36 min | |
| to Venice | 191 mi / 53 min | 341 mi / 5 hrs, 44 min | 6 hrs, 51 min |
| to Vienna | 221 mi / 57 min | 272 mi / 4 hrs, 24 min | 4 hrs |
| to Warsaw | 504 mi / 1 hr, 31 min | 666 mi / 9 hrs, 42 min | 10 hrs, 31 min |
| to Zürich | 151 mi / 48 min | 194 mi / 3 hrs, 37 min | 4 hrs, 33 min |
🇳🇴 Oslo
| | flying | driving | train option |
| --- | --- | --- | --- |
| to Amsterdam | 569 mi / 1 hr, 38 min | 786 mi / 14 hrs, 7 min | |
| to Athens | 1620 mi / 3 hrs, 44 min | 2206 mi / 37 hrs, 20 min | |
| to Barcelona | 1333 mi / 3 hrs, 10 min | 1633 mi / 26 hrs, 11 min | |
| to Berlin | 522 mi / 1 hr, 33 min | 641 mi / 12 hrs, 44 min | 16 hrs, 52 min |
| to Brussels | 677 mi / 1 hr, 51 min | 869 mi / 15 hrs, 40 min | |
| to Bucharest | 1247 mi / 3 hrs | 1690 mi / 29 hrs, 35 min | |
| to Budapest | 923 mi / 2 hrs, 21 min | 1292 mi / 21 hrs 23 min | |
| to Copenhagen | 302 mi / 1 hr, 6 min | 375 mi / 6 hrs, 23 min | 7 hrs, 54 min |
| to Dublin | 789 mi / 2 hr2, 5 min | 1451 mi / 27 hrs, 17 min | |
| to Dubrovnik | 1233 mi / 2 hrs, 58 min | 1726 mi / 27 hrs, 46 min | |
| to Edinburgh | 581 mi / 1 hr, 40 min | 1465 mi / 25 hrs, 19 min | |
| to Florence | 1117 mi / 2 hrs, 44 min | 1560 mi / 24 hrs, 2 min | |
| to Frankfurt am Main | 683 / 1 hr, 52 min | 813 mi / 14 hrs, 2 min | |
| to Helsinki | 490 mi / 1 hr, 29 min | 606 mi / 17 hrs, 12 min | |
| to Istanbul | 1522 mi / 3 hrs, 33 min | 2214 mi / 35 hrs, 59 min | |
| to Kraków | 772 mi / 2 hrs, 3 min | 1008 mi / 17 hrs, 36 min | |
| to Kyiv | 1014 mi / 2 hrs, 32 min | 1614 mi / 30 hrs, 3 min | |
| to Lisbon | 1703 Mi / 3 hrs, 54 min | 2128 mi / 34 hrs, 27 min | |
| to London | 719 mi / 1 hr, 56 min | 1079 mi / 20 hrs, 6 min | |
| to Madrid | 1486 mi / 3 hrs, 28 min | 2003 mi / 31 hrs | |
| to Milan | 1001 mi / 2 hrs, 30 min | 1355 mi / 21 hrs, 56 min | |
| to Moscow | 1025 mi / 2 hrs, 33 min | 1302 mi / 33 hrs, 7 min | |
| to Munich | 814 mi / 2 hrs, 8 min | 979 mi / 16 hrs, 13 min | |
| to Paris | 835 mi / 2 hrs, 10 min | 1051 mi / 18 hrs, 52 min | |
| to Prague | 696 mi / 1 hr, 53 min | 958 mi / 16 hrs, 17 min | |
| to Rome | 1248 mi / 3 hrs | 1552 mi / 26 hrs, 14 min | |
| to Saint Petersburg | 676 mi / 1 hr, 51 min | 851 mi / 23 hrs, 15 min | |
| to Stockholm | 259 mi / 1 hr, 1 min | 328 mi / 5 hrs, 54 min | 5 hrs, 50 min |
| to Venice | 1003 mi / 2 hrs, 30 min | 1321 mi / 21 hrs, 44 min | |
| to Vienna | 841 mi / 2 hrs, 11 min | 1173 mi / 19 hrs, 43 min | |
| to Warsaw | 661 mi / 1 hr, 49 min | 1000 mi / 17 hrs, 22 min | |
| to Zürich | 872 mi / 2 hrs, 15 min | 1043 mi / 18 hrs, 8 min | |
🇫🇷 Paris
| | flying | driving | train option |
| --- | --- | --- | --- |
| to Amsterdam | 266 mi / 1 hr, 2 min | 314 mi / 5 hrs, 12 min | 3hrs, 21 min |
| to Athens | 1306 mi / 3 hrs, 7 min | 1833 mi / 28 hrs, 26min | |
| to Barcelona | 517 mi / 1 hr, 32 min | 645 mi / 9 hrs, 40 min | |
| to Berlin | 547 mi / 1 hr, 36 min | 654 mi / 10 hrs, 32 min | 9 hrs, 9 min |
| to Brussels | 163 mi / 50 min | 189 mi / 3 hrs, 12 min | 1 hr, 23 min |
| to Bucharest | 1166 mi / 2 hrs, 50 min | 1440 mi / 23 hrs, 34 min | |
| to Budapest | 778 mi / 2 hrs, 3 min | 926 mi / 14 hrs, 21 min | |
| to Copenhagen | 639 mi / 1 hr, 47 min | 757 mi / 13hrs, 6 min | 13 hrs, 45 min |
| to Dublin | 484 mi / 1 hr, 28 min | 650 mi / 13 hrs, 9 min | |
| to Dubrovnik | 872 mi / 2 hrs, 15 min | 1227 mi / 19 hrs, 46 min | |
| to Edinburgh | 542 mi / 1 hr, 35 min | 680 mi / 13 hrs, 10 min | |
| to Florence | 553 mi / 1 hr, 36 min | 715 mi / 11 hrs, 19 min | 9hrs, 36 min |
| to Frankfurt am Main | 298 mi / 1 hr, 6 min | 357 mi / 5 hrs, 48 min | 3hrs, 54 min |
| to Helsinki | 1189 mi / 2 hrs, 53 min | 1634 mi / 28 hrs, 59 min | |
| to Istanbul | 1405 mi / 3 hrs, 19 min | 1744 mi / 27 hrs, 30 min | |
| to Kraków | 795 mi / 2 hrs, 5 min | 960 mi / 13 hrs, 49 min | |
| to Kyiv | 1262 mi / 3 hrs, 1 min | 1508 mi / 23 hrs, 42 min | |
| to Lisbon | 903 mi / 2 hrs, 18 min | 1081 mi / 16 hrs, 17 min | |
| to London | 212 mi / 55 min | 282 mi / 5 hr, 45 min | 2 hr, 16 min |
| to Madrid | 655 mi / 1 hr, 49 min | 790 mi / 12 hrs, 3 min | |
| to Milan | 400 mi / 1 hr, 18 min | 529 mi / 8 hrs, 39 min | 7hrs, 13 min |
| to Moscow | 1550 mi / 3 hrs, 36 min | 1767 mi / 28 hrs, 42 min | |
| to Munich | 427 mi / 1 hr, 21 min | 522 mi / 8 hrs, 8 min | 5 hrs, 46 min |
| to Oslo | 835 mi / 2 hrs, 10 min | 1051 mi / 18 hrs, 52 min | |
| to Prague | 552 mi / 1 hr, 36 min | 645 mi / 10 hrs, 7 min | 12 hrs, 20 min |
| to Rome | 688 mi / 1 hr, 53 min | 885 mi / 13 hrs, 52 min | |
| to Saint Petersburg | 1345 mi / 3 hrs, 11 min | 1732 mi / 30 hrs, 54 min | |
| to Stockholm | 961 mi / 2 hrs, 25 min | 1157 mi / 19 hrs, 23 min | |
| to Venice | 527 mi / 1 hr, 33 min | 693 mi / 10 hrs, 53 min | |
| to Vienna | 645 mi / 1 hr, 47 min | 768 mi / 11 hrs, 53 min | |
| to Warsaw | 852 mi / 2 hrs, 12 min | 986 mi / 14 hrs, 55 min | |
| to Zürich | 306 mi / 1 hr, 7 min | 411 mi / 6 hrs, 36 min | 4 hrs, 4 min |
🇨🇿 Prague
| | flying | driving | train option |
| --- | --- | --- | --- |
| to Amsterdam | 443 mi / 1 hr, 23 min | 542 mi / 8 hrs, 28 min | 11 hrs, 42 min |
| to Athens | 953 mi / 2 hrs, 24 min | 1235 mi / 19 hrs, 24 min | |
| to Barcelona | 843 mi / 2 hrs, 11 min | 1072 mi / 16 hrs, 8 min | |
| to Berlin | 174 mi / 51 min | 217 mi / 3 hrs, 42 min | 4hrs, 20 min |
| to Brussels | 450 mi / 1 hr, 24 min | 569 mi / 8 hrs, 53 min | 11 hrs, 34 min |
| to Bucharest | 671 mi / 1 hr, 51 min | 841 mi / 14 hrs, 41 min | |
| to Budapest | 276 mi / 1 hr, 3 min | 328 mi / 5 hrs, 15 min | 6 hrs, 41 min |
| to Copenhagen | 394 mi / 1 hr, 17 min | 486 mi / 9 hrs, 40 min | |
| to Dublin | 914 mi / 2 hrs, 20 min | 1151 mi / 20 hrs, 46 min | |
| to Dubrovnik | 542 mi / 1 hr, 35 min | 793 mi / 13 hrs, 2 min | |
| to Edinburgh | 838 mi / 2 hrs, 11 min | 1188 mi / 20 hrs, 52 min | |
| to Florence | 462 mi / 1 hr, 25 min | 647 mi / 10 hrs, 25 min | |
| to Frankfurt am Main | 257 mi / 1 hr, 1 min | 321 mi / 5 hrs, 19 min | 8 hrs, 41 min |
| to Helsinki | 820 mi / 2 hrs, 7 min | 1115 mi / 24 hrs, 48 min | |
| to Istanbul | 939 mi / 2 hrs, 23 min | 1146 mi / 18 hrs, 24 min | |
| to Kraków | 243 mi / 59 min | 332 mi / 5 hrs, 22 min | 7 hrs, 31 min |
| to Kyiv | 710 mi / 1 hr, 55 min | 881 mi / 15 hrs, 2 min | |
| to Lisbon | 1398 mi / 3 hrs, 18 min | 1728 mi / 25 hrs, 40 min | |
| to London | 645 mi / 1 hr, 47 min | 791 mi / 13 hrs, 24 min | |
| to Madrid | 1105 mi / 2 hrs, 43 min | 1440 mi / 21 hrs, 26 min | |
| to Milan | 402 mi / 1 hr, 18 min | 541 mi / 9 hrs, 13 min | 14 hrs, 13 min |
| to Moscow | 1038 mi / 2 hrs, 35 min | 1221 mi / 21 hrs, 55 min | |
| to Munich | 187 mi / 52 min | 239 mi / 3 hrs, 55 min | 5 hrs, 34 min |
| to Oslo | 696 mi / 1 hr, 53 min | 958 mi / 16 hrs, 17 min | |
| to Paris | 552 mi / 1 hr, 36 min | 645 mi / 10 hrs, 7 min | 12 hrs, 20 min |
| to Rome | 573 mi / 1 hr, 39 min | 815 mi / 12 hrs, 53 min | |
| to Saint Petersburg | 920 mi / 2 hrs, 20 min | 1281 mi / 24 hrs, 20 min | |
| to Stockholm | 655 mi / 1 hr, 49 min | 888 mi / 16 hrs, 15 min | |
| to Venice | 336 mi / 1 hr, 10 min | 505 min / 8 hrs, 46 min | 6 hrs, 32 min |
| to Vienna | 156 mi / 49 min | 207 mi / 3 hrs, 41 min | 4 hrs, 3 min |
| to Warsaw | 321 mi / 1 hr, 9 min | 419 mi / 6 hrs, 36 min | 8hrs, 24 min |
| to Zürich | 329 mi / 1 hr, 9 min | 439 mi / 7 hrs, 2 min | 11 hrs, 55 min |
🇮🇹 Rome
| | flying | driving | train option |
| --- | --- | --- | --- |
| to Amsterdam | 804 mi / 2 hrs, 7 min | 1024 mi / 16 hrs, 14 min | 15 hrs, 25 min |
| to Athens | 655 mi / 1 hr, 49 min | 809 mi / 20 hrs, 27 min | |
| to Barcelona | 534 mi / 1 hr, 34 min | 847 mi / 13 hrs, 38 min | |
| to Berlin | 735 mi / 1 hr, 58 min | 935 mi / 14 hrs, 50 min | 15 hrs, 13 min |
| to Brussels | 729 mi / 1 hr, 57 min | 925 mi / 14 hrs, 56 min | 13 hrs, 19 min |
| to Bucharest | 709 mi / 1 hr, 55 min | 1270 mi / 212 hrs, 9 min | |
| to Budapest | 505 mi / 1 hr, 31 min | 760 mi / 11 hrs, 52 min | 15 hrs, 35 min |
| to Copenhagen | 951 mi / 2 hrs, 24 min | 1181 mi / 20 hrs, 7 min | |
| to Dublin | 1172 mi / 2 hrs, 51 min | 1532 mi / 26 hrs, 7 min | |
| to Dubrovnik | 292 mi / 1 hr, 5 min | 415 mi / 13 hrs, 20 min | |
| to Edinburgh | 1199 mi / 2 hrs, 54 min | 1566 mi / 25 hrs, 57 min | |
| to Florence | 143 mi / 47 min | 174 mi / 3 hrs, 6 min | 1 hr, 35 min |
| to Frankfurt am Main | 596 mi / 1 hr, 41 min | 770 mi / 12 hrs, 32 min | 11 hrs, 46 min |
| to Helsinki | 1370 mi / 3 hrs, 14 min | 1842 mi / 35 hrs, 6 min | |
| to Istanbul | 699 mi / 1 hr, 53 min | 885 mi / 13 hrs, 52 min | |
| to Kraków | 668 mi / 1 hr, 50 min | 983 mi / 15 hrs, 22 min | |
| to Kyiv | 1043 mi / 2 hrs, 35 min | 1531 mi / 25 hrs, 16 min | |
| to Lisbon | 1160 mi / 2 hrs, 49 min | 1567 mi / 24 hrs, 9 min | |
| to London | 891 mi / 2hrs, 17 min | 1150 mi / 18 hrs, 41 min | |
| to Madrid | 848 mi / 2 hrs, 12 min | 1218 mi / 18 hrs, 54 min | |
| to Milan | 296 mi / 1 hr, 6 min | 356 mi / 5 hrs, 50 min | 3 hrs, 39 min |
| to Moscow | 1479 mi / 3 hrs, 27 min | 1905 mi / 31 hrs, 42 min | |
| to Munich | 434 mi / 1 hr, 22 min | 572 mi / 9 hrs, 18 min | |
| to Oslo | 1248 mi / 3 hrs | 1552 mi / 26 hrs, 14 min | |
| to Paris | 688 mi / 1 hr, 53 min | 885 mi / 13 hrs, 52 min | |
| to Prague | 573 mi / 1 hr, 39 min | 815 mi / 12 hrs, 53 min | |
| to Saint Petersburg | 1456 mi / 3 hrs, 25 min | 2017 mi / 34 hrs, 47 min | |
| to Stockholm | 1229 mi / 2 hrs, 57 min | 1584 mi / 26 hrs, 33 min | |
| to Venice | 244 mi / 59 min | 328 mi / 5 hrs, 27 min | 3 hrs, 50 min |
| to Vienna | 475 mi / 1 hr, 27 min | 694 mi / 11 hrs, 7 min | |
| to Warsaw | 819 mi / 2 hrs, 8 min | 1132 mi / 17 hrs, 54 min | |
| to Zürich | 424 mi / 1 hr, 21 min | 531 mi / 8 hrs, 57 min | 7 hrs, 37 min |
🇷🇺 Saint Petersburg
| | flying | driving | train option |
| --- | --- | --- | --- |
| to Amsterdam | 1100 mi / 2 hrs, 42 min | 1471 mi / 25 hrs, 57 min | |
| to Athens | 1541 mi / 3 hrs, 35 min | 2196 mi / 37 hrs, 19 min | |
| to Barcelona | 1752 mi / 4 hrs | 2245 mi / 37 hrs, 50 min | |
| to Berlin | 823 mi / 2 hrs, 9 min | 1103 mi / 21 hrs, 49 min | |
| to Brussels | 1187 mi / 2 hrs, 52 min | 1565 mi / 28 hrs, 15 min | |
| to Bucharest | 1083 mi / 2 hrs, 40 min | 1356 mi / 28 hrs, 6 min | |
| to Budapest | 969 mi / 2 hrs, 26 min | 1295 mi / 26 hrs, 9 min | |
| to Copenhagen | 713 mi / 1 hr, 56 min | 940 mi / 23 hrs, 48 min | |
| to Dublin | 1444 mi / 3 hrs, 23 min | 2122 mi / 43 hrs, 28 min | |
| to Dubrovnik | 1299 mi / 3 hrs, 6 min | 1785 mi / 32 hrs, 29 min | |
| to Edinburgh | 1248 mi / 3 hrs | 2117 mi / 36 hrs, 1 min | |
| to Florence | 1307 mi / 3 hrs, 14 min | 1674 mi / 29 hrs, 42 min | |
| to Frankfurt am Main | 1084 mi / 2 hrs, 40 min | 1422 mi / 25 hrs, 56 min | |
| to Helsinki | 186 mi / 52 min | 245 mi / 4 hrs, 30 min | 3hrs, 27 min |
| to Istanbul | 1306 mi / 3 hrs, 7 min | 1692 mi / 36 hrs, 22 min | |
| to Kraków | 793 mi / 2 hrs, 5 min | 903 mi / 18 hrs, 29 min | |
| to Kyiv | 655 mi / 1 hr, 49 min | 762 mi / 16 hrs, 1 min | |
| to Lisbon | 2249 Mi / 5 hrs | 2858 mi / 47 hrs, 11 min | |
| to London | 1306 mi / 3hrs, 7 min | 1747 mi / 31 hrs, 16 min | |
| to Madrid | 1983 mi / 4 hrs, 28 min | 2569 mi / 42 hrs, 45 min | |
| to Milan | 1322 mi / 3 hrs, 9 min | 1659 mi / 31 hrs, 22 min | |
| to Moscow | 394 mi / 1 hr, 17 min | 446 mi / 7 hrs, 44 min | 7 hrs, 37 min |
| to Munich | 1105 mi / 2 hrs, 43 min | 1442 mi / 26 hrs, 55 min | |
| to Oslo | 676 mi / 1 hr, 51 min | 851 mi / 23 hrs, 15 min | |
| to Paris | 1345 mi / 3 hrs, 11 min | 1732 mi / 30 hrs, 54 min | |
| to Prague | 920 mi / 2 hrs, 20 min | 1281 mi / 24 hrs, 20 min | |
| to Rome | 1456 mi / 3 hrs, 25 min | 2017 mi / 34 hrs, 47 min | |
| to Stockholm | 430 mi / 1 hr, 22 min | 536 mi / 17 hrs, 7 min | |
| to Venice | 1243 mi / 2 hrs, 59 min | 1548 mi / 30 hrs, 8 min | |
| to Vienna | 983 mi / 2 hrs, 28 min | 1176 mi / 24 hrs, 34 min | |
| to Warsaw | 638 mi / 1 hr, 47 min | 734 mi / 15 hrs, 8 min | |
| to Zürich | 1233 mi / 2 hrs, 58 min | 1606 mi / 28 hrs, 49 min | |
🇸🇪 Stockholm
| | flying | driving | train option |
| --- | --- | --- | --- |
| to Amsterdam | 701 mi / 1 hr, 54 min | 892 mi / 14 hrs, 55 min | |
| to Athens | 1497 mi / 3 hrs, 30 min | 2128 mi / 34 hrs, 47 min | |
| to Barcelona | 1417 mi / 3 hrs, 20 min | 1731 mi / 27 hrs, 26 min | |
| to Berlin | 505 mi / 1 hr, 31 min | 674 mi / 12 hrs, 59 min | 13 hrs, 42 min |
| to Brussels | 798 mi / 2 hrs, 6 min | 975 mi / 16 hrs, 28 min | |
| to Bucharest | 1084 mi / 2 hrs, 40 min | 1928 mi / 32 hrs, 47 min | |
| to Budapest | 819 mi / 2 hrs, 8 min | 1215 mi / 21 hrs, 6 min | |
| to Copenhagen | 325 mi / 1 hr, 9 min | 409 mi / 6 hrs, 38 min | 5 hrs |
| to Dublin | 1015 mi / 2 hrs, 32 min | 1566 mi / 28 hrs, 10 min | |
| to Dubrovnik | 1153 mi / 2 hrs, 48 min | 1678 mi / 27 hrs, 17 min | |
| to Edinburgh | 819 mi / 2 hrs, 8 min | 1656 mi / 28 hrs, 27 min | |
| to Florence | 1114 Mi / 2 hrs, 44 min | 1581 mi / 24 hrs, 1 min | |
| to Frankfurt am Main | 738 mi / 1 hr, 59 min | 913 mi / 15 hrs, 28 min | |
| to Helsinki | 247 mi / 1 hr | 295 mi / 12 hrs, 223 min | |
| to Istanbul | 1351 mi / 3 hrs, 12 min | 2162 mi / 36 hrs, 26 min | |
| to Kraków | 646 mi / 1 hr, 47 min | 1150 mi / 18 hrs, 42 min | |
| to Kyiv | 789 mi / 2 hrs, 5 min | 1501 mi / 26 hrs, 23 min | |
| to Lisbon | 1859 mi / 4 hrs, 13 min | 2325 mi / 35 hrs, 34 | |
| to London | 892 mi / 2 hrs, 17 min | 1184 mi / 20 hrs, 38 min | |
| to Madrid | 1613 mi / 3 hrs, 44 min | 2035 mi / 31 hrs, 8 min | |
| to Milan | 1027 mi / 2 hrs, 33 min | 1387 mi / 21 hrs, 47 min | |
| to Moscow | 766 mi / 2 hrs, 2 min | 976 mi / 26 hrs, 48 min | |
| to Munich | 817 mi / 2 hrs, 8 min | 1011 mi / 17 hrs, 36 min | |
| to Oslo | 259 mi / 1 hr, 1 min | 328 mi / 5 hrs, 54 min | 5 hrs, 50 min |
| to Paris | 961 mi / 2 hrs, 25 min | 1157 mi / 19 hrs, 23 min | |
| to Prague | 655 mi / 1 hr, 49 min | 888 mi / 16 hrs, 15 min | |
| to Rome | 1229 mi / 2 hrs, 57 min | 1584 mi / 26 hrs, 33 min | |
| to Saint Petersburg | 430 mi / 1 hr, 22 min | 536 mi / 17 hrs, 7 min | |
| to Venice | 990 mi / 2 hrs, 29 min | 1351 mi / 21 hrs, 54 min | |
| to Vienna | 773 mi / 2 hrs, 3 min | 1095 mi / 19 hrs, 14 min | |
| to Warsaw | 503 mi / 1 hr, 30 min | 1111 mi / 17 hrs, 27 min | |
| to Zürich | 914 mi / 2 hrs, 20 min | 1141 mi / 18 hrs, 42 min | |
🇮🇹 Venice
flying

driving

train

option

to Amsterdam
584 mi / 1 hr, 40 min
811 mi / 13 hrs, 7 min
14 hrs, 37 min
to Athens
781 mi / 2 hrs, 4 min
1158 mi / 18 hrs, 20 min
to Barcelona
582 mi / 1 hr, 40 min
766 mi / 11 hrs, 56 min
to Berlin
492 mi / 1 hr, 29 min
702 mi / 11 hrs, 13 min
11 hrs, 48 min
to Brussels
524 mi / 1 hr, 33 min
730 mi / 11 hrs, 51 min
12 hrs, 31 min
to Bucharest
678 mi / 1 hr, 51 min
936 mi / 15 hrs, 44 min
to Budapest
352 mi / 1 hr, 12 min
440 mi / 6 hrs, 56 min
10 hrs, 59 min
to Copenhagen
707 mi / 1 hr, 55 min
950 mi / 16 hrs, 8 min
to Dublin
995 mi / 2 hrs, 29 min
1338 mi / 23 hrs, 4 min
to Dubrovnik
346 mi / 1 hr, 11 min
518 mi / 8 hrs, 57 min
to Edinburgh
992 mi / 2 hrs, 29 min
1365 mi / 23 hrs, 6 min
to Florence
127 mi / 45 min
159 mi / 2 hrs, 47 min
2 hrs, 14 min
to Frankfurt am Main
365 mi / 1 hr, 14 min
562 mi / 9 hrs, 22 min
11 hrs, 29 min
to Helsinki
1143 mi / 2 hrs, 47 min
1819 mi / 35 hrs, 25 min
to Istanbul
892 mi / 2 hrs, 17 min
1070 mi / 17 hrs, 4 min
to Kraków
477 mi / 1 hr, 27 min
662 mi / 10 hrs, 44 min
to Kyiv
909 mi / 2 hrs, 19 min
1151 mi / 19 hrs, 15 min
to Lisbon
1192 mi / 2 hrs, 53 min
1486 mi / 22 hrs, 27 min
to London
707 mi / 1 hr, 55 min
966 mi / 15 hrs, 41 min
to Madrid
882 mi / 2 hrs, 16 min
693 mi / 10 hrs, 53 min
to Milan
152 mi / 48 min
167 mi / 2 hrs, 57 min
2 hrs, 27 min
to Moscow
1310 mi / 3 hrs, 7 min
1578 mi / 28 hrs, 35 min
to Munich
191 mi / 53 min
341 mi / 5 hrs, 44 min
6 hrs, 51 min
to Oslo
1003 mi / 2 hrs, 30 min
1321 mi / 21 hrs, 44 min
to Paris
527 mi / 1 hr, 33 min
693 mi / 10 hrs, 53 min
to Prague
336 mi / 1 hr, 10 min
505 min / 8 hrs, 46 min
to Rome
244 mi / 59 min
328 mi / 5 hrs, 27 min
3 hrs, 50 min
to Saint Petersburg
1243 mi / 2 hrs, 59 min
1548 mi / 30 hrs, 8 min
to Stockholm
990 mi / 2 hrs, 29 min
1351 mi / 21 hrs, 54 min
to Vienna
270 mi / 1 hr, 2 min
375 mi / 6 hrs, 7 min
to Warsaw
614 mi / 1 hr, 44 min
814 mi / 13 hrs, 21 min
to Zürich
995 mi / 57 min
336 mi / 5 hrs, 49 min
6 hrs, 32 min
🇦🇹 Vienna
| | flying | driving | train option |
| --- | --- | --- | --- |
| to Amsterdam | 582 mi / 1 hr, 40 min | 709 mi / 10 hrs, 59 min | 11 hrs, 16 min |
| to Athens | 797 mi / 2 hrs, 6 min | 1061 mi / 16 hrs, 40 min | |
| to Barcelona | 839 mi / 2 hrs, 11 min | 1117 mi / 17 hrs, 24 min | |
| to Berlin | 326 mi / 1 hr, 9 min | 423 mi / 7 hrs, 12 min | 7 hrs, 4 min |
| to Brussels | 570 mi / 1 hr, 38 min | 688 mi / 10 hrs, 40 min | 10 hrs, 20 min |
| to Bucharest | 533 mi / 1hr, 34 min | 667 mi / 11 hrs, 48 min | |
| to Budapest | 135 mi / 46 min | 153 mi / 2 hrs, 35 min | 2 hrs, 31 min |
| to Copenhagen | 541 mi / 1 hr, 35 min | 701 mi / 13 hrs, 20 min | |
| to Dublin | 1048 mi / 2 hrs, 36 min | 1293 mi / 22 hrs, 14 min | |
| to Dubrovnik | 392 mi / 1 hr, 17 min | 591 mi / 9 hrs, 41 min | |
| to Edinburgh | 986 mi / 2 hrs, 28 min | 1308 mi / 20 hrs, 38 min | |
| to Florence | 393 mi / 1 hr, 17 min | 525 mi / 8 hrs, 31 min | 10 hrs, 30 min |
| to Frankfurt am Main | 372 mi / 1 hr, 15 min | 443 mi / 7 hrs, 5 min | 6hrs, 23 min |
| to Helsinki | 896 mi / 2 hrs, 18 min | 1102 mi / 25 hrs, 38 min | |
| to Istanbul | 793 mi / 2 hrs, 5 min | 972 mi / 15 hrs, 40 min | |
| to Kraków | 207 mi / 55 min | 295 mi / 4 hrs, 53 min | |
| to Kyiv | 657 mi / 1 hr, 49 min | 824 mi / 14 hrs, 1 min | |
| to Lisbon | 1430 mi / 3 hrs, 22 min | 1853 mi / 27 hrs, 19 min | |
| to London | 769 mi / 2 hrs, 2 min | 913 mi / 15 hrs, 10 min | |
| to Madrid | 1126 mi / 2 hrs, 45 min | 1488 mi / 22 hrs, 37min | |
| to Milan | 388 mi / 1 hr, 17 min | 533 mi / 8 hrs, 37 min | 10 hrs, 36 min |
| to Moscow | 1041 mi / 2 hrs, 35 min | 1205 mi / 22 hrs, 58 min | |
| to Munich | 221 mi / 57 min | 272 mi / 4 hrs, 24 min | 4 hrs |
| to Oslo | 841 mi / 2 hrs, 11 min | 1173 mi / 19 hrs, 43 min | |
| to Paris | 645 mi / 1 hr, 47 min | 768 mi / 11 hrs, 53 min | |
| to Prague | 336 mi / 1 hr, 10 min | 505 min / 8 hrs, 46 min | 4 hrs, 2 min |
| to Rome | 475 mi / 1 hr, 27 min | 694 mi / 11 hrs, 7 min | |
| to Saint Petersburg | 983 mi / 2 hrs, 28 min | 1176 mi / 24 hrs, 34 min | |
| to Stockholm | 773 mi / 2 hrs, 3 min | 1095 mi / 19 hrs, 14 min | |
| to Venice | 270 mi / 1 hr, 2 min | 375 mi / 6 hrs, 7 min | |
| to Warsaw | 347 mi / 1 hr, 12 min | 441 mi / 7 hrs, 7 min | 7 hrs, 9 min |
| to Zürich | 369 mi / 1 hr, 14 min | 462 mi / 7 hrs, 38 min | 7 hrs, 50 mi |
🇵🇱 Warsaw
| | flying | driving | train option |
| --- | --- | --- | --- |
| to Amsterdam | 608 mi / 1 hr, 52 min | 740 mi / 11 hrs, 6 min | 13 hrs, 19 min |
| to Athens | 994 mi / 2 hrs, 29 mi | 1469 mi / 23 hrs | |
| to Barcelona | 1160 mi / 2 hrs, 49 min | 1462 mi / 21 hrs, 32 min | |
| to Brussels | 723 mi / 1 hr, 57 min | 818 mi / 11 hrs. 32 min | 13 hrs, 55 min |
| to Berlin | 322 mi / 1 hr, 9 min | 355 mi / 5 hrs, 27 min | 5 hrs, 51 min |
| to Bucharest | 589 mi / 1 hr, 41 min | 789 mi / 17 hrs, 51 min | |
| to Budapest | 339 mi / 1 hr, 11 min | 559 mi / 8 hrs, 38 min | 10 hrs, 29 min |
| to Copenhagen | 416 mi / 1 hr, 20 min | 626 mi / 10 hrs, 28 min | |
| to Dublin | 1138 mi / 2 hrs, 47 min | 1392 mi / 21 hrs, 56 min | |
| to Dubrovnik | 677 mi / 1 hr, 51 min | 1026 mi / 18 hrs, 2 min | |
| to Edinburgh | 1011 mi / 2 hrs, 31 min | 1410 mi / 21 hrs, 53 min | |
| to Florence | 739 mi / 1 hr, 59 min | 963 mi / 15 hrs, 27 min | |
| to Frankfurt am Main | 554 mi / 1 hr, 37 min | 670 mi / 9 hrs, 52 min | 10 hrs, 36 min |
| to Helsinki | 569 mi / 1 hr, 38 min | 653 mi / 15 hrs, 43 min | |
| to Istanbul | 862 mi / 2 hrs, 13 min | 1384 mi / 23 hrs, 38 min | |
| to Kraków | 158 mi / 49 min | 239 mi / 4 hrs | 2 hrs, 21 min |
| to Kyiv | 431 mi / 1 hr, 22 min | 491 mi / 9 hrs, 36 min | |
| to Lisbon | 1718 mi / 3 hrs, 56 min | 2064 mi / 30 hrs, 46 min | |
| to London | 902 mi / 3 hrs, 21 min | 1016 mi / 16 hrs, 25 min | |
| to Madrid | 1426 mi / 2 hrs, 50 min | 1821 mi / 26 hrs, 2 min | |
| to Milan | 712 mi / 1 hr, 55 min | 948 mi / 14 hrs, 41 min | |
| to Moscow | 717 mi / 1 hr, 56 min | 777 mi / 13 hrs, 52 min | |
| to Munich | 504 mi / 1 hr, 31 min | 666 mi / 9 hrs, 42 min | 10 hrs, 31 min |
| to Oslo | 661 mi / 1 hr, 49 min | 1000 mi / 17 hrs, 22 min | |
| to Paris | 852 mi / 2 hrs, 12 min | 986 mi / 14 hrs, 55 min | |
| to Prague | 321 mi / 1 hr, 9 min | 419 mi / 6 hrs, 36 min | 8hrs, 24 min |
| to Rome | 819 mi / 2 hrs, 8 min | 1132 mi / 17 hrs, 54 min | |
| to Saint Petersburg | 638 mi / 1 hr, 47 min | 734 mi / 15 hrs, 8 min | |
| to Stockholm | 503 mi / 1 hr, 30 min | 1111 mi / 17 hrs, 27 min | |
| to Venice | 614 mi / 1 hr, 44 min | 814 mi / 13 hrs, 21 min | |
| to Vienna | 347 mi / 1 hr, 12 min | 441 mi / 7 hrs, 7 min | 7 hrs, 9 min |
| to Zürich | 650 mi / 1 hr, 48 min | 858 mi / 12 hrs, 4 min | 15 hrs, 52 min |
🇨🇭 Zürich
| | flying | driving | train option |
| --- | --- | --- | --- |
| to Amsterdam | 381 mi / 1 hr, 16 min | 505 mi / 8 hrs | 8 hrs, 59 min |
| to Athens | 1006 mi / 2 hrs, 31 min | 1460 mi / 24 hrs, 49 min | |
| to Barcelona | 519 mi / 1 hr, 32 min | 660 mi / 10 hrs, 9 min | 11 hrs, 43 min |
| to Berlin | 416 mi / 1 hr, 20 min | 524 mi / 8 hrs, 26 min | 8 hrs, 28 min |
| to Brussels | 306 mi / 1 hr, 7 min | 411 mi / 6 hrs, 45 min | 7 hrs, 27 min |
| to Bucharest | 868 mi / 2 hrs, 14 min | 1148 mi / 21 hrs, 5 min | |
| to Budapest | 493 mi / 1 hr, 29 min | 618 mi / 9 hrs, 59 min | 10 hrs, 39 min |
| to Copenhagen | 599 mi / 1 hr, 42 min | 740 mi / 12 hrs, 58 min | |
| to Dublin | 771 mi / 2 hrs, 3 min | 1006 mi / 17 hrs, 50 min | |
| to Dubrovnik | 569 mi / 1 hr, 31 min | 848 mi / 15 hrs, 23 min | |
| to Edinburgh | 777 mi / 2 hrs, 3 min | 1023 mi / 18 hrs, 21 min | |
| to Florence | 281 mi / 1 hr, 4 min | 371 mi / 6 hrs, 21 min | 6 hrs, 35 min |
| to Frankfurt am Main | 190 mi / 53 min | 250 mi / 4 hrs, 18 min | 3 hrs, 54 min |
| to Helsinki | 1105 mi / 2 hrs, 43 min | 1430 mi / 29 hrs, 16 min | |
| to Istanbul | 1101 mi / 2 hrs, 42 min | 1364 mi / 22 hrs, 2 min | |
| to Kraków | 552 mi / 1 hr, 36 min | 768 mi / 11 hrs, 8 min | 15 hrs, 28 min |
| to Kyiv | 1019 mi / 2 hrs, 32 min | 1321 mi / 22 hrs, 21 min | |
| to Lisbon | 1072 mi / 2 hrs, 39 min | 1319 mi / 20 hrs, 44 min | |
| to London | 483 mi / 1 hr 28 min | 574 mi / 10 hrs, 42 min | 7 hrs, 42 min |
| to Madrid | 776 mi / 2 hrs, 3 min | 1032 mi / 15 hrs, 28 min | 15 hrs, 48 min |
| to Milan | 135 mi / 46 min | 175 mi / 3 hrs, 36 min | 3 hrs, 55 min |
| to Moscow | 1367 mi / 3 hrs, 14 min | 1643 mi / 27 hrs, 20 min | |
| to Munich | 151 mi / 48 min | 194 mi / 3 hrs, 37 min | 4 hrs, 33 min |
| to Oslo | 872 mi / 2 hrs, 15 min | 1043 mi / 18 hrs, 8 min | |
| to Paris | 306 mi / 1 hr, 7 min | 411 mi / 6 hrs, 36 min | 4 hrs, 4 min |
| to Prague | 329 mi / 1 hr, 9 min | 439 mi / 7 hrs, 2 min | 11 hrs, 55 min |
| to Rome | 424 mi / 1 hr, 21 min | 531 mi / 8 hrs, 57 min | 7 hrs, 37 min |
| to Saint Petersburg | 1233 mi / 2 hrs, 58 min | 1176 mi / 24 hrs, 34 min | |
| to Stockholm | 914 mi / 2 hrs, 20 min | 1141 mi / 18 hrs, 42 min | |
| to Venice | 995 mi / 57 min | 336 mi / 5 hrs, 49 min | 6 hrs, 32 min |
| to Vienna | 369 mi / 1 hr, 14 min | 462 mi / 7 hrs, 38 min | 7 hrs, 50 mi |
| to Warsaw | 650 mi / 1 hr, 48 min | 858 mi / 12 hrs, 4 min | 15 hrs, 52 min |